Leadership
7 Min Read
As Remote and Hybrid Work Grows, Connection Becomes an HR Superpower
Through our stormiest days, effective HR leaders have empathy, courage, strategy, vision, and connection. We highlight one of these superpowers below, and you can learn about the rest in the summary article: Top 5 Superpowers of Effective HR Leaders. You can also discover which superpower is yours by taking this short quiz—don't forget to share your results on social media after!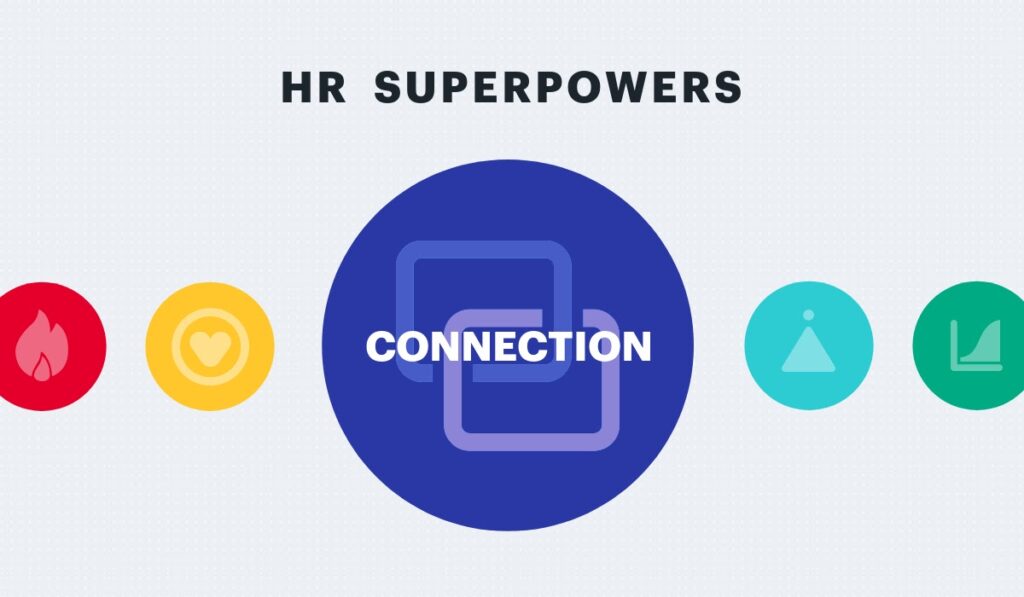 It used to be so easy to drop by a co-workers desk to check out photos from their recent trip or do a pre-brainstorm with a colleague as you walked to the next building for a meeting. And remember grabbing lunch with people on a whim? That was amazing!
Sadly, all these little interactions that kept us feeling connected have been hard to replace in our new work-from-home (WFH) reality. Furthermore, mental health issues stemming from all this isolation and loneliness became a top concern for organizations.
"Employers have a responsibility to ensure worker wellbeing and that doesn't end just because people are not in the office," says Tim Sharp, the senior policy officer for employment rights at the Trades Union Congress, in an article from The Guardian from July 2020.
With wellbeing and connection a priority now more than ever, employers and HR leaders had their work cut out for them over the last year and a half. Fortunately, it was the Connected HR leader that saw the opportunity to improve the way work gets done.
HR leaders gifted with the power of connection understand how to use these tools alongside the metrics, levers, and mechanics of the business. They partner with executives to create better outcomes, on short and longer horizons–especially now faced with both return to work planning and hybrid workforce arrangements.
---
Our very own head of talent acquisition, Michelle Prebble, took the HR Superpowers Quiz and found that hers is connection—a critical skill to have in her line of work.
---
How connected HR leaders make companies stronger
During the pandemic, these HR pros leveraged their knowledge of building effective networks, facilitating human interaction, and communicating clearly and openly to help company leadership and employees weather all the work-from-home challenges in a short amount of time.
It's why connection is one of the top five HR superpowers that helped carry businesses through the challenges of the pandemic. While what connected HR leaders can do may seem on The Avengers level of powerful, in reality, the ability to connect and foster connections are very human characteristics that are hallmarks of strong HR leadership.
To be a better connected HR leader, focus on:
Facilitating collaboration between leadership and employees
Creating a common ground that unites people from disparate teams
Understanding the metrics and levers needed to create better outcomes
Want to know what trait you identify most with? Take our short quiz to find out what makes you a superpowered HR pro!
3 ways to harness people analytics to foster connection
According to this Gartner piece on hybrid workforces, "The expectation of radical flexibility is likely to make a hybrid workforce model more prevalent in the post-COVID-19 world."
Through this shift, managers will need to have better conversations with their teams about hiring, diversity, promotions, and training. Connected HR leaders can empower both themselves and people leaders in their organization with people analytics, making it easier to have fact-based conversations and manage new ways of collaborating.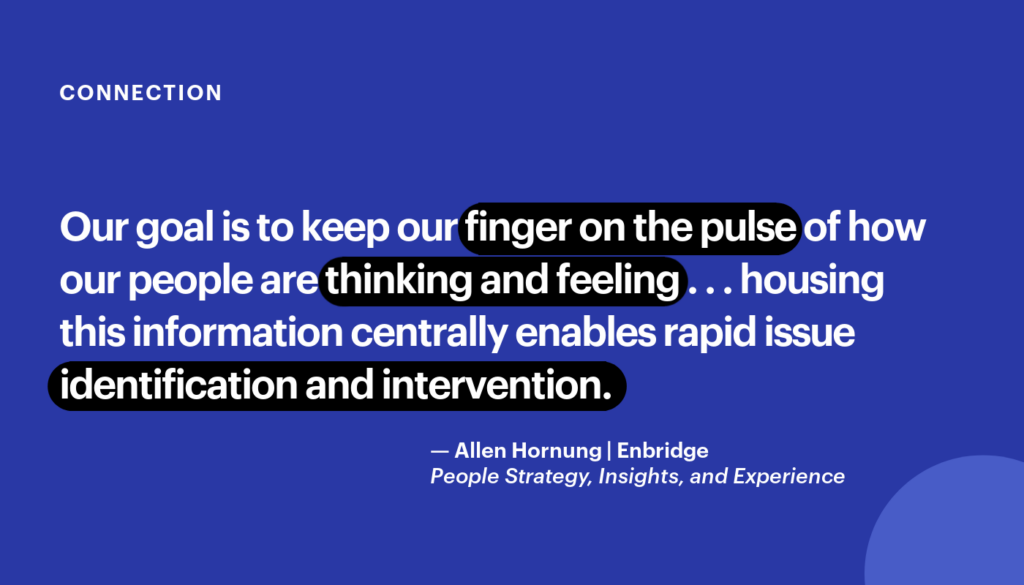 Here are a few ways people analytics supports staying connected in a hybrid working world:
1. Strengthen connections
Organizational network analysis (ONA) is a method for measuring and graphing patterns of collaboration by examining the strength, frequency, and nature of interactions between people in those networks. ONA software reveals patterns of communication and influence that are very different from the formal hierarchical structures that leaders rely upon–and it feeds easily into purpose-built people analytics platforms.
Connected HR leaders can use ONA to help leaders be more proactive about nurturing existing–and forging new–organic virtual relationships. Imagine your brilliant but quiet coworker has started to contribute less and less in video calls. Could they be dealing with a personal problem–or are they struggling with being seen and heard virtually?
A proper ONA analysis should incorporate data coming from multiple sources, such as calendar, email, instant messaging, and knowledge sharing applications (while respecting important data privacy rules) to provide you with the full scope of your hybrid workforce's experience.
2. Keep your finger on the pulse of your employees
Do your employees want to be able to sign up for virtual and informal coffee chats with other employees looking to do the same? Is a new messaging app hindering productivity between them and contractors? Asking questions like these builds strong connections and promotes continuous, two-way dialogue between managers and their teams.
Managers must be able to both share and receive information from their staff no matter where they're working—home or office. In addition to regular check-ins, using a periodic pulse survey is a good way to stay informed of the changing collaboration and networking needs of your employees.
This is where integrating your people analytics together with your employee experience systems is beneficial. Enbridge, a multinational energy infrastructure company, uses Visier and an employee experience ("EX") software to evaluate EX data, like feedback surveys and employee sentiment, in relation to other HR attributes, such as performance ratings, time-to-promotion, and recognition.
"Our goal is to keep our finger on the pulse of how our people are thinking and feeling, and housing this information centrally enables rapid issue identification and intervention," explains Allen Hornung, People Strategy, Insights and Experience at Enbridge.
3. Empower managers to take action
The move to digital and hybrid workforces means the speed of work is also changing. It's no longer acceptable for leaders to wait weeks, or even days, for an answer to their people questions.
"When approached correctly, a people analytics platform takes data sitting in multiple systems, processes it, and puts it directly in the hands of non-technical users," says Ian Cook, Vice President of People Analytics at Visier. "This helps managers answer the complex questions that crop up daily: Should Asher be considered for this leadership training program? Should I give John a raise?"
Going forward, connected HR leaders must make it easy for managers to keep the pulse on their team–without having to wait on HR analysts to help. Embedding connection into the flow of work with democratized people data is what will separate thriving organizations from those struggling to adapt.
Can digital tools make interactions more human? We think so
The rise of collaboration tools like Slack and Teams, as well as meeting software that goes beyond facilitating video calls, provides digital and distributed teams the ability to connect wherever they are. But doing this so effectively also means balancing work productivity with more casual interactions, like you'd get around the in-office water cooler.
Connected HR leaders have the know-how to shepherd managers and their teams towards a successful–and human–way of hybrid working. With the right data at their fingertips, connected HR leaders can make an even bigger difference in the future of work for employees and their employers.
Be the first to know!
Never miss a story! Get the Outsmart newsletter.