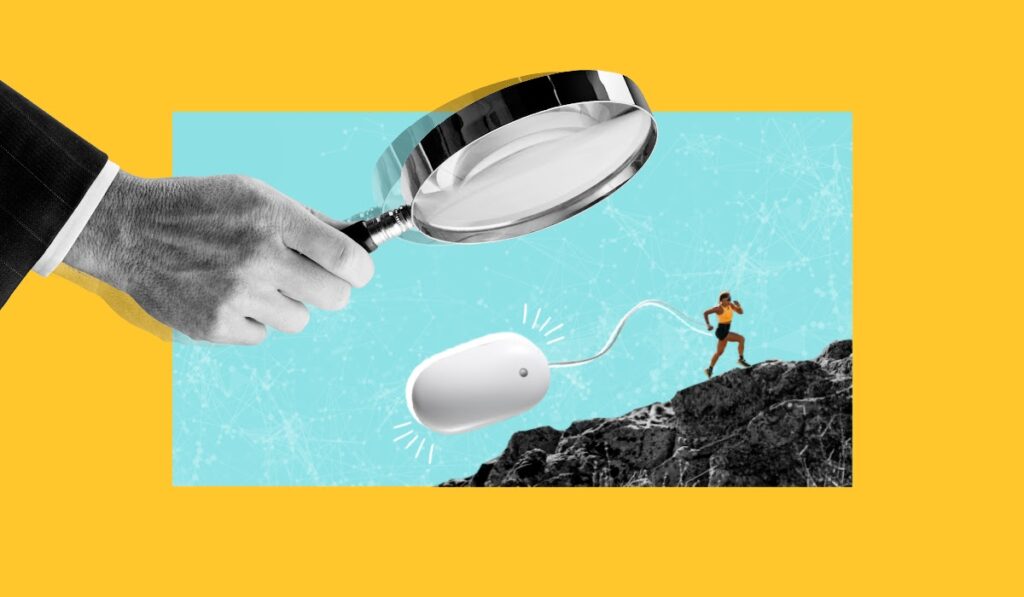 Do you consider working from home to be a valuable perk? Opinions may vary. What's yours?
---
A hugely popular post on LinkedIn argues that companies framing work-from-home as a perk or a recruitment device is disingenuous. LinkedIn news editor, Alexander Besant, called out the post and invited additional feedback. Clearly, it's a topic that strikes a chord with employees—both those in the office and those working remotely.
Well before the pandemic, working from home was considered to be a perk in many circles—one that was made available only sporadically and in certain cases, and definitely not a go-to model for the modern-day workplace.
Of course, in March 2020 all of that changed. Over the past several months not only have the vast majority of businesses of all kinds turned to remote work on some level during the pandemic, they're widely finding that it offers benefits not just for employees, but for the organizations they work for and even the customers and clients they serve.
But, yes, as the post asserts: "framing work-from-home as a perk or a recruitment device is disingenuous in the post-pandemic world." Worse, suspicious employers and their managers who still ascribe to the "out of sight and out of mind" concerns about managing a remote workforce and seek to use Machiavellian measures to monitor remote work performance may be turning off employees and sending them looking for job opportunities elsewhere in an already tight labor market.
So how can companies effectively manage productivity in a hybrid workforce?
---
New manager paradigm: Focus on output, not input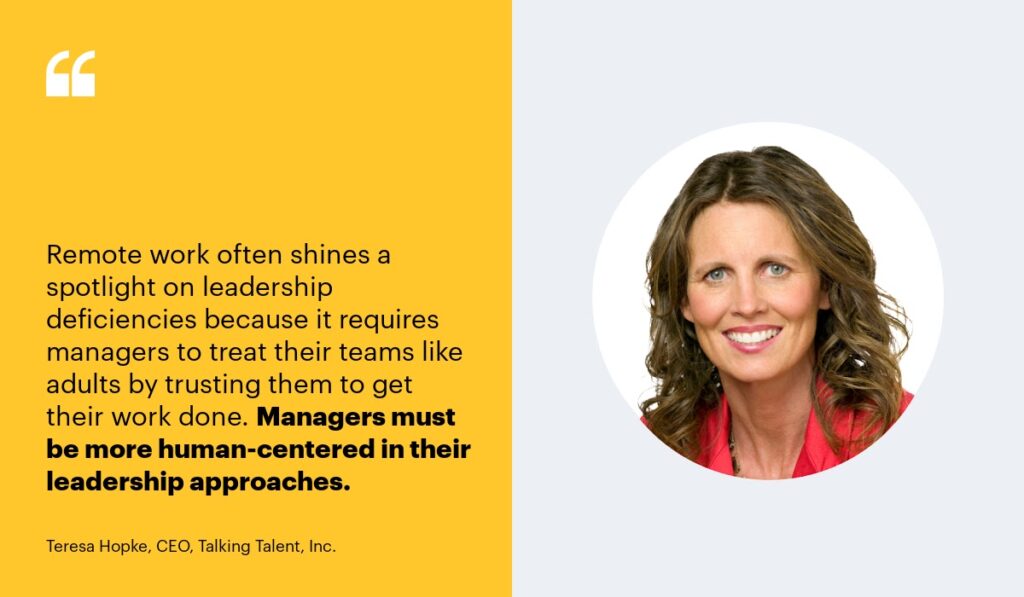 "Managing a hybrid team requires a level of leadership that not all managers possess," says Teresa Hopke, CEO The Americas with Talking Talent, a global coaching firm. In fact, Hopke tells us: "Remote work often shines a spotlight on leadership deficiencies because it requires managers to treat their teams like adults by trusting them to get their work done." It requires, she says, "managers to be more human-centered in their leadership approaches."
The greatest mindset shift for many managers when moving from in-person management to managing remotely is the need to focus on output rather than input. In other words, shifting from considerations of how much time employees are spending on the job to what kind of results they're achieving.
"Rather than attempting to micromanage or over-control that activity, managers do far better by focusing on the outcomes and performance of their employees," Stephanie Williams, a senior managing consultant with hrQ, tells Visier.
"One of the downsides of traditional offices is that leaders can come to rely on simply seeing people to generate understanding and assessment of employee productivity and performance," says Williams. "But this way of managing is a crutch. When employees are working remotely, leaders need to be sure to manage by setting clear goals, defining outcomes, and measuring results." 
---
Embracing radical flexibility
Some companies have always taken a collaborative, trusting approach to employee productivity; others are learning how but committed to developing a supportive culture wherever employees may be. Technology companies may have an edge here.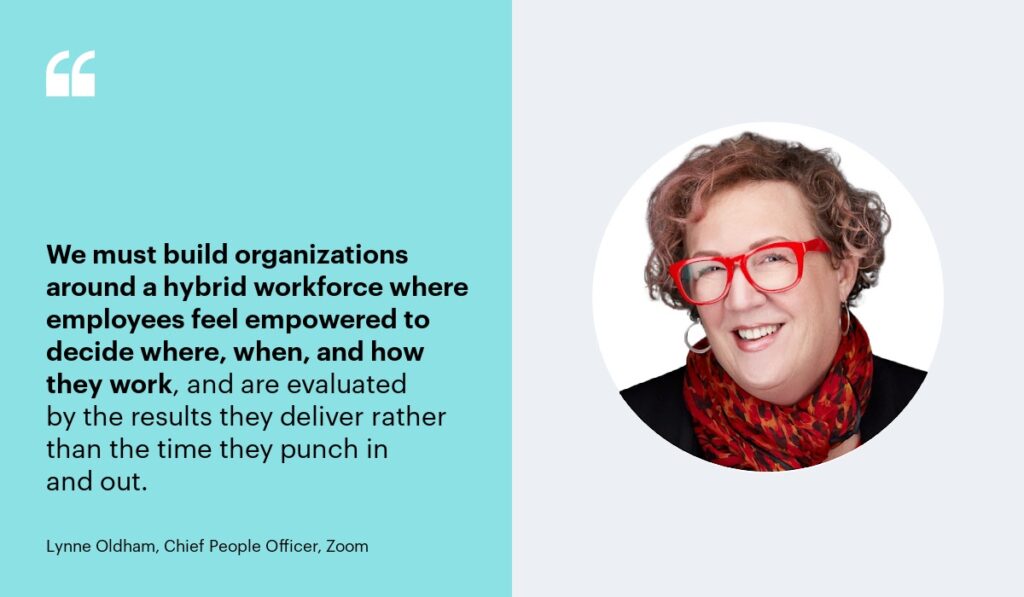 Zoom is one example.
In an interview with Visier, Zoom's Chief People Officer Lynne Oldham says: "What we've learned during all of this is that happy, enabled, and connected teams can do great work from anywhere. How do we support that? By embracing the concept of radical flexibility for our employees." That, she says, includes:
• Flexible time. With the ability to balance their time between the office and home, employees can maintain a healthier work-life balance.

• Flexible location. Working outside the office gives employees the ability to work from anywhere that has a connection, so they have greater freedom to travel or attend to family needs while remaining effective.

• Fit-for-purpose setup. Remote workers can easily create fit-for-purpose spaces in their home office, allowing them to seamlessly collaborate with in-office workers.
Oldham says: "We must build organizations around a hybrid workforce where employees feel empowered to decide where, when, and how they work, and are evaluated by the results they deliver rather than the time they punch in and out."
---
Remote-first management is the future
Fortunately, managers today have access to a wide range of technology solutions that can ease the burden on them while helping to manage workforces at scale—regardless of how large they may be. Here we're not talking about technology that employees can game by "wiggling the mouse" (i.e. activating the computer mouse so it appears that they have been working) or that are designed to, in essence, "spy" on employees to make sure they're "really working," but technology designed to measure productivity in a collaborative, team-based culture.
"Managers need to find out what makes their people tick and work to help them connect to the values of the organization and find meaning in the work they do," says Hopke. Employees today, she says, are "willing to walk away from managers who treat them without respect because they've seen that life is fragile and they are eager to feel appreciated, respected and supported at their work and outside of work."
Oldham agrees. Managers must develop "remote-first management skills," she says. "Managers who will help their organizations succeed in the future will know how to get the best efforts from each team member regardless of their work location while also creating a sense of belonging. Leading with empathy, they will need to provide clarity, empowerment, opportunity, challenge, and development to all team members." 
Importantly, that needs to take place in an environment where managers communicate clear expectations to employees and manage their productivity based on output rather than hours. 
About the author: Linda Pophal
Linda Pophal, MA, PCM, SPHR, SHRM-SCP is the founder and owner of Strategic Communications, LLC, and a marketing and communication strategist with expertise in HR and employee relations. With a background as a business journalist, her writing has appeared in the HR Daily Advisor, Human Resource Executive, and SHRM. She is a lecturer at the University of Wisconsin - Eau Claire.
Be the first to know!
Never miss a story! Get the Outsmart newsletter.
Related Articles
THE C SHEET
This week on The C Sheet, we cover hybrid work challenges for teachers, more data on the resignation wave, and the love (and hate) for Slack.
CULTURE
Unchecked, the climate crisis will cause catastrophe with workers dying and financial disaster. A number of new reports lay out the impending meltdown.
THE C SHEET
This week in workforce news: A new quitting trend, Comparably's companies with the happiest employees, and why women still aren't getting promoted at work.