Data from the U.S. Job Openings and Labor Turnover Survey shows that there continues to be more job openings than hires being made. Companies simply cannot hire fast enough to keep up with their workforce demands and competition is fierce for those high potential people who will deliver innovative solutions or go above and beyond for customers.
Now is a good time to take a look at your hiring plans and determine what has worked — and what hasn't — when it comes to your recruiting efforts. According to the talent acquisition study by Research Now and Visier, 71% of hiring managers agree that to increase the quality of people they hire, the hiring process requires improvement.
Here are a few suggestions to put on your list of recruitment resolutions this year:
1. Always Keep Business Results in Mind
Simply put, people are hired to fulfill a role that contributes back to your company's bottom line. It's important to keep this in mind when putting together job descriptions and embarking on the interview and selection process. Everything you are doing should be strategic and geared towards business goals.
If you don't already know what your organization is striving for in 2017, make it your mission to partner with one of your business leaders and ask them to help you understand how recruiting and hiring decisions can better impact business results.
2. Build Profiles On Top Performers
The holy grail of hiring is knowing whether someone will be a long-term quality hire before you give them an offer. To do this, you need to build a profile of the attributes of top talent at your organization, which you can then use to identify similar characteristics in job candidates. Here's how to find your top performers:
First, filter to people who have been with the organization for a minimum period (at least 12 months is recommended). Whilst tenure is no guarantee of quality it is important that people have a baseline of experience and demonstrated cultural fit within the organization.
Once you have this pool, look at how they've performed and the quality of the work done in that time. This should narrow your pool of talent even more.

Examine how soon each one received a promotion. If an individual progresses faster than average, they should be seen as a higher quality of hire.
Now that you have a definitive group of long-term quality hires, assess their characteristics and their journey through the company all the way back to when they first applied. You can then use this profile to craft the optimal job descriptions, interview questions, and skills assessments for attracting and hiring high quality talent.
3. Treat Job Candidates Like Customers
According to the 2016 Talent Board North American Candidate Experience Awards Research Report, 47% of candidates were still waiting to hear back from employers more than two months after they applied. A poor candidate experience can hurt your employer brand. Just as you wouldn't disappear on a customer, you shouldn't leave job candidates wondering if they're ever going to hear back from you.
To combat this, research the capabilities of your recruiting tools so you can automate the process of updating your important candidates on their status. For extra points, find out each candidate's preferred method of communication — phone, email or text — and use it to stay in touch at a frequency that works for them.
4. Adopt a Data-Driven Mindset
70% of hiring managers agree that to improve long-term business impact, recruiting programs at their organization need to be more data-driven or fact-based. The recruitment process is a treasure trove of big data that — when mined carefully — reveals important information on the strengths and weaknesses of your current hiring process.
Work with your HR analytics team on the best process for regularly assessing and reviewing just pre-hire data and post-hire data on employees. Not only can you use this information to be a source and hire talent more effectively, but it will also help you optimize spend on recruiting so you're hiring the right talent at the right cost.
5. Try This Trick to Increase the Diversity of Hires
There is some research into the reduced bias seen when the diversity of a job interviewer is matched to the candidate's; for example, a female interviewer matched to a female candidate. It's an experiment worth trying at your organization. Keep a close eye on whether it improves your hiring rates and if so, it should be a practice you use for all open positions — not just the ones you're focused on getting diverse candidates for.
6. Deliver on Recruiting Capacity
Recruiting is a fine balance: over-hiring can create an unnecessary cost burden, while under-hiring can reduce productivity. Data-driven workforce planning, done in collaboration with HR and Finance, enables recruiters to create more accurate hiring plans that use forecasts based on historical rates for factors such as employee turnover and internal transfers between departments.
7. Don't Always Hire for Quality
Contrary to popular belief, you shouldn't spend your energy on finding high quality talent for every job opening. Instead, focus on hiring top talent only for the roles that are critical to achieving business results. For example, attracting a senior nurse should take priority over replacing a junior accountant at your hospital. While both roles are valuable and deserve a great recruitment experience, one will do more for your organization's financial results, customer service, and employer brand.
Remember that effective recruiting means being smart with your time and resources — always focus your efforts on what will produce the most value to the business.
A version of Dave's article first appeared in Forbes on December 28, 2016.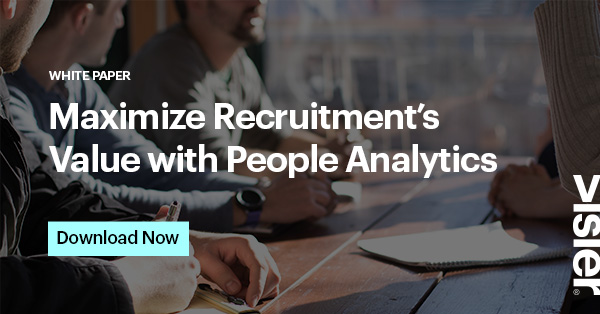 About the author: Dave Weisbeck
Dave enjoys problems that require both logical and creative solutions, and thus exercise both his left- and right-brain. He started out his career in the 90s writing code as a computer programmer, and then moved on to product management, marketing and general management roles. Dave has a strong background in analytics, having played a key role in the analytics businesses at SAP, Business Objects, and Crystal Decisions. At Visier, he looks after product and market strategy. A proficient do-it-yourselfer (he made his own PVR for fun), Dave's hobbies include the logical and creative challenges of cooking, home brewing, and photography.
Be the first to know!
Never miss a story! Get the Outsmart newsletter.
Related Articles
TRENDS
For this roundup of top HR analytics articles for spring 2017, we looked guidance on how HR can prepare for using HR-driven business analytics.
TRENDS
The evolving work ecosystem demands that leaders consider applying new work arrangements, but are they associated with HR's role as a strategic partner?
PRODUCT INSIGHTS
Rob Rueckert, Managing Director of Sorenson Capital, discusses the future of big data analytics and why he was eager to join in Visier's Series D funding.