HR's goal this year should be to move up the Workforce Intelligence Maturity Curve as quickly as possible. Learn how HR can accelerate its progress from the Reactive level to the Standardized, Focused, and ultimately, Strategic levels.
Maturity models have been so successful in breaking down the journey, intermediate goals, and steps to creating business impact that there is hardly a discipline or function without a model. They are particularly powerful in scenarios where the path to business impact is less obvious, and so we often see them in process-heavy or data-heavy disciplines.
While companies see people analytics as a high priority, most organizations have not progressed to take advantage of the opportunity that workforce data provides. Many that have graduated from metrics to analytics use it very simplistically, often to respond to one-off data requests such as "how many employees were hired last month?" or "how many people left from my department?" Once the reports are generated, they are rarely used again and the only process in place is to react to the next request. This provides little in efficiency and, more critically, little business impact that comes from connecting workforce data to business outcomes.
Managing employee data, and turning it into business impact is, therefore, a perfect scenario for a maturity model.
This is why HR's new year resolution should be to move up the Workforce Intelligence Maturity Curve as quickly as possible.
The diagram above visualizes the maturity model we have refined over the years here at Visier: It sees increasing value as the impact moves from responding to requests, to driving increased business outcomes. The curve represents the increased value achieved through a successful fact-based and business-oriented mindset. For example, an organization that is at the Reactive level can answer basic questions like, "How many people retired last year?" As you move to the Focused level, the questions you can answer increase in value as you start to make connections such as, "What shortfall in skills will result from retirements?" Finally, as you hit the Strategic level of the curve the questions become more powerful like, "how will retirements impact our revenue targets?"
There is no one single activity that will move you up the maturity curve but, generally speaking, the journey up this curve requires moving from reporting on what's happened in the workforce to continuously using past and present data to inform workforce decisions that drive business outcomes now and in the future. For HR to realize its full potential this year, it needs to accelerate its progress from the Reactive level to the Standardized, Focused, and ultimately, Strategic levels.
Level 1: Reactive
Most organizations today are at the Reactive level. The main behaviors that characterize the Reactive level are:
most reports are created to support a specific request for data
spreadsheets are the primary solution to share data
heavy manual effort is required to collect data

analysts are the main users
As the Reactive name implies, the most common behavior at this level is to react to requests from users. Most of those requests take on the form of reports — listings of data — rather than provide any form of analysis that tries to uncover trends, seek out root causes, or provide some insight into why something is happening. Therefore, the decisions that follow from the use of such data are inherently operational. They are used to ensure Talent Acquisition adds positions to hire because of departures, or the Talent Management team follows up with whoever hasn't completed their performance evaluations.
Generally, spreadsheets will be the single tool where data is collected and sorted, and it will also be the same solution to share data. It is an insecure, unreliable, manual and cumbersome process. Compounding this, metrics are also non-standard: a common challenge at the Reactive level is the loss of time in meetings spent with stakeholders comparing numbers to try to determine whose number is right.
Finally, due to the level of effort required, the value of such approaches is reduced. The most valuable questions are answered by connecting multiple systems of data: for example, connecting performance to compensation.
Moving Up
To progress from Level 1: Reactive to Level 2: Standardized, an organization typically invests in a dedicated analyst and/or planner position, and provides them with visualization and/or dashboarding toolsets that are built to solve many of the challenges of a manual and unreliable spreadsheet-based solution.
Level 2: Standardized
Level 2 is the second most common level for organizations today. At this level, the focus is on improving HR processes by standardizing basic key HR metrics, and producing and sharing regular reports or dashboards across an audience of HR and executive leaders.
The main behaviors that characterize the Standardized level are:
Dashboards and/or reports are shared on a regular basis with Executives and HR leaders
Dedicated solutions — usually for dashboarding and/or reporting — are established
Definitions for core metrics are created
Multiple sources of data may be connected, but manual effort is required

Annual headcount planning occurs in spreadsheets
Generally, workforce planning starts at this level as a mechanism to track required headcount,  usually as part of either building hiring plans or controlling costs. However, workforce plans are likely to be annual efforts created with little or no insight into historic workforce trends, no ability to model different scenarios, or to model changing aspects of the workforce such as costs. With efforts still largely manual, and likely relying on spreadsheets, plans are managed centrally with little collaboration across business leaders outside of the executive team.
At the Standardized level, dashboards are a common addition to the organization's analytic capabilities. Dedicated reports, which group and summarize information, become a common way to share information. However, visualizations remain static and do not allow for interaction with the data they contain to explore for further insights. There may be connections between data from more than one HR system; however, this integration is performed manually and requires skilled data management resources.
Moving Up
HR typically finds it difficult to move up from Level 2. The most common reason being the complexity related to workforce data, which is generated by numerous, disparate systems, and most organizations' inability to organize and derive insights from information. At this stage, organizations will often head down the rabbit hole of a data warehouse project, which can dramatically slow them down — more than 50% of which fail, according to Gartner, and cost on average $2.3 Million, according to IDC. (Good news: There are better options.)
Level 3: Focused
Although moving from Level 2 to 3 can be a significant effort, both technologically and organizationally, the rewards are great. At Level 3, the focus is on aligning HR with the business strategy and goals — a critical factor in ensuring HR provides strategic, not just administrative, value to the business.
At this level, all business leaders (not just a select few) have access to workforce insights and are able to contribute to workforce plans. In addition, the organization at-large has adopted a data-driven culture where:
All leaders have access to self-service insights, with standard metrics and analytics across all HR topic areas
Workforce plans are reviewed and updated on a monthly basis in collaboration with leaders
Workforce analytics connect to business results
Planning is driven by workforce trends, costs and business goals
Findings are shared using interactive, purpose-built visualizations

Data from all internal HR systems, as well as benchmarks, are integrated
One of the core capabilities that sets the Focused level apart from Standardized is the self-service ability for users to answer their own questions. This is often paired with an investment in data scientists or other analytic resources in the HR organization that can tackle deeper questions that connect talent data to business outcomes. Too often, HR organizations try to skip too fast to predictive and data mining, and will find their highly skilled resources manually creating reports.
The other core capability present at this level is an automated approach to the integration of data from multiple workforce systems. By, for example, connecting recruiting data to performance management data you can answer more powerful questions such as "what sources provide us with the highest quality talent?". The automation of this work also helps to ensure highly skilled analytic resources can focus on more valuable workforce questions.
Finally, Standardized organizations are also planning organizations. They make decisions about the future by applying insight they have gained from past trends, which is aligned across business stakeholders, and is evaluated against business goals. They recognize that the business environment, work environment, and workforce are constantly changing and so they evaluate plans and adjust them on a regular basis.
Moving Up
The biggest error most organizations make in attempting to move to Level 3 and 4 is forgetting that mindsets and skillsets of the HR organization matter as much as the investments in technology. And this change starts straight from the top. The CHRO needs to take a mindset that, while opinions are nice, decisions happen when they are backed by data.
Level 4: Strategic
To reach the top of the workforce intelligence maturity curve, the organization must completely adopt a data-driven mindset, enabling all people managers to leverage workforce data to drive business outcomes. At Level 4:
Business data is integrated with workforce data to clearly connect workforce trends, decisions, and plans to outcomes
Workforce planning is a continuous process with data-driven forecasting and workforce modeling
Predictive analytics insight is available to all, allowing HR and people managers to build plans for the future and take action to prevent undesirable outcomes

Data is unified not only from sources within the business, but from sources outside that provide benchmarks and critical environmental insight – a true Big Data approach
Too often, workforce decisions are made with only short term considerations in mind. Strategic organizations are able to add in the additional capabilities and approach to connect decisions they are making today, to outcomes they desire next quarter, or next year. Through analysis they know what has happened, and through planning they have aligned on what they need to change. And the change aligns those decisions not only to HR outcomes they desire — such as increased engagement, reduced turnover, more effective recruiting — but also to business outcomes they desire: Increased customer satisfaction, higher margins, more revenue. The use of data aligns the organization on the actions they need to take.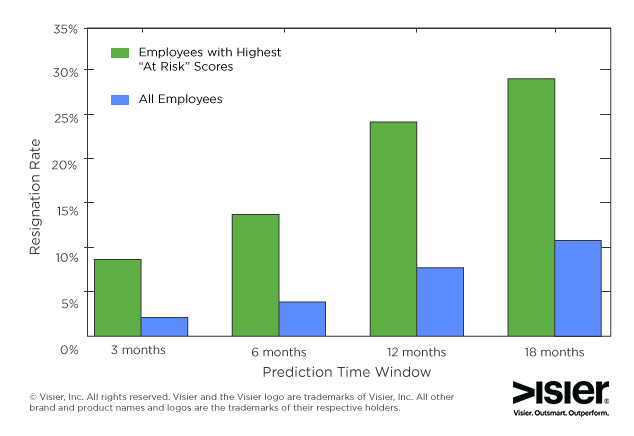 Moving From Reactive to Strategic: It's Worth It
The journey to the final level of the curve is not an easy one, but the benefits to both HR and the business are immense. It's an evolution that, as Jacob Morgan, co-founder of the Future of Work Community, puts it, enables HR to "[move] away from just focusing on legal documents, hiring and promotions to truly being the knowledge center for understanding how work gets done."
As you move through each level, build trust with leadership by showing how effective data-driven workforce decisions are. Executive buy-in will make the journey not only easier, but their support will be crucial to creating the data-driven culture needed in Level 3 and the strategic, fact-based mindset needed in Level 4.
Should you need any help as you move up this curve, use the chart below to guide you on your journey: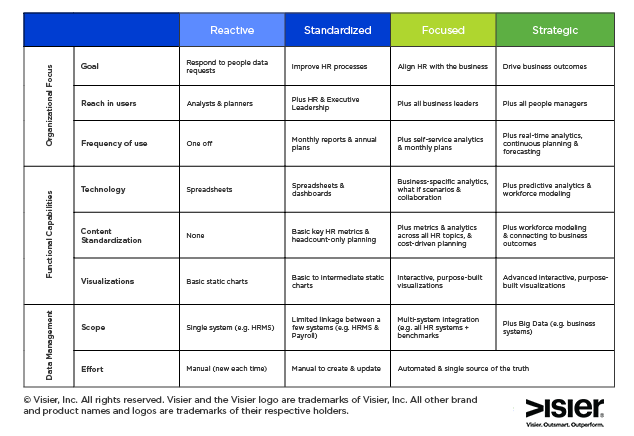 About the author: Dave Weisbeck
Dave enjoys problems that require both logical and creative solutions, and thus exercise both his left- and right-brain. He started out his career in the 90s writing code as a computer programmer, and then moved on to product management, marketing and general management roles. Dave has a strong background in analytics, having played a key role in the analytics businesses at SAP, Business Objects, and Crystal Decisions. At Visier, he looks after product and market strategy. A proficient do-it-yourselfer (he made his own PVR for fun), Dave's hobbies include the logical and creative challenges of cooking, home brewing, and photography.
Be the first to know!
Never miss a story! Get the Outsmart newsletter.
Related Articles
CULTURE
Leaders want to make impactful investments, especially when it comes to reducing gender disparity. John Boudreau explores how analytics and HR can help.
TRENDS
Today HR has the opportunity to enter the spotlight again as a leader in data-driven workforce planning. Learn how to avoid talent shortfalls.
CULTURE
To help you along your journey to HR brilliance, here are our top five HR articles from 2015. Brilliant HR in 2016 is data-driven, strategic, and impactful.