Do you see yourself becoming a respected and successful CHRO one day?
A report by Harvard Business Review Analytic Services reveals that the "new" CHRO must be an assertive, data-driven, strategic leader, who demonstrates business creativity and innovation, takes on responsibility for contributing directly to business performance, and arms their organization with the tools needed to be more fact-based in workforce decision-making.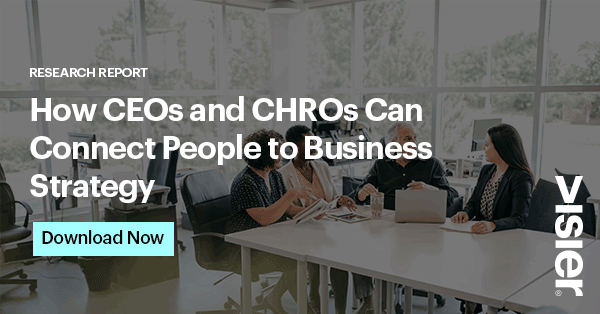 The talent function can make a lasting impact on the whole business — and not just on people management — by guiding business leaders on the affordability of the resources needed to meet strategic objectives.
How a Data-Driven Mindset Improves Business Outcomes
The cost of people in any organization is in the range of 60-80% of the total annual expenses. Most experience a 10-20% staff turnover. In some organizations, the turnover can be over 100% if contingent and part-time employees are also included.
Managing the cost implications of these dynamics is a massive challenge:

How does one predict the real turnover?
How does one predict the lead-time to backfill departed employees?
Will new employees be willing to work for the same wage as the ones that departed?
Can one hire the required skills in the right place?

What happens to customer service while the new employees ramp up?
Most firms deal with these problems by looking at last year's outcomes, some degree of guessing, or simply gut feel, as well as a lot of financial buffering to ensure that the bottom line is not exposed. In addition, spreadsheets become the central means of planning. This entire process is wasteful, inaccurate and very risky.
The financial buffers needed to protect the organization's budgets can be as much as 5% of the workforce expense plan: For a 10,000 person firm, the people budget can be between $500 million and $1 billion. In this case, a 5% budget reserve equates to between $25 and $50 million.
This is money that could be used for a much more productive purpose, such as introduce a new product or service, acquire a new business, improve customer service, deliver higher profit, etc.
[Recommended Read: Why Connecting Workforce Outcomes to Business Outcomes Matters]
Yet most organizations choose to ignore this problem and instead focus on adding or replacing systems that provide hiring or performance management aids. At best, these solutions marginally help to improve the quality of the process. Often, they cost far more than projected to implement and take twice the scheduled time, or miss their objectives entirely.
And without the accurate insight based on up-to-the-minute analytics, firms may be fixing the wrong process.
Turn "Traditional" Approaches Upside Down
A strategic, data-driven CHRO will turn this approach upside down: starting with an accurate, Big Data insight into operations and people, and making the budget planning process far more accurate. The plans should be based on predictions from real history adjusted for current workforce market trends and bottom-up input from the local managers who deal with the people processes every day.
Putting data that is already in the organization to work, a strategic, data-driven CHRO will:
Eliminate unnecessary financial buffers
Identify problem areas in the organization
Improve hiring success

Better allocate compensation budgets based on real business outcomes
The return on investment in workforce insight and accurate planning can be an order of magnitude of greater than in fixing inefficient process systems, such as performance management or applicant tracking.
Today's CHRO Must Look Beyond HR
This is an exciting time for HR leaders: with technology advances, HR gains the ability to access a complete view of what is driving talent costs and use this data to more accurately plan for the future. The CHRO is responsible for driving this data-driven approach and ensuring — even spearheading — its adoption within the organization.
Talent must be optimized — always at the optimal cost — to create a stronger bottom line. With the hard facts provided by analytics and intelligent workforce planning, CHROs can more confidently address workforce management processes and identify opportunities that will achieve faster and higher ROI from these investments and projects. It's about looking at the business as a whole and determining where HR can bring the most value.
Trusting in the data is vital to success. It should be used to determine where the real problems are in the organization, and create people plans to improve these areas. The savings from this kind of bold move will not only fuel other important business initiatives, but also allow for the focused upgrade of other HR programs and systems, while still leaving room for Finance to show a gain in profit.
To quote Dave Ulrich, "strategy is a window through which HR professionals align their work to forces and stakeholders outside their organization." If you want to truly be a successful CHRO, accurate data from within and outside of the organization is essential.
About the author: John Schwarz
During his tenure as CEO of Business Objects, John doubled the company's revenue to more than $1.5 billion, executed seven strategic acquisitions, and negotiated the company's successful sale to SAP. He founded Visier, building on his many years of experience to invent a new approach to answering business intelligence questions. The objective was to fix the perennial problem where business users spend a lot of money on IT and get little or no benefit in return. John is a water baby, always to be found on or in, but never more than a few feet away from a (preferably warm) ocean.
Be the first to know!
Never miss a story! Get the Outsmart newsletter.
Related Articles
CULTURE
Equal Pay Day symbolizes how far into the next year women must work to earn what men earned in the previous calendar year.
CULTURE
The HR Hackathon suggests tapping professionals at the very earliest stage of their careers. Retooling HR using the disciplines familiar to the best.
TRENDS
It is critical to understand what HR transformation really is and the role HR analytics plays in transforming HR. Mark Berry shares his expertise.