The news media and your own HR department are probably telling you things you already know about the "Great Resignation." Yes, it's a real thing—even if you haven't experienced the turnover on your own team. And, sure, HR might come up with some programs, but the real work in retention is up to individual people managers. But first, people managers need to get clear on understanding the signal vs. the noise because there's a meaningful difference between "what you can do" and "what you should do" when it comes to retention.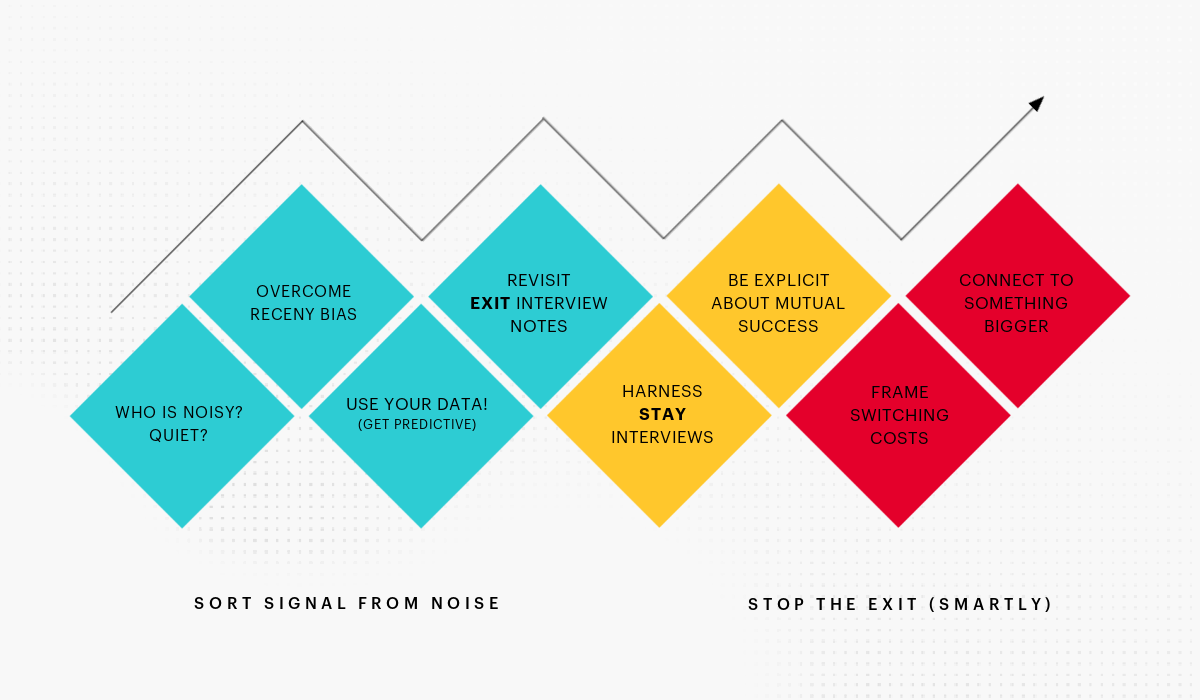 Balance all the information
Most people have not been through an economic and social change cycle like this, so make sure you look at the situation with fresh eyes and an objective lens! Getting a clear picture of what can and can't be controlled when it comes to retention is important. It's helpful to figure out who is worth spending time on when it comes to your retention efforts.
Listen to the employees who are not talking. In my experience, the most vocal employees easily dominate your calendar, often repeating back news articles and asking: "What are you going to do to keep me?" Employees who give an obvious signal about leaving are often the ones yet to start a job search. The people who are quietly planning their next move—and don't benefit from your attention—are the ones that surprise you. Reach out to them before it's too late.
Beware the recency effect. Humans have a tendency to remember the most recently presented information best. Don't let the last reason someone left become the only narrative for what's going on (one person poached for a 20% raise elsewhere does not make a trend). We have all seen anecdotes become "swirls"—and then self-fulfilling prophecies. Make sure that you, as a manager, create and own a balanced narrative.
Use data (and predictive models). Look back at historical data and try to see a pattern. Go back before the pandemic and try to answer the question: "What would normal turnover be?" Some of what we are seeing today might be pent-up turnover from last year. Focus on specific populations (like early career) and explore the drivers of exit and retention. Examine salary progression, career movement, engagement, and manager stability. Get curious about how quota/production attainment, high-profile task assignments, or development program nominations shape exit rates (now and in the past).
Dust off the exit interview notes. Review a dozen exit interviews after three months have passed. Do a thematic analysis and consider what you can and can't impact when it comes to retention. Look to understand the difference between what might have been missed cues in the manager-employee relationship, legitimate gaps in expectations, and external factors that might be hard to impact in the short term.
Now it's time to act. Here are four things you can do:
Harness the power of Stay Interviews. A Stay Interview isn't just about understanding why someone might leave—it's about connecting back to the reasons they stay. Connect with the individual reason someone shows up and stays engaged. If you appreciate someone's loyalty then make sure they know it! If you care about the whole person and not just their performance, let them know it! If you are open to making changes, let them know it! Listen carefully across interviews and a pattern should appear.
Don't just assume—be explicit about mutual success. The conditions creating the "Great Resignation" put some people on the fence about staying, exploring, or going. Remove the temptation to explore something that is "uncertain and unknown" with a fearless conversation about mutual success. It's time to lean into turnover that might be mutually beneficial, but also prevent someone from leaving before they realize their full potential and rewards. Which leads to…
Frame "switching costs;" reinforce rewards and career. Changing jobs is a risk/reward calculation, and sometimes employees undervalue what they currently have. Most employees don't know (or understand) their total rewards. Get your HR team to do more and better communications. Secondly, make sure career progression is well understood. Moving for a one-time salary bump might not be better than the 3-year progression of experience and pay you get by staying. Sometimes you just have to lay that out for people.
Connect back to purpose and culture. Many people are re-evaluating the meaning of work in their life. Some people want a paycheck plus. The plus might be about your company culture, or even the reason your company exists. Not everyone wants to work for a company that is trying to save the world, but they do want to connect to the economic and social value your company creates.
Bottom line: You'll hear lots of hype and advice during this "Great Resignation." Do your own listening and research to find out what will work best on your team. HR programs and pay will only go so far. Find the signal in the noise that reveals who will leave next and, more importantly, how you can get them to stay.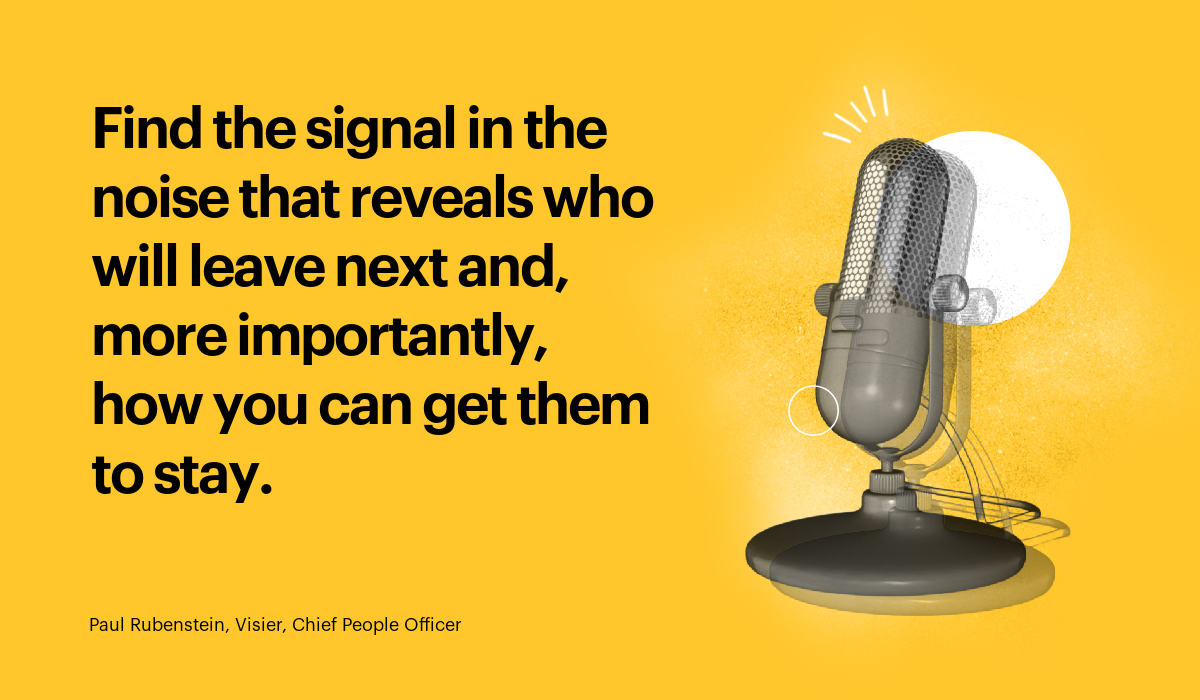 About the author: Paul Rubenstein
As Chief People Officer for Visier, Paul is responsible for ensuring the company has the right culture and talent to fuel growth and innovation. With more than 25 years of experience consulting and working in HR, Paul has extensive expertise in leading the transformation of Talent Strategies and HR Functions, with work spanning M&A integration, corporate strategy, total rewards, outsourcing, and service delivery design. Prior to Visier, Paul was a partner at Aon Hewitt, where he advised large enterprise HR leaders on talent and HR function strategy.
Be the first to know!
Never miss a story! Get the Outsmart newsletter.
Related Articles
THE C SHEET
This week on The C Sheet: we discuss Nike's week off for employees, work conditions disclosures, best books on leadership, and Ted Lasso.
HR GLOSSARY
What is the datafication of HR? Here, we define it and share why it's essential for modern HR teams.
HR GLOSSARY
What does digital transformation mean and how does it relate to HR? Here, we answer that question, including steps to achieve it.