In HR, we talk a lot about the employee experience, but what does that really mean? For Clay Worley, CHRO at NCI Information Systems, it means providing employees with what they need to be the most successful. At NCI, an IT company specializing in IT transformation, employee experience must add real value to employees' lives so that they can then add value to the business.
In our second webinar of the Leapgen x Visier series, Leapgen's Co-founder and CEO, Jason Averbook, and Visier's Director, Product Marketing, Caitlin Bigsby, joined Clay to discuss why empathy and data is the best formula for an exceptional workforce. In case you missed it, continue reading for the recap.
The power of "How are you?"
"We live in a world where there's a lot of questions being asked, there's a lot of listening that needs to be done, and there's a lot of action that needs to be taken," began Jason Averbook. "Yet in many cases, we don't actually show empathy by asking a question as simple as, 'How are you?' And we don't think about how that ties into employee experience."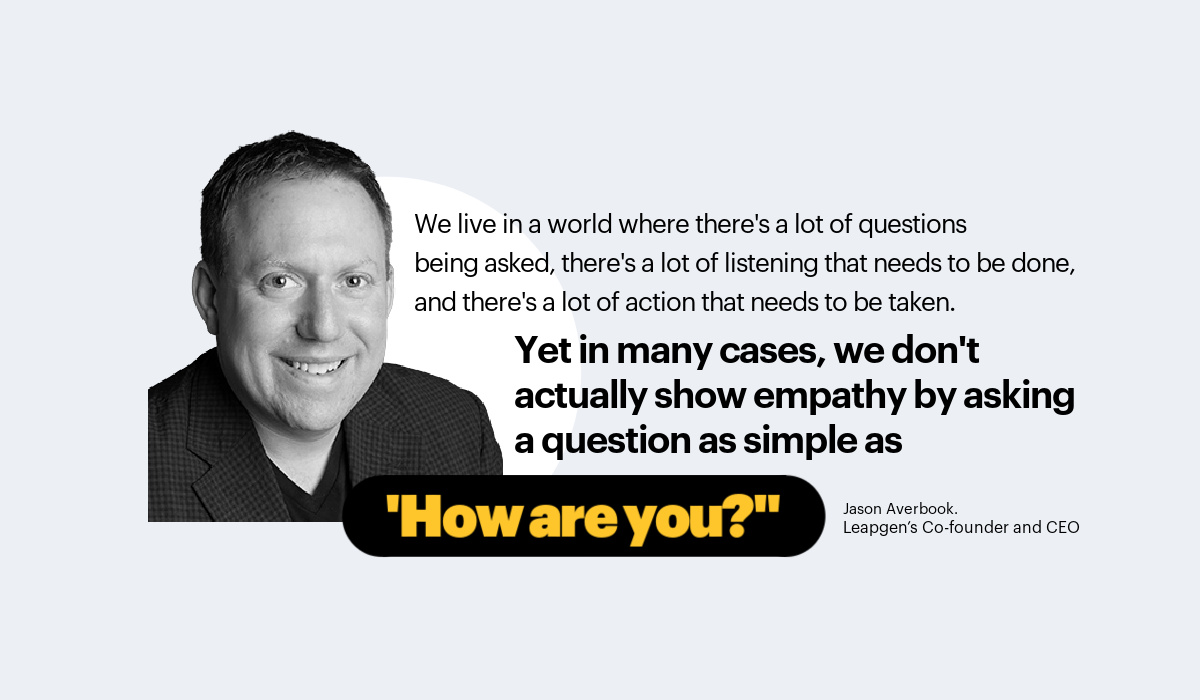 Asking your employees how they're doing is like giving a mouse a cookie: When you ask your employees how they are, then you have to listen. If you listen, then you have to do something about what they tell you. When you do something with what they tell you, then you improve their experience. When they have a better experience, they work more effectively. When they work more effectively, they add value to your business.
And when you put people data in the hands of managers, it allows them to lead their employees to show up in the best way possible. But one size doesn't fit all.
"The biggest mistake that people make is they read about something that has been shown to improve experience and they go, 'Okay, let's try that,'" says Caitlin. "But they do that without actually understanding their own organization."
What drives one employee's experience is going to be completely different from another's. HR teams should leverage people analytics to figure out which programs benefit different groups of employees, and then use that data again to track progress.
Getting to the right information
Clay says when it comes to collecting data, you have to ask yourself what information is actually important. If not, you can end up with a ton of data, but no clear action plan for how to leverage it. In this case, you have the quantity but not the quality—metrics that tell you what happened, but fail to answer why.
Tied to the success of this is having technology that can take data from disparate sources to tell a clear story. When you have both the right technology and information, "The conversation turns from backward-looking metrics to metrics you as a business leader can use to run the business," says Clay. "And for NCI, people is our business."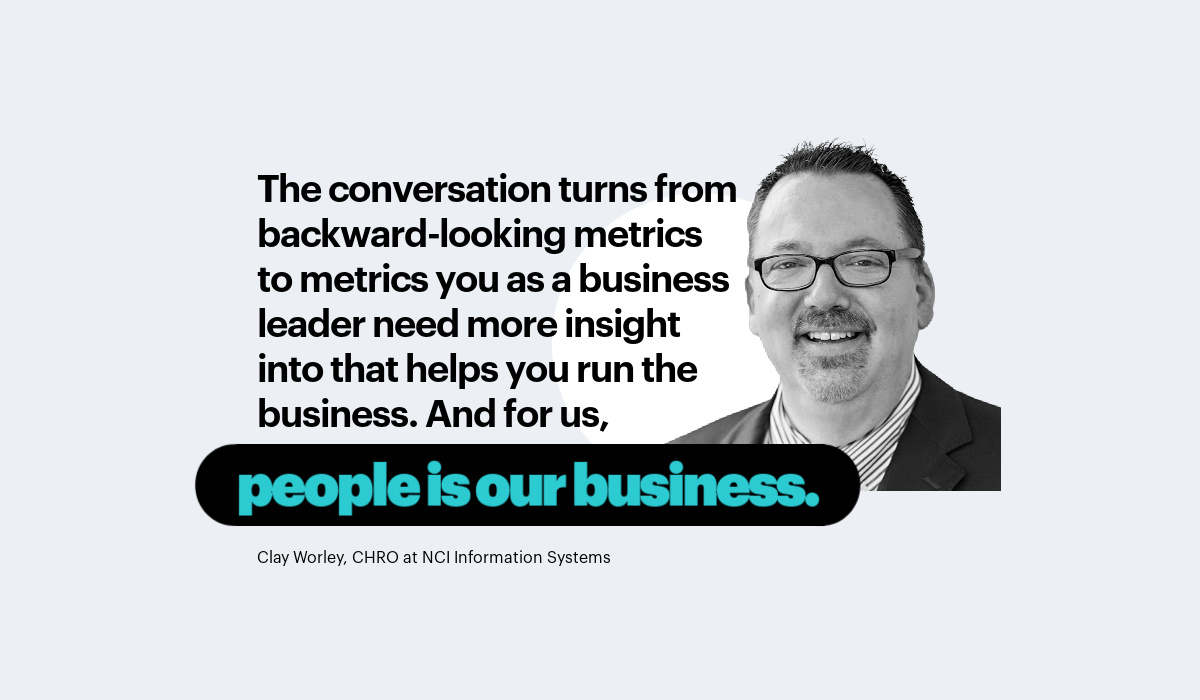 Lead with transparency to overcome fears
For some organizations, access to people data can come with fears from both executives and employees about what's going on within the organization. Clay says his antidote for this is transparency: "At my company, we show the good, the bad, and the ugly."
Additionally, by showing employees the data, even when the numbers aren't what we want them to be, it gives companies the opportunity to turn around and say what they're going to do about it. "Any problems that are at risk of being exposed with data, also can't be fixed without the data," says Caitlin. "And that's what we need to make clear to our employees—we're using this data to do better."
When you're honest about where you're at as an organization, you can move forward in the right direction. The first step in getting to where you want to be is identifying where you want to go, and then taking action against it to make progress.

Register now for the next webinar in our Leapgen x Visier series, People Data as a Business Accelerant: Maximizing Human Effectiveness, airing August 18th.
About the author: Grace Sheppard
Grace is a content marketing coordinator at Visier, where she helps create and organize ideas. She has experience in a variety of marketing roles, including social media and event management. Outside of work, Grace enjoys writing fiction and walking with her dog, Pippy.
Be the first to know!
Never miss a story! Get the Outsmart newsletter.
Related Articles
THE C SHEET
This week on The C Sheet, we discuss digital recognition, Black Women's Equal Pay Day, and managing a multigenerational workforce.
PRODUCT INSIGHTS
A new European survey revealed three massive opportunities for people analytics–and expert-driven tips for how best to progress in each area.
CULTURE
Arrive at Happy founder Tia Graham shares how companies can reimagine their employee experience in the midst of a labor exodus.