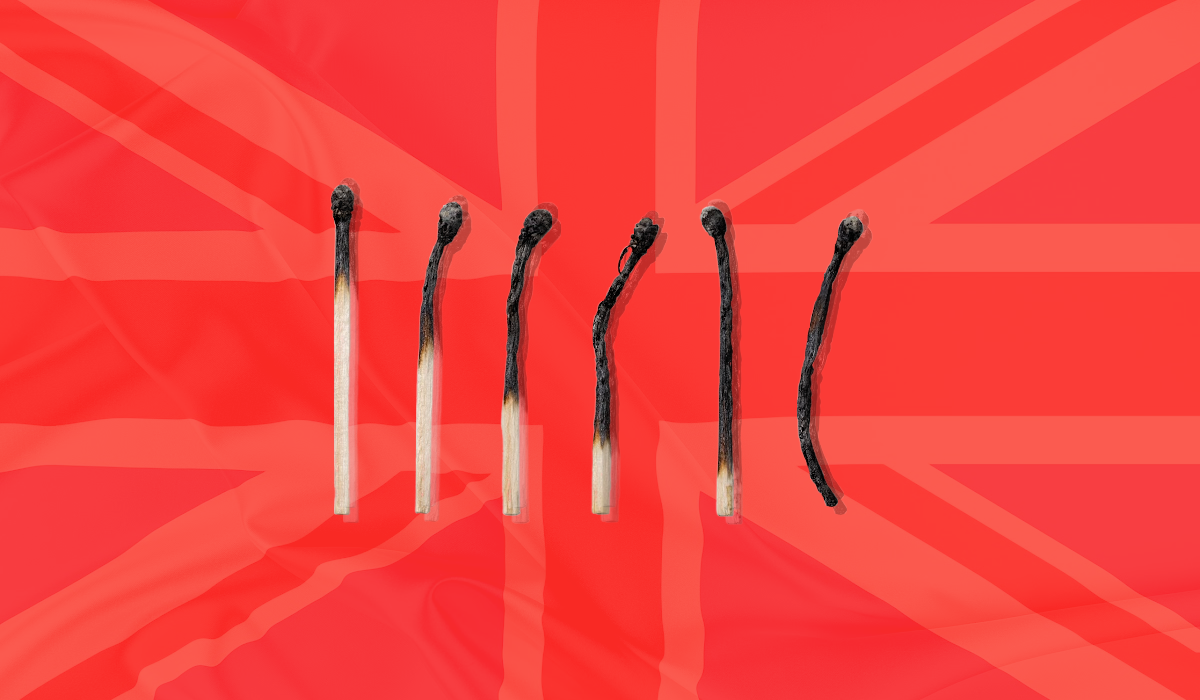 "I quit!" Fresh data on the rise of burnout reveals UK businesses are on the brink of a retention crisis.
The rising trend of burnout among workers in many parts of the Western world is no secret—many people have been feeling the strain since the start of the pandemic disruption, subsequent lockdowns, and the shift to new ways of working.
As employers find their way through hybrid working and an accelerated period of digital transformation, employees have been burdened by the trial and error structural changes, upticks in demand for certain services and offerings, and the impact of The Great Resignation.
With the number of people experiencing burnout steadily on the rise, we wanted to better understand how this alarming trend was impacting UK employees and the implications for business continuity.
With data partner Censuswide, we surveyed 2,000 UK employees to find out more about Britain's burnout crisis more than 18 months after the onset of COVID-19. Using the World Health Organisation's (WHO) definition of 'feelings of energy depletion or exhaustion, increased mental distance from one's job, and reduced professional productivity in relation to chronic workplace stress', we drilled into the physical and psychological impact of burnout to find out how workers were coping.
UK burnout has created a national "occupational health crisis"
Our findings indicate that nearly three quarters (73%) of all respondents feel more burnt out since the onset of the pandemic. The top three reasons cited for burnout were shortages of employees (38%), long working hours (30%), and a lack of recognition in the workplace (25%). It doesn't take much imagination to work out the detrimental effect this has on people's mental health. Somewhat alarmingly, 46% of respondents flagged experiencing trouble sleeping, or having suffered the effects of exhaustion as a direct result of work over the last 18 months. Some 39% said they'd had negative thoughts as a result of work-related stress.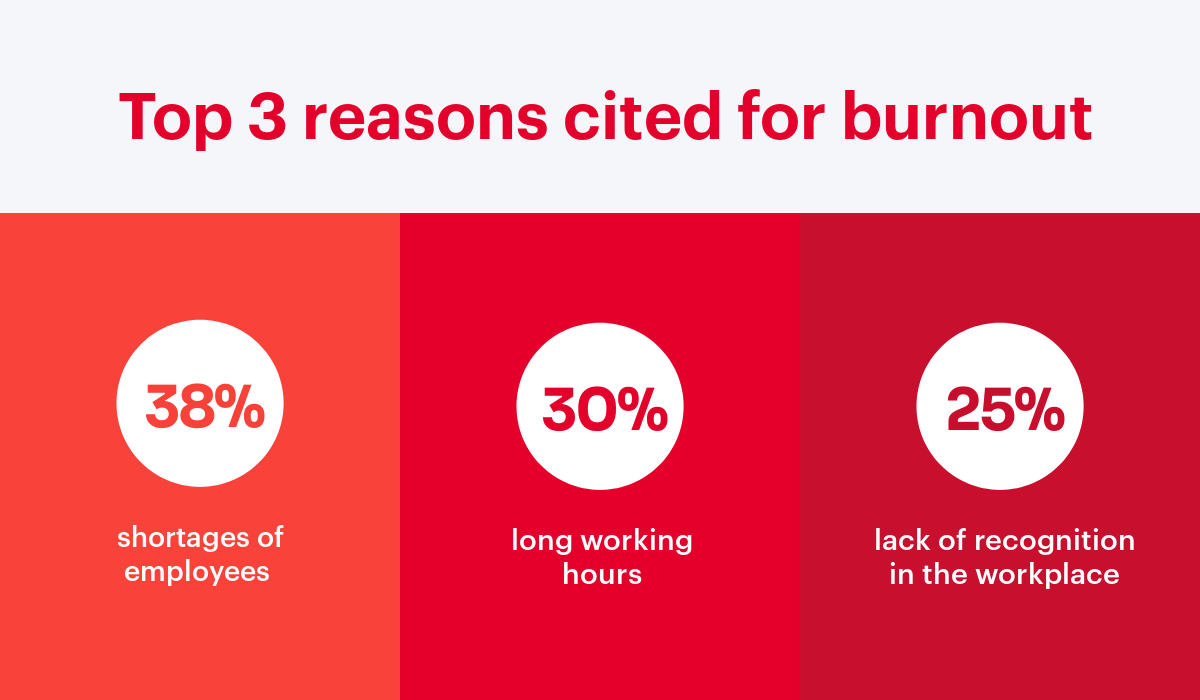 Unfortunately, the impact of this trend does not stop at the individual employee. Almost half of respondents admitted to getting agitated at partners, family members, and friends as a result of experiencing burnout.
It's not looking good for employee retention
Burnout presents a challenge for employers trying to retain employees. According to the same survey, more than three quarters (79%) of respondents have considered leaving their current job due to feelings of burnout. And, more than a third (38%) are actively job hunting right now.
It's clear that Britain is currently undergoing an occupational health crisis. Burnout is becoming pervasive in our workplaces and employers need to act to protect the wellbeing of their people, or face the reality of a talent exodus.
Gen Z are taking the brunt of burnout
When it comes to tackling burnout, each generation faces its own challenges. For more seasoned employees, adapting to new technology and ways of working is nothing new. But if not managed correctly, these can end up causing more stress than before.
For those entering the workforce without the context of how much work is too much work, burnout can be a particular problem. Our data suggests young professionals aged 16-34 are most likely to experience burnout, with a staggering 80% of Gen Z reporting feeling burnt out.
Companies risk losing up-and-coming junior talent as burnout is becoming a generational issue. It's more important than ever for employers to get to grips with what's causing this phenomenon.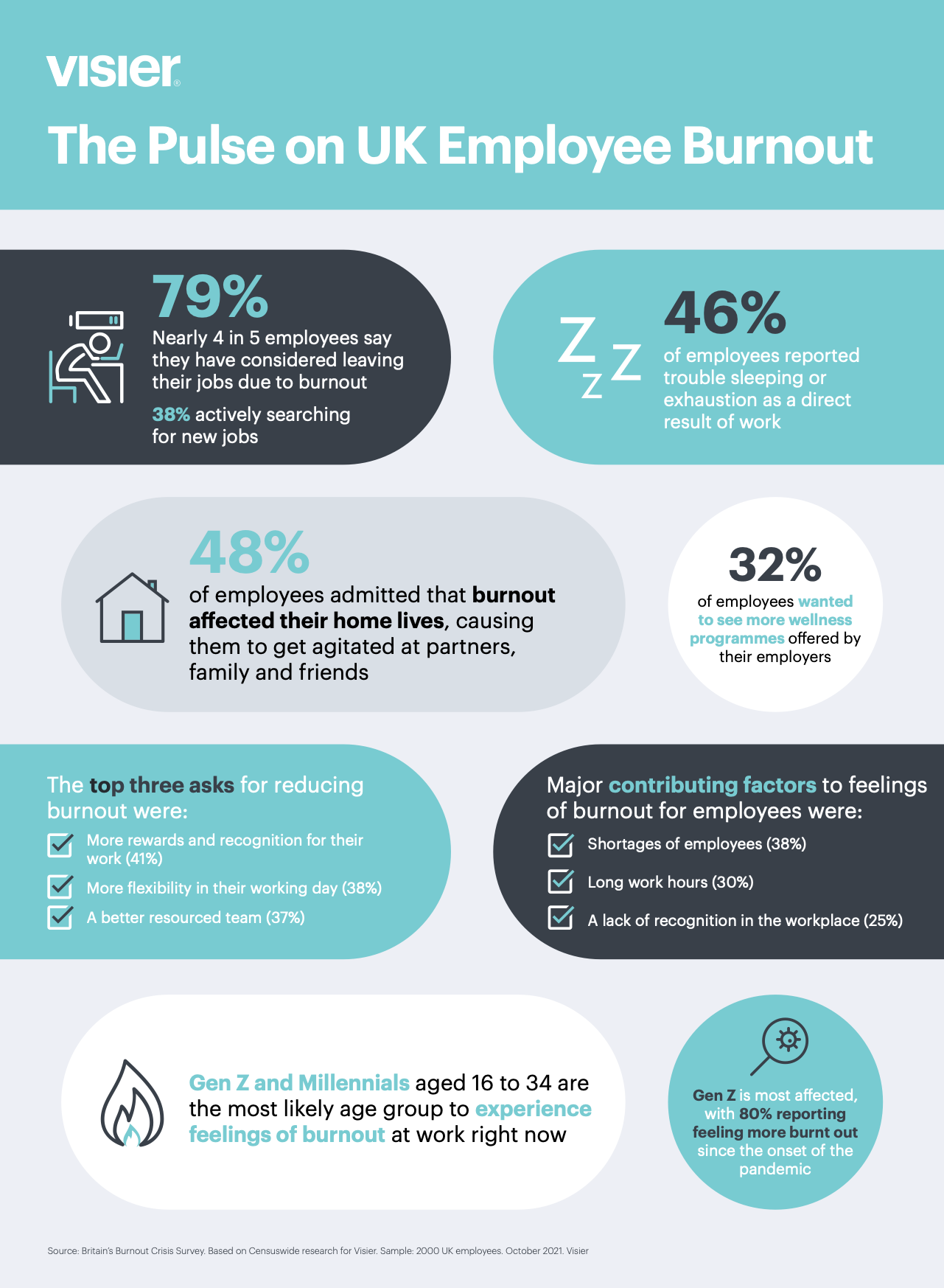 Flexibility and lasting change are the key to getting us out of this mess
It's clear that flexibility—and some control over workload—are key to eradicating burnout. Responses to our survey indicate that structural, systemic change is required to progress forward. Of all employees surveyed, more than a third of respondents said they would like to see employers implement more flexible working hours (36%) and more wellness programmes (32%) to reduce burnout in the workplace.
At the same time, work is likely to be unevenly distributed within workforces, especially since the pandemic disruption. The problem of reallocating resources and hiring new ones must be grappled with, even in this difficult recruitment climate. It's the right time to look at talent acquisition strategies that may be very different to the way your company has approached things up to now.
Short term fixes won't stick
It's also time to rethink the role short term breaks play in employee wellbeing. Though time off work is an important way to recharge, it isn't enough to alleviate chronic burnout. A legal professional at a global law firm says, "No amount of wellness days or initiatives are going to save a team of three doing the work of six. They simply cannot do this healthily."
Leaders must understand how their people are feeling and engage employees in conversations about burnout using workplace tools to gauge their stress levels. Managers can then work with direct reports to alleviate work-related fatigue and provide crucial support. Only by identifying these feelings early on is it possible to act before the burnout crisis leads to voluntary turnover.
People analytics helps employers better predict key burnout indicators like absenteeism, turnover, and lower customer satisfaction—all common markers of burnout. Predictive and prescriptive analytics enable employers to identify employee burnout and frustration early—and act on it before it leads to voluntary turnover.
Alleviating burnout isn't just good for your people, it's good for your business. Organisations that don't address burnout will see top talent leave for companies with better benefits and support, driving up turnover and recruitment costs.
To learn more about using people analytics to address employee burnout, get in touch.
About the author: Andrea Derler
Dr. Andrea Derler is the Principal, Research and Customer Value at Visier, an organizational researcher, and previously, a human capital analyst. She has a background in management research, human science, and human capital consulting. At Visier, Andrea leads research efforts and helps produce data-based, practice-oriented, and actionable insights for business and HR leaders.
Be the first to know!
Never miss a story! Get the Outsmart newsletter.
Related Articles
PRODUCT INSIGHTS
When it comes to successful people analytics, the right tech is only part of the equation. Drive impact with your organization's people strategy by building a solid people analytics team.
TRENDS
The Age of Employees is upon us. Discover the workplace trends that will provide both opportunities and challenges to business leaders in 2022.
TRENDS
This week in workforce news: The Great Resignation is renamed the "Great Reshuffle," the lack of paid parental leave, and the rise of single employees.