The muscle for agility that organizations needed in 2020 will continue to be crucial now and in the longer term.
During the pandemic, matching talent to fluctuating demands became a weekly and day-to-day challenge. Customer needs changed on a dime, and that meant workforces also needed to adapt for businesses to stay alive–and even thrive. As we cover in our recent report, HR Trends 2021: People Strategies for an Uncertain Future, organizations with shorter planning cycles were able to quickly realign resources to different projects as they became more critical.
This is not a temporary requirement. According to McKinsey, "some industries will take years to get back to their pre-pandemic normal." At the same time, the adoption of advanced technologies will also lead to further disruptions.
"[AI] will change every job in the next 5 years. Identifying the new skills and skill proximity, and how people can be more fluid in how they work and how organizations utilize them, is all dependent on good visibility and analytics," says Russell Klosk, Strategy Principal Director, Talent Organization, Accenture.
Agile workforce planning actions to take in 2021
The accelerated pace of change requires organizations to adapt their planning processes so they can both plan ahead and react effectively in the moment. An agile process that supports planning—whether it's three months ahead or one day ahead—requires rethinking the tech landscape. It also requires regular workforce planning conversations with business leaders, especially Finance.
Here are some steps to take in 2021:
Implement data-driven scenario planning immediately

Resilient organizations develop workforce plans for multiple situations, whether it involves divestitures, splits, no growth, slow growth, medium growth, or rapid growth. This will help you understand the range of possibilities for tackling cost challenges and pursuing new opportunities.

Unsilo your data

Oftentimes, information is spread across the organization in siloed systems within various departments, making it difficult to aggregate and reconcile. Look for workforce planning technology and tools that enable your team to create and compare different workforce planning scenarios (each with different workforce movement and cost assumptions) and build multiple contingency plans.

Focus on skills rather than jobs

In 2020, many individuals found themselves switching to completely different roles–with these changes taking days, not months.

In the Finance sector, for example,

leaders used analytics insights

to move people from processing claims to selling new policies. They can move people back and forth based on weekly–even daily–demand. To avoid doing this in a vacuum, make sure skills information–from systems that track time and attendance, customer service, skills, and sales–is securely and quickly shared around the organization to multiple different work groups and people managers.

Take a fact-based approach to reskilling

Good people will stay and perform if they see a role for themselves that will move their career. Reskilling has helped soften

the economic blow

of the pandemic and enabled organizations to

increase career opportunities

. Using people analytics, you can discover which employees are the best candidates for reskilling, and quantify who is likely to succeed at training and likely to stay with the organization long enough to get the training needed and use it to benefit the business.

Develop flexible budgets and processes

Being able to take action on short-term planning cycles means HR teams need to be far more efficient at understanding and tracking their data; look to automation and analytics-based processes to replace inefficient manual data reporting.
The analysis: Answer these questions with data in 2021
Economic recovery won't happen overnight, but new doors will open this year. Here are the critical questions you need to be asking:
What is our internal supply likely to be for critical roles?

What segments of our workforce will shrink or grow the most as business models change?

How can we minimize the future needs for RIFs by planning for voluntary attrition, re-training and re-assignment to align with business demand?

How can we recruit and grow needed skills over time rather than compete externally for talent on a reactive basis?

How can we improve management/organizational efficiency by monitoring and increasing spans of control?
In an environment that is characterized by uncertainty, charting a path forward is not easy. But many leaders have risen to the challenge and focused on the connection between people and business agility. With an agile framework for decision-making that is guided by real-time data, leaders can quickly make the evidence-based people decisions that are needed to withstand the demands of today–and thrive tomorrow.
This is the first post in a three-part blog series covering the critical changes that will impact HR and the world of work in 2021. This topic appeared as Trend 1: Problem Solving Through Uncertainty Becomes New Norm in our HR Trends 2021: People Strategies for an Uncertain Future report. Download the full ebook to find Q&As with our partners and get more tips related to this trend.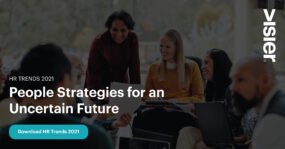 About the author: Visier Team
People-centered ideas and insights by the editorial team at Visier.
Be the first to know!
Never miss a story! Get the Outsmart newsletter.
Related Articles
CULTURE
Hiring for diversity involves more than bringing people with different ethnicities, backgrounds and experiences. Tackle affinity bias now with these 3 steps
CULTURE
Discover how you can use data to support the people moments that matter, solving compensation challenges for your employees and your organization.
TRENDS
There are workforce planning best practices emerging as businesses pass the reactive phase of the COVID-19 crisis. Here's how to weave them into your process.