Talent Management
6 Min Read
Key Findings: The Gains from Work Automation
It's well understood that automation will revolutionize work, and that the effects of automation will not be as simple as replacing the human workers in a job. Instead, work will be "perpetually upgraded," as automation steadily changes how the underlying tasks in a job are accomplished.
Work is "reinvented," typically creating new jobs that comprise unprecedented combinations of human and automated work. Even the HBO television show, Last Week Tonight, recently featured a segment where John Oliver admonishes viewers that "a job automated is not a job lost."
Because automation can affect work in so many ways, leaders have choices about work automation, including whether automation will:
Substitute human workers (replacing humans with automation)
Augment human workers (enhance the value of human work)
Transform human work (creating new work that vastly enhances human value, that would be impossible without automation)
HR has the opportunity–indeed, the responsibility–to provide the frameworks, value structures, and cultural norms that guide leaders to make decisions about work automation that are more sophisticated and optimal, and create greater value for both workers and organizations.
Yet, we know very little about how organization leaders and HR professionals make their decisions about work automation, and even less about whether better-performing organizations do things differently.
That was the motivation for a study by i4cp, on which I was pleased to collaborate, and that will be the subject of a forthcoming research report. I'll describe some highlights here. They tell an interesting story about the emerging patterns of work automation and HR's role, contrasting high-performing organizations with others.
The Survey and Definition of High-Performing versus Low-Performing Organizations
The survey respondents were HR executives, including more than 1,700 individuals, from over 800 organizations. The organizations varied in size and location, including 482 respondents from organizations with more than 10,000 employees, and 392 respondents from organizations located outside of the U.S. The results described here are from the organizations with 1,000 or more employees.
The study then compared high-performing organizations–those whose respondents reported having achieved the top quartile of their peers in profitability, revenue, customer satisfaction, and market share for five years or more– with low-performing organizations, those who reported being the bottom quartile on the same measures.
Overall, respondents from high-performing organizations were 3.5 times more likely than those from low-performing organizations (27% vs. 8%) to say their organizations were effective at implementing work automation. Those in low-performing organizations were about three times more likely (50% v. 18%) to indicate they were ineffective at implementing work automation.
So just what do the best-performing organizations do differently from low-performing organizations?
Work Automation Results: It Matters What You Achieve
Virtually all surveyed organizations reported gains from work automation. Figure 1 shows automation outcomes in each row, with the bars showing the percentage of high-performing and low-performing organization respondents that reported "high" or "very-high" improvements in that outcome. Perhaps not surprisingly, the high-performing organizations more often report better outcomes from work automation than their low-performing counterparts.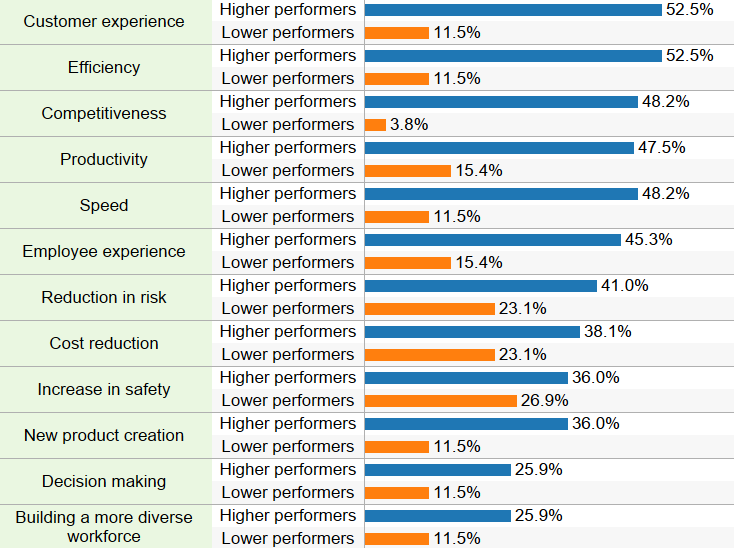 What's interesting is which rows show similarities and differences. In some traditional areas such as cost reduction, risk reduction and safety, both high and low-performing organizations report similar gains.
Yet other areas show striking differences. In competitiveness, those from high-performing organizations were more than 12 times more likely to report improvements than low-performing organizations. In customer experience and efficiency, those from high-performing organizations were nearly five times more likely to report improvements due to work automation.
Both high-performing and lower-performing organizations achieve gains in traditional areas, perhaps because these are the low-hanging fruit, where automation's effects are most obvious or most easily achieved.
High performers are distinguished by the gains they achieve in more advanced or non-traditional areas, perhaps because outcomes like competitiveness and customer experience require more nuanced approaches, or represent significant opportunities for strategic work automation outcomes that lower-performing organizations might miss.
Address the Talent Gap–But How You Do It Matters
Though the need for reskilling and upskilling is widely recognized, the survey suggests most organizations nonetheless face a significant capability gap (skills, knowledge, etc.). Even among high-performing organizations, only 25% of respondents indicated their organization was prepared to handle this capability gap, in comparison to only 10% of respondents from low-performing organizations. Indeed, 71% of respondents from low-performing organizations indicated they were "not prepared at all."
Pundits, consultants, researchers and policy-makers offer a vast array of recommendations to meet talent gaps in skills, capabilities, and motivation. Figure 2 describes several actions, with each row showing the percentage of respondents from high-performing versus low-performing organizations that said they are taking that action to address talent gaps from work automation.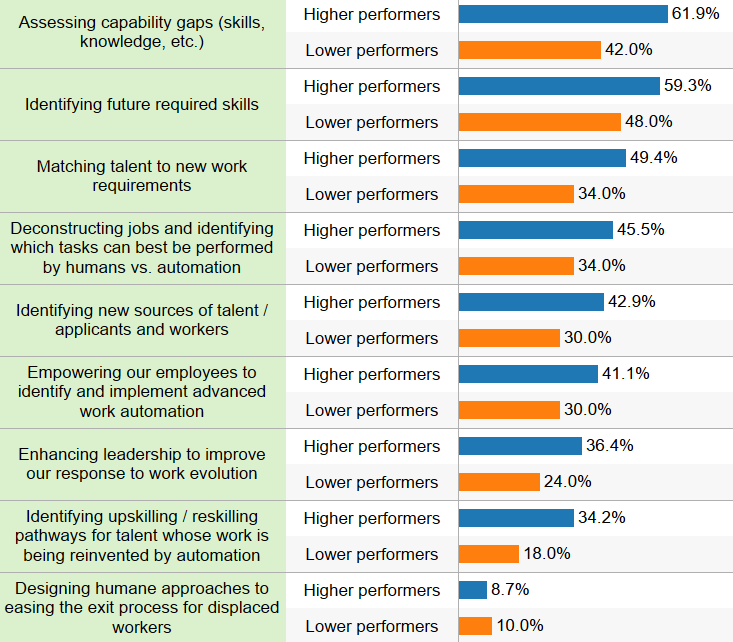 High-performing organization respondents were more likely to report taking almost all the actions. Some actions were common among all organizations, such as more than 40% of even low-performing organizations assessing capability gaps and identifying future skills.
However, optimizing work automation goes well beyond assessing skill gaps. The pattern of actions in the graph suggests that high-performing organizations are generally pursuing a wider variety of actions, and are particularly more likely to be empowering employees to identify work automation opportunities, enhancing leadership, and identifying specific upskilling/reskilling pathways.
A common misconception is that work automation will replace human workers and thus, the role of HR is to humanely ease the exit of the impacted employees. The bottom row of the graph shows this may be a fading impression because it was cited by the fewest respondents.
It's also striking that low-performing organizations are actually somewhat more likely (10% versus 8.7%) than those from high-performing organizations to choose this action. In contrast, those from high-performing organizations are more likely to assess capability gaps, match talent to new work requirements, deconstruct existing jobs, and identify new skill pathways.
Will HR Lead in Work Automation?
HR has a golden opportunity to be a more significant leader in defining the values, decision frameworks, and goals of work automation. Yet, the survey revealed a striking HR readiness gap: Overall, only 19% of respondents said they had "high" confidence in their HR departments to lead their organization's work automation efforts.
Confidence was noticeably higher among those in high-performance organizations (28%) vs. low performing organizations (7%), which is an encouraging signal of the value of HR leadership. However, the absolute percentages are still distressingly low.
One enabler of HR leadership may be whether relevant technology expertise sits within the HR function. Respondents from high-performing organizations were more likely (30% vs. 19%) than those from low-performing organizations to indicate that they had one or more automation experts in their HR department, versus relying entirely on a central IT function or outside experts. However, again, it appears that this enabler is still very rare.
It is time for HR leaders to lead by example, by reinventing their own work, and for HR organizations to demonstrate the value of values and decision frameworks that optimize work automation to create maximum mutual value for their organizations and workers.
Be the first to know!
Never miss a story! Get the Outsmart newsletter.