It goes without saying that successful HR functions are strategic: they play a vocal role in critical business decisions and directly manage or impact a majority of most companies' expenses. Indeed, in today's resource-competitive environment CEOs are increasingly looking for the CHRO to build a strategic HR function and play a more critical role in influencing business outcomes.
"Too many CEOs know what they need to know about finance, operations, etc., but not what they need to know about talent," says John Boudreau, a professor at the University of Southern California Marshall School of Business and research director of the Center for Effective Organizations there.
In the Harvard Business Review Analytic Services (HBR-AS) study, How CEOs and CHROs Can Connect People to Business Strategy, 67 percent of CEOs say they get at least a basic set of human capital metrics from HR – but only 24 percent of survey respondents (made up of business and HR leaders from 168 companies) said HR also provides analytics that connect their people metrics to business metrics.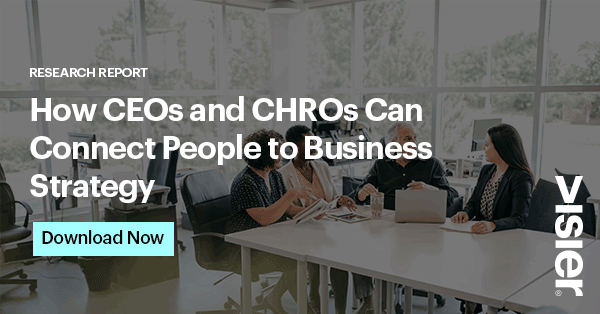 This has led to a gulf between the data that CEOs need to run the business effectively and what HR routinely reports on. Here is a troubling example that illustrates this point:
Diversity and inclusion is an issue of incredible focus and debate for employers and lawmakers today. Recently, over 130 CEOs signed a pledge committing to advance diversity and inclusion within the workplace (myself included) by working collectively across organizations and sectors. However, HBR-AS found that while 78 percent of survey respondents said diversity and inclusion was strategically important, only 8 percent said HR routinely reports on this.
8 percent! This is a significant gap that highlights why workplace diversity and inclusion challenges have been so difficult to solve. Without effective workforce analytics and measurement practices, employers will be hard pressed to find the right diversity and inclusion programs that will keep their employees happy and positively impact the bottomline.
Building a Strategic HR Function
The reality is that the vast majority of HR organizations still lack the people analytics capabilities required to develop and act on a data-driven people strategy. As a result, they cannot connect that strategy to metrics the business cares about.
HR has long focused on achieving operational excellence. This has included many multimillion-dollar investments in systems such as payroll, performance management, learning and development, compensation and benefits management, and applicant tracking that generate lots of data, but are not capable of even effective operational reporting, much less comprehensive analytics.
These systems cannot integrate data from multiple sources, or effectively answer strategic workforce questions, connect workforce decisions to business outcomes, or support predictive modeling and projections.
The underlying technology of transactional systems, designed to process one record at a time, is simply not suited for any meaningful analytics.
When the CEO and CHRO are in sync and using data collected by HR, the impact of the workforce on business results becomes clearer and leadership is able to make better informed strategic decisions.
With the right analytical technology – such as a people strategy platform – it is possible to understand how to solve pressing diversity and inclusion issues, why people leave the business and who might be at risk, how to hire the best possible candidate, how to accurately predict the headcount and compensation costs over time, and how to identify high-performing organizations or managers and learn what makes them so.
Now is a great time to be in HR.
CEOs are looking to them to provide the workforce analytics needed to support data-informed decision-making and to guide them towards the human capital metrics that are most important to business success. With the availability of the people strategy platform to enable strategic human asset excellence, HR organizations can finally demonstrate a meaningful business impact and win a role as trusted advisors to their business colleagues.
About the author: John Schwarz
During his tenure as CEO of Business Objects, John doubled the company's revenue to more than $1.5 billion, executed seven strategic acquisitions, and negotiated the company's successful sale to SAP. He founded Visier, building on his many years of experience to invent a new approach to answering business intelligence questions. The objective was to fix the perennial problem where business users spend a lot of money on IT and get little or no benefit in return. John is a water baby, always to be found on or in, but never more than a few feet away from a (preferably warm) ocean.
Be the first to know!
Never miss a story! Get the Outsmart newsletter.
Related Articles
CULTURE
To advance diversity into the workplace, use a scientific approach that reveals the facts about your recruitment process, particularly the red flags.
CULTURE
Improving gender equity in the workplace is an issue of incredible focus and debate. Here are some actions leaders can take to promote gender equity.
TRENDS
By shifting the expectations of the role of the HR analyst, CHROs can make their HR analytics team the core of their people strategy. Read how.