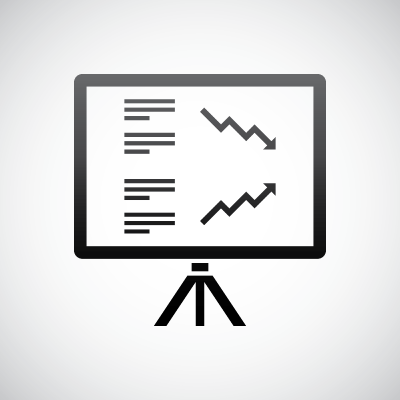 As an HR leader, you know that human dynamics can often be irrational: people can let office politics get in the way of productivity or abruptly leave a job because something set them off. (Remember the JetBlue flight attendant who made a dramatic exit from his career by sliding down the emergency-evacuation chute after a dispute with a passenger?)
And yet, the advice of HR — the people experts — often falls on deaf ears among the P&L crowd. Why? It can be tricky to capture this kind of real-world complexity on a spreadsheet. Executives are left with little tangible evidence of what you are trying to prove.
But if you take a more scientific approach to uncovering past trends in people's actions, and link this to projected costs, you can deliver a fact-based point of view that will resonate with your executive team. Not only will the organization build a better plan that will positively affect the bottom line — it will help you establish credibility in the process as a strategic HR leader. In fact, according to a recent survey we conducted with Harris Poll, 80% of executives say their company cannot succeed without an assertive, data-driven CHRO.

Here are two examples that demonstrate how human dynamics impact the bottom line, and how you can uncover these trends in your workforce data to deliver a credible point of view:
The Economics of Turnover Contagion
From time to time businesses have more people than they can afford. The traditional approach to this issue is to determine how much money your organization needs to save in salaries, and let go of the number of people who represent that salary number. So, if you need to save 10%, the approach is to let go of people who represent 10% of the cost.
The assumption here is that people act in isolation. What actually happens is turnover contagion. As described in this Time article, people have a tendency to react to their laid-off colleagues' feelings of gloom and desperation: If employees have friends who have been let go, they either stay and reduce their contribution to the business, or they leave. As well, employees — in particular top performers — will be triggered by their sense of business instability and more of them will look for a new employer.
To come up with an informed point of view on how this behavioral pattern should factor into layoff decisions, follow these steps:
The last time there were forced layoffs, how did that impact voluntary turnover?
How much money did we spend refilling those seats?
This is where paying attention to the dynamics of people has a substantial business impact. You can say to your leadership team: "Last time this happened we had an increase in voluntary turnover of 5%. We know we are going to have more voluntary turnover, so let's target a 7-8% reduction rate, and let the increased voluntary turnover get us to our 10% overall reduction."
Retention Bonuses and the "What's in it for me?" Factor
Retention bonuses often don't fulfill their intended purpose. As discussed in this Harvard Business School forum: "most high value employee(s), if they decide to leave an organization, will negotiate an equivalent sign-on bonus." Yet despite this, research shows that retention bonuses are making a comeback. Your organization could be wasting money on retention bonuses if there is little understanding of what kind of outcomes they actually create.
To deliver an informed point of view on this topic, start by asking these questions of your workforce data:
How many people received a retention bonus in the past three years?
Of all people with a bonus, how many stayed? How many left?
Of those who stayed, how did that affect their performance?
Next, compare that data set with a population of people who did not have a retention bonus, but received a high investment in other types of retention incentives, such as leadership development, or stretch assignments. Again, ask: How many stayed? How many left? How did this affect their performance?
You can also compare the costs of the activities for the two populations, to determine which approach yields a higher ROI. This is where having access to an HR data ecosystem can be of benefit — if you have the ability to link performance, employee rewards, and turnover data, you can uncover the critical trends that are impacting your business, moving beyond simple "input" metrics.
The findings may surprise your executive teams: According to research conducted at MIT, for tasks with mechanical skill, the higher the pay, the better the performance. But once the task required a rudimentary level of cognitive skill, higher rewards led to poorer performance. As advocated by author Dan Pink, people are motivated by having opportunities to master a skill, which often eclipses financial rewards as a motivator (provided they are paid enough not to worry about money).
But when talking to your executive team about the issue, you need to go beyond quoting research studies. Your argument will carry more weight if you look at past workforce trends, and have the proof to determine what works and what doesn't for your organization.
Earning Credibility With Evidence-Based HR
During my years of international HR consulting for a range of organizations, I noticed that HR has a tendency to get stuck firefighting —  responding to issues and "fixing" them.
For HR to play a role in proactively shaping the behavior of the organization, it needs to establish credibility. As highlighted in this Boston Consulting Group study, "HR leaders who want a role in strategic discussions with the business must be able to quantify workforce performance."
By asking the right business questions and accessing a single data ecosystem combining multiple transactional HR systems, you can provide the evidence you need to drive the right decisions about your people.
To learn more, download this Five Steps to Getting Started with Workforce Analytics report and learn how to start your company down a path toward data-driven decision making.
About the author: Ian Cook
Ian is an advocate for the crucial role that people play in helping companies thrive. His career has focused on enabling people, teams and companies to perform at their best. For the last 15 years Ian has been helping leaders elevate their HR strategies and programs through the effective use of people analytics. At Visier, Ian led the development of our market leading solution and is now focused on the overall strategy for the people analytics business.
Be the first to know!
Never miss a story! Get the Outsmart newsletter.
Related Articles
CULTURE
This new Harvard Business Review report shows why the right kind of CHRO is integral to proving the talent function's value. Discover the qualities they need.
LEADERSHIP
Ray Wang, CEO of Constellation Research, answers a few questions about what strategic HR professionals can do to thrive in an era of digital transformation.
LEADERSHIP
Strong CHROS are crucial to business success. Learn about the new HR Leadership Revolution revealed in new survey results of business executives on CHROs.