Ask Visier is a weekly column where a people analytics expert dives into one of the 2000+ business questions available in Visier and shares how to take action on the answers you might uncover on that topic.  
Why is learning and development important to organizations? 
Skills are the core of how we approach work, collaboration, and building effective teams. In a learning culture, employees are encouraged to learn, share, and apply new skills and knowledge whenever possible, to improve individual and organization performance. Having employees feel comfortable using learning and development (L&D) resources to develop their skills is a trademark of a high-performance organization.

Companies are under increasing pressure to retain and attract talent, embrace new technology, and adapt to the new reality of work. Some skills are in high demand and hard to find, and it is vital to reskill and upskill employees internally, so organizations prepare for the future. In that context, the need for a culture of learning has never been more relevant and essential for a company.
Why should an HR pro ask how to measure the culture of learning?
Companies that adapt well to changing environments will achieve better results over time. Creating a culture of learning will not only impact the organization's performance but will also have a positive impact on employee retention: when employees are intensely involved in learning, they feel more engaged and tend to stay. Learning and development resources have more value when they are fully utilized.
What can the data tell them about your culture of learning?
You might wonder if your company culture could be categorized as having a "culture of learning." You have started some learning and development initiatives, you might offer a learning catalog, but is it working? Are your L&D resources geared towards your company's needs? Does it have any impact on your overall culture and employees' behavior? Data could help you answer this question. 
Why is it a challenge to understand your culture of learning without Visier?
In order to get the full picture of your learning and development culture, you need to gather learning, engagement surveys, business and sales results data. Without a unified analytics platform, it will be a challenge to connect all that data and accurately assess the impact of learning programs on business results and productivity.
How does Visier help them answer this question?
Visier charts can help you set a baseline by answering the following questions: Which kind of training have been consumed this past year? Who are the highest consumers? If your organization spends a substantial amount of money in training, what is this budget used for? If your learning and development budget is mainly used to comply with regulations and policies, you cannot consider your company having a culture of learning.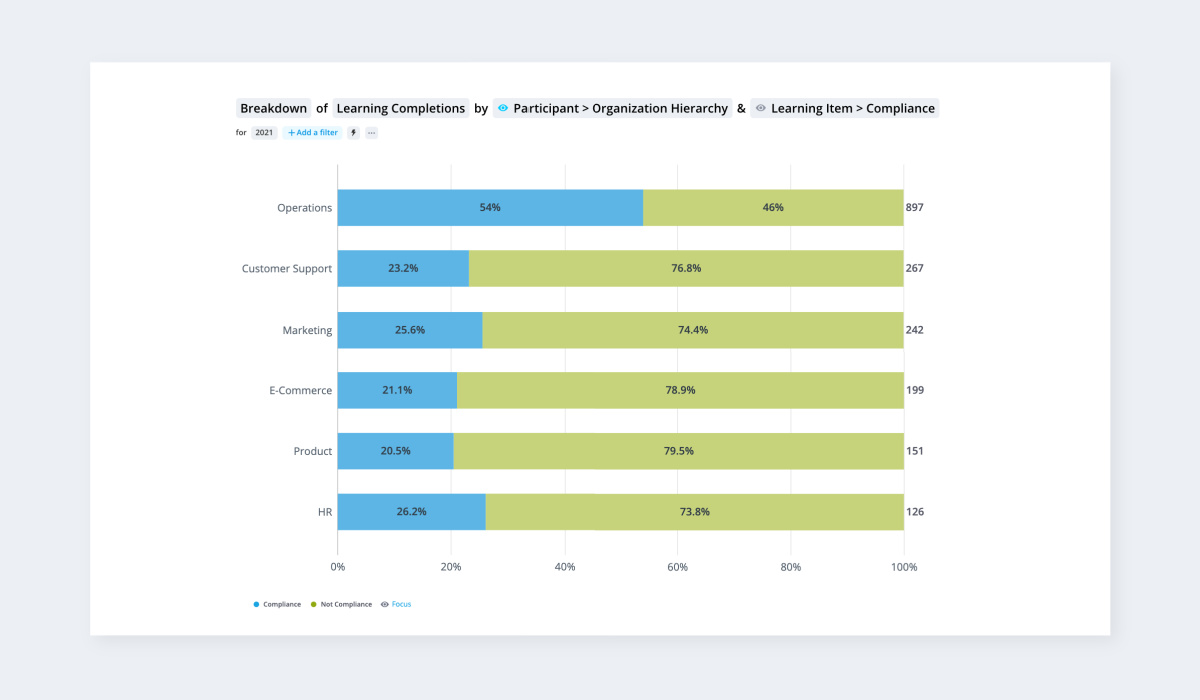 You also want to assess the impact of all your initiatives on the business. Are your employees performing better after completing the training and applying the learned knowledge?
To answer this question, you could start by analyzing a department like Sales, because it has such a direct impact on the business results. In the chart below, look for a relationship between the number of hours spent in training and sales revenue.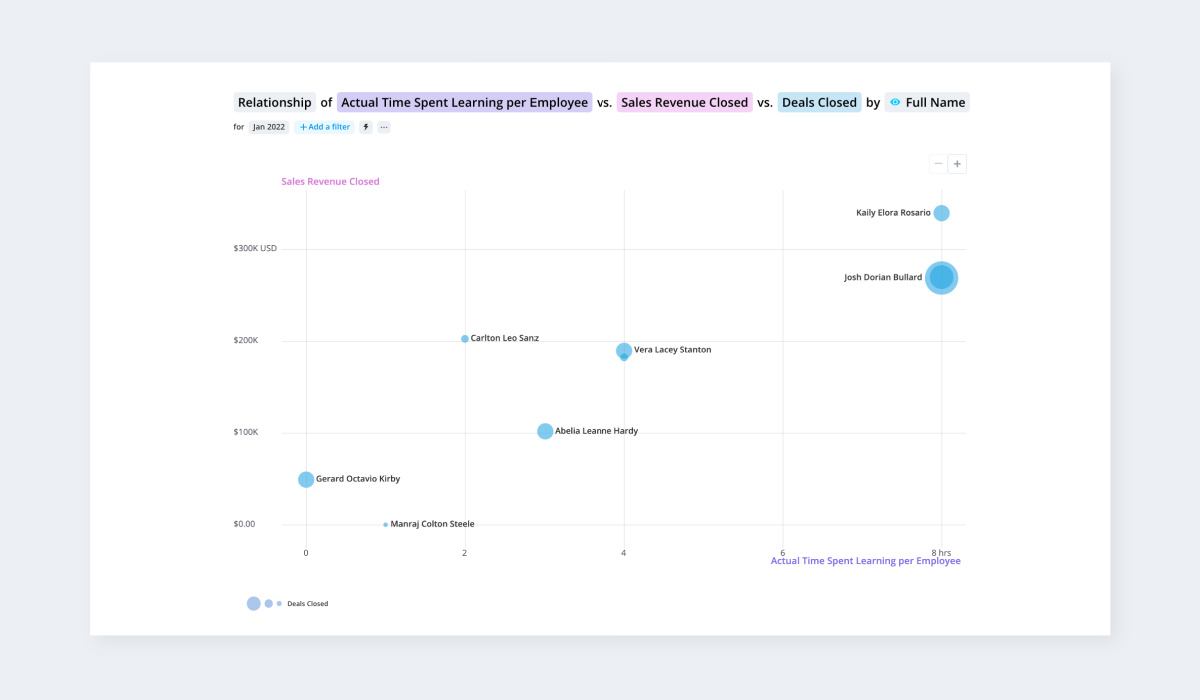 Assess the business impact of all your learning and development initiatives by connecting the learning and development data to retention. Also check the relationship of the engagement and pulse surveys to learning strategy. With access to the engagement results at the individual level, you can directly correlate engagement with learning activities.
Finally, if your organization is tracking skills, Visier could help you analyze which employees' skills are currently available and identify the ones missing or in short supply. You can track your progress against the targets to ensure your employees acquire or bring the necessary skills to help the organization to be successful. 
As we saw, the concept of a learning culture has never been so pertinent and crucial for your organization. Your employees remain the greatest asset and biggest competitive advantage for your business; a culture of learning will help you develop and retain them. However, you need a solution to monitor your progress and make sure you are heading in the right direction.
Further reading about learning and development:
About the author: Marie Mineur
Marie is an outcome-focused people analytics professional with a proven ability to understand business needs, analyze supporting data, and use storytelling to deliver the messages that matter to senior business and HC leaders. As a People Analytics Consultant at Visier, she helps transform people, technology, and processes within organizations using Visier's People Analytics technology solution.
Be the first to know!
Never miss a story! Get the Outsmart newsletter.
Related Articles
ASK VISIER
Succession planning means having candidates ready to be promoted into crucial roles. Find out how Visier can provide valuable insights.
ASK VISIER
You're not a compensation expert but you need to advise your managers on compensation? Visier can tell you how well your organization pays people relative to their peers and the market and why this matters.
EMBEDDED ANALYTICS
To discuss how HR tech providers can build products that truly respond to their customers' needs, we brought together three experts.