"Never let a good crisis go to waste" is an expression HR leaders at healthcare provider organizations understand well. They are painfully aware of the serious challenges their industry faces: unprecedented growth in demand for services, a short supply of skilled caregivers, and constant pressure to improve patient satisfaction and reduce readmission rates and costs.
The way these challenges impact the workforce — and how leaders need to respond — is clear: More than ever, it is critical to hire, develop, and retain the right talent, monitor workforce costs to improve financial stability, and discover how workforce factors drive patient outcomes and satisfaction.
To avoid drops in service quality and patient satisfaction scores, organizations need to estimate and track hiring rates more accurately—so that recruiters can provision the right hiring capacity ahead of demand. Likewise, HR leaders need to identify the speed and direction of career development paths to ensure that employees progress into key roles. Understanding what workforce factors drive exits from critical roles is crucial so that retention programs can be crafted to address the top reasons staff leave.
Learning how employee engagement relates to patient outcomes is also essential. It is not enough to deploy a survey and review the data—to unlock its true value, engagement data must be combined with workforce information and patient satisfaction scores. Leaders can then see how engagement scores impact readmissions and patient satisfaction, discover which workforce factors affect engagement, and build evidence-based engagement programs and track their progress.
But given the tight HR budgets typical within the healthcare industry, how is it possible to make strategic investments that support these urgent needs? And how can leaders in other industries respond to the unique workforce pressures they face?
Avoid HR Irrelevance
"Healthcare has been way behind the curve in HR, but is now making progress," especially among larger hospital systems, says Shebani Patel, principal in PwC's People Analytics. "Some providers now understand the importance of analytics and are making strides along the maturity curve."
In the report, Spearheading HR Transformation with Workforce Intelligence: Lessons from the Healthcare Industry, Harvard Business Review Analytic Services found that the further companies advance on this curve, the more they can proactively use data to make fact-based organizational decisions.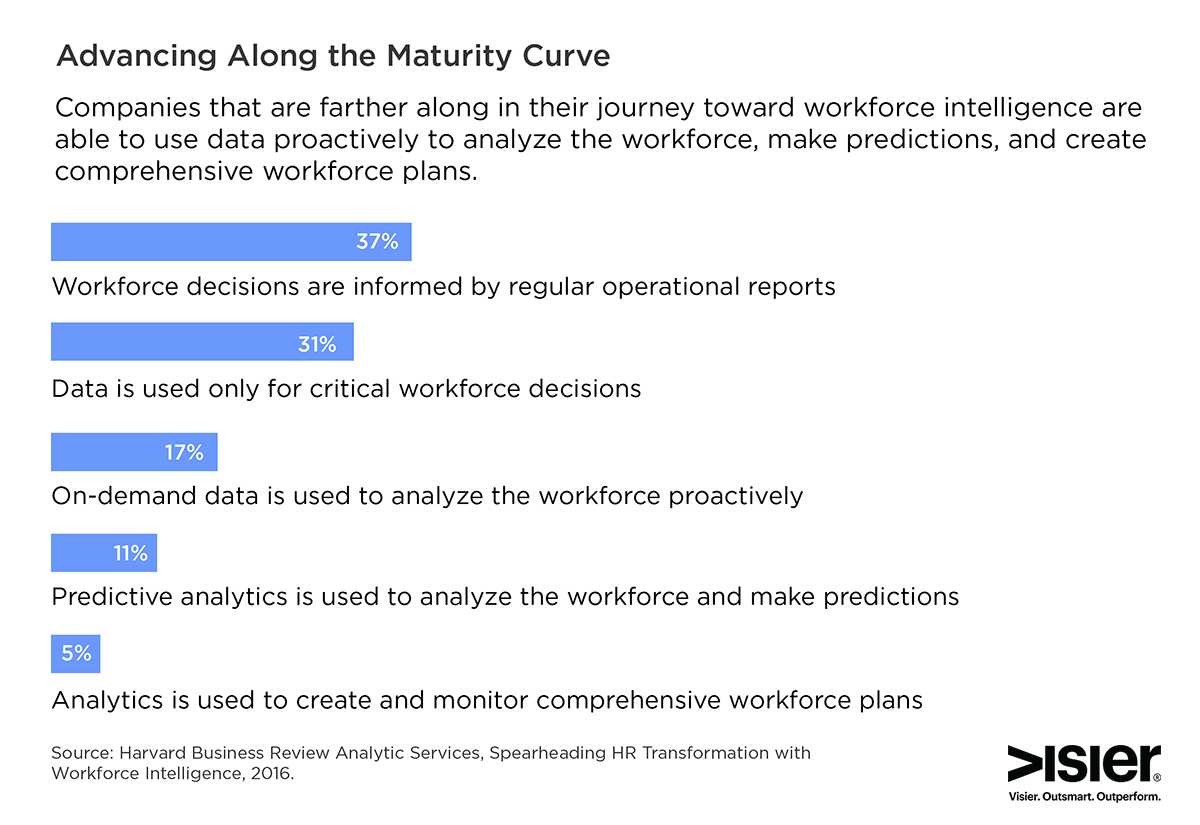 The ultimate quest of people analytics is to determine how employee behavior, performance, and attitudes contribute to or correlate with patient outcomes, such as:
Does higher employee engagement lead to higher patient satisfaction?
How are vacant positions or rates of sick leave affecting patient satisfaction scores?
Do more experienced and better qualified teams have lower patient readmission rates?
Which key members of staff are most likely to leave?
How can we better plan for the retirement of experienced nursing staff?
Cloud-based people analytics solutions enable HR to build analytics into their broader business processes — at a fraction of the cost of traditional custom BI tools — without negatively affecting their organization's financial health. While the right technology isn't necessary to get started with analytics, HR does need a compelling business need and strong executive support to build a proper analytics function.
"You have to start somewhere," suggests Patel. "But whatever you choose to do first, it will help tremendously to establish a detailed analytics roadmap for 18 to 36 months."
With the entire healthcare provider organization dedicated to creating a data-informed revenue model, HR must become more data-driven in order to stay relevant — and keep their seat in the C-suite.
About the author: John Schwarz
During his tenure as CEO of Business Objects, John doubled the company's revenue to more than $1.5 billion, executed seven strategic acquisitions, and negotiated the company's successful sale to SAP. He founded Visier, building on his many years of experience to invent a new approach to answering business intelligence questions. The objective was to fix the perennial problem where business users spend a lot of money on IT and get little or no benefit in return. John is a water baby, always to be found on or in, but never more than a few feet away from a (preferably warm) ocean.
Be the first to know!
Never miss a story! Get the Outsmart newsletter.
Related Articles
TRENDS
HR thought leader, John Boudreau, dives into how human capital analogies can be used to accelerate HR, drive innovation, and improve strategies.
TRENDS
A strong business case for workforce intelligence shouldn't just show the HR benefits of the technology -- i.e. "It will help improve employee retention" -- but also explain to executives how the savings and gains from this investment will impact the organization's key performance indicators.
TRENDS
This roundup of top HR articles for spring 2016 features popular reads on how the human resources department can become a true strategic business partner.