The way organizations have executed HR transformation over the past two decades is a perfect illustration of how theory and practice diverge.
When Dave Ulrich introduced his HR transformation model in 1995, he spread the revolutionary concept of COEs, HRBPs, and HR Shared Services. Since then, the Ulrich model has become the default standard for how the majority of organizations structure their HR departments. (Not surprisingly, Ulrich was named "the most influential thinker of the decade" by HR magazine in 2015).

Organizations typically adopt some variant of this model in the hopes that–with the right technology, organizational structure, and processes–HR can impact business results. However, this has not actually happened in practice.

I've spent years working as an HR transformation consultant, helping organizations optimize processes and structures with multi-million dollar projects. After coaching business leaders through countless project roadmaps, what I have come to realize is this: there is a fundamental flaw in the original HR transformation model, one that continues to prevent organizations from bridging the gap between HR activities and business outcomes.
HR Transformation: Theory vs. Practice
To get to the root of the problem, consider the many ways that HR transformation falls short of expectations. For example:
The COEs who are supposed to act as repositories of deep technical know-how end up not affecting real business change with their carefully crafted best practices.
The HRBPs who are supposed to align business objectives with HR practices tend to become more of a "coordinating body" between the business and HR. The majority of business leaders I have worked with report that HRBPs are not delivering the required strategic insight.
Shared services don't eliminate transactions–they simply shift the burden from HR to managers through self-service. Ask a room of managers what they think about self-service, and half of them will love it, and the other half will hate it.
It's apparent that there was an underlying weakness in the original HR transformation model that has persisted in all the subsequent variations. HR transformation is an inwardly focused HR organization model that does little to empower customers in the business (the managers, executives, and employees).
There is a fundamental flaw in the original HR transformation model, one that continues to prevent organizations from bridging the gap between HR activities and business outcomes.
It's encouraging that in the last two decades, the amount of time to process a new hire or spot bonus payments has gone down from days to seconds, or that call centers are now primarily online knowledge-base centers or chats. But this does not empower teams, managers, and executives to drive customer satisfaction and business growth.
The promise of HR transformation (i.e. "We'll have more time to be strategic") has not played out. Instead, organizations have spent multiple millions of dollars pursuing HR efficiency without fulfilling the promises made to the business.
Clearly, HR transformation has helped HR, but not the business.
Progress has not been made where it counts.
The Evolution of HR Strategy and the Future of Work
Compare this reality with HR's role in the Future of Work (FoW), which necessitates an overhaul in how we define work itself. Organizational hierarchies are flattening, collaboration is becoming more important, and workers must be continually learning on the job.

FoW definitions will vary from expert to expert, but most descriptions will include a reference to advanced technologies like AI and robotics–cool developments that once were primarily the musings of science fiction writers.

Of course, these tools are changing how we work, but let's not forget that tech deployment is not the end goal: it's really about the speed at which people can innovate, create, collaborate, and deliver new products to the market. It is here where HR needs to make the biggest strategic impact.
The promise of HR transformation (i.e. "We'll have more time to be strategic") has not played out. Instead, organizations have spent multiple millions of dollars pursuing HR efficiency without fulfilling the promises made to the business.
Many HR leaders hope that new technologies, like cloud-based HCM software and robotic process automation (RPA), can help make HR transformation successful. The idea is that HCM software enables more efficient transactional processes, which gives HR practitioners more time to focus on strategic projects like talent development and retention. The promise is that this eventually translates into better business outcomes. In reality, this only creates soft productivity savings.

HCM projects should not be belittled. As in finance, there is a baseline requirement to record transactions and manage data effectively. But why is it after more than 20 years, managers still ask for headcount and turnover reports regardless of what HCM system they are on? Never before has HR's ability to drive change in the business needed to be higher. But again, the adoption of HCM software is another example of how HR transformation helps HR–not the business.

The same can be said of RPA. With RPA, organizations can automate HR tasks that are repetitive, standardized, and rules-based. Intelligent systems interact with employees, answering questions related to HR policy or helping with routine tasks like managing absences.

These projects do create efficiencies and often better data quality. The downside is that the efficiencies are currently found in the most administrative of processes. The outcome is "labor arbitrage"–where businesses replace HR people with machines, rather than freeing them up to do more useful work.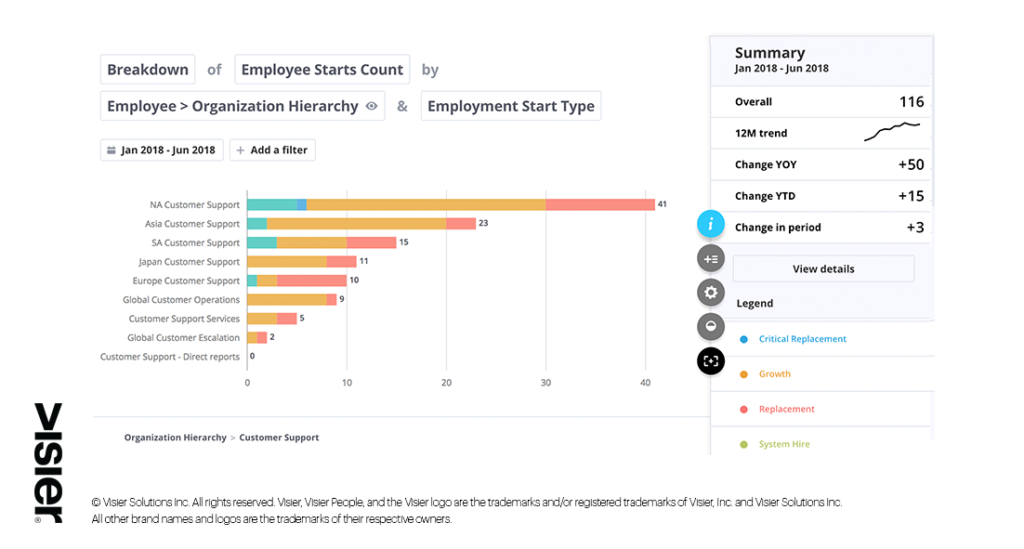 Press Pause on HR Transformation
Any organization that is serious about positioning HR to deliver on the FoW should press pause on HR transformation, HCM software upgrades, and RPA right now.

The majority of large enterprises have gone through at least one HR transformation, which means they have adequate HR structure, technology, and processes globally to analyze how they can optimize what they already have put in place.

For example, as highlighted in this HBR article, a people analytics team at a global consumer products company was enlisted to help optimize a financial process. They discovered that one country was 16% percent more efficient than the rest of the countries. The company made the finance leaders from that country partners in process improvement for the other subsidiaries.

The same kind of approach can be applied to make decisions related to HR structures, processes, and programs. Furthermore, when business data is part of the analysis, it becomes easier to answer the question: "What kind of structures and processes best support business results?"

Business leaders can use critical insights to pinpoint where and what kind of changes are needed to help the business perform. With robust analytical capabilities, organizations can prevent re-work, measure results sooner, and maximize strategic outcomes as they move through project roadmaps.

If you still think HR transformation is the answer, I would leave you with a single question: Has it made your HR organization more "strategic"?

If you are waiting for your HR transformation project to be completed so that you can show business results, history and decades of experiences from your peers have proved that you should not be waiting. In the Future or Work, even the largest of incumbents will need agile, collaborative teams who can move quickly and intelligently.

In this new era, delivering people insights to business leaders will not be optional–it will be the hallmark of true HR strategy.  

About the author: Visier Team
People-centered ideas and insights by the editorial team at Visier.
Be the first to know!
Never miss a story! Get the Outsmart newsletter.
Related Articles
CULTURE
Discover how neurodiverse employees with specific cognitive profiles will be best supported within your business and how to hire for these individuals.
TRENDS
Dr. John Boudreau discusses why the slower-growing gig economy is forcing us to move away from thinking of workers as regular full-time employees.
DIVERSITY & INCLUSION
A gender pay equity analysis is not as simple as it seems. Here's a step-by-step process by Steven Huang, Head of Diversity and Inclusion at Culture Amp.