Looking for more resources to guide you through crisis management? Visit our Crisis Management Resource Center.
The past few weeks changed how we think about our business and life. We've worked with customers at a rapid pace for emergency employee response, mobilization, and communications to ensure employee health and safety.
These are troubling times and I have been inspired by hearing how you (our customers) are using Visier to help safeguard your employees and businesses. We know from working with you that data-driven decisions can help.
Next week, enhanced capabilities in Visier People will allow you to:
Understand employee risk and proximity to hot spots
Identify critical employee groups
Gain insight into the type of work by location
Assist with preparation for the transition of work environments
Compare to public COVID-19 pandemic information
You will receive these capabilities as part of your current solution subscription. We also plan to make these capabilities available to all organizations to ensure we are doing everything we can to help organizations address what matters most: your people and your plan for business continuity in a time of unprecedented uncertainty.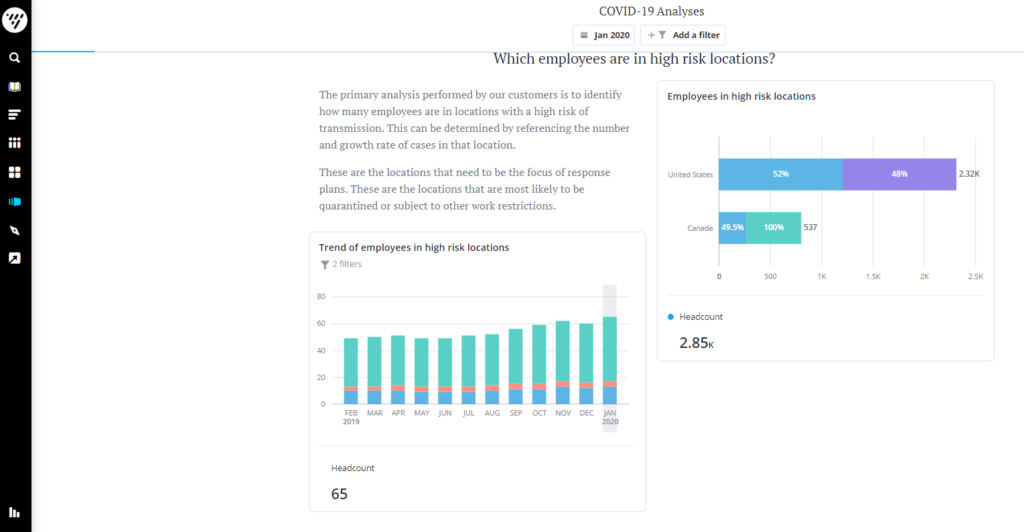 The visual above shows an analysis in Visier People to gain insight into employee risk by location.
I have asked our Customer Success team to prioritize the data that can help your employees be safe and effective. We will place top priority to onboard your employee profile and organization data that supports the relevant information to help you in this crisis situation. As a result, the Customer Success team will be in close collaboration with you over the coming days to prioritize the best plan of action.
As more data becomes available, Visier will work with organizations, government bodies, and the World Health Organization to share all relevant data trends and analysis from Visier benchmark data.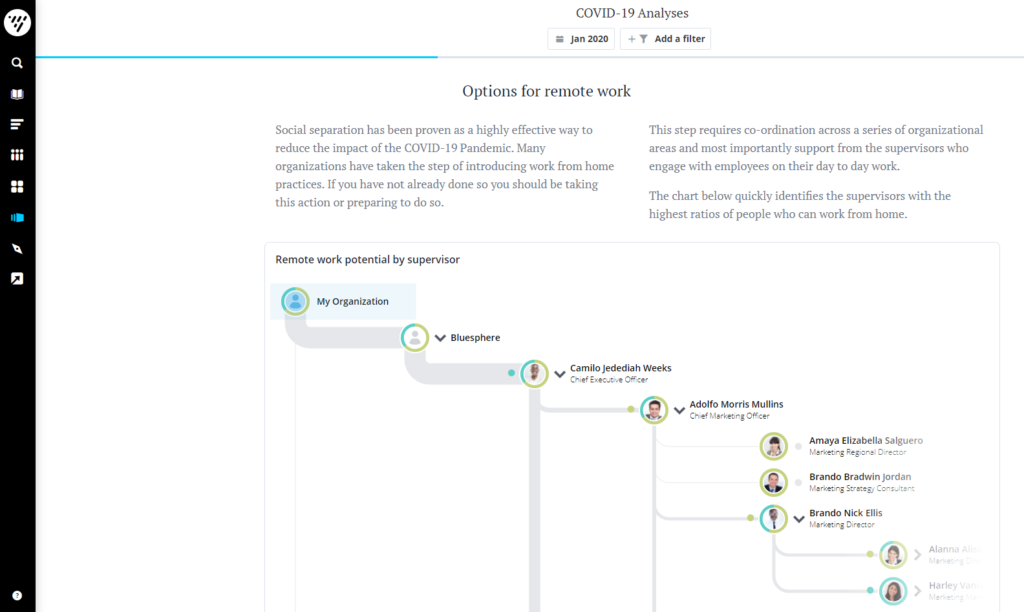 The visual above shows an analysis in Visier People to help show employee remote work potential and how organizations can best adjust to changing work environments.
We encourage you to listen to the recorded open forum discussion and read the key takeaways to learn what people data and analytics experts from across the industry are doing for employee safety and crisis management right now. More information about Visier's solution for crisis management can be found at https://www.visier.com/crisis-management/

We are focusing all relevant resources to support pandemic response efforts. Please continue to share your feedback as we help customers make the best data-driven decisions for everyone's well-being. Kind regards and safety,
Nigel
About the author: Nigel Stoodley
Nigel Stoodley is Visier's Chief Customer Officer, where he is responsible for overall customer success. Nigel oversees Visier's innovative delivery model that removes the traditional enterprise software pains of statements of work, change fees, and customer dissatisfaction. He has over two decades of experience building teams that focus on customer success in the business intelligence industry. Before Visier, he served as the Senior Vice President of Customer Solutions at Tableau Software.
Be the first to know!
Never miss a story! Get the Outsmart newsletter.
Related Articles
ASK VISIER
Succession planning means having candidates ready to be promoted into crucial roles. Find out how Visier can provide valuable insights.
ASK VISIER
You're not a compensation expert but you need to advise your managers on compensation? Visier can tell you how well your organization pays people relative to their peers and the market and why this matters.
EMBEDDED ANALYTICS
To discuss how HR tech providers can build products that truly respond to their customers' needs, we brought together three experts.