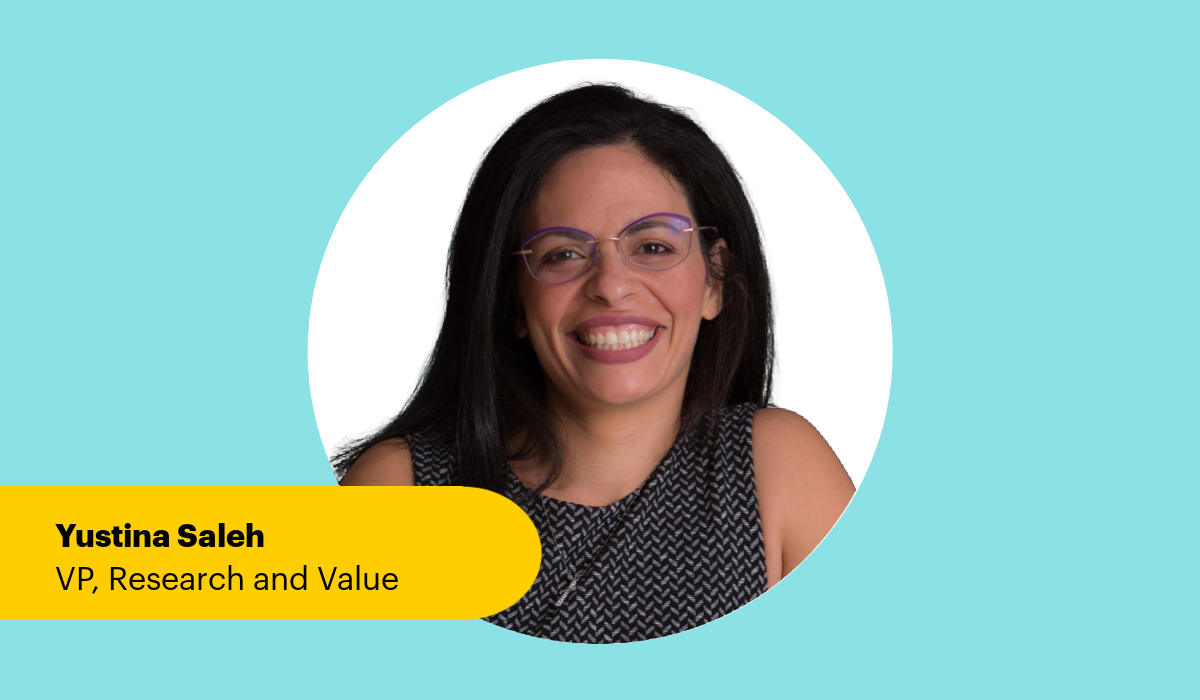 Yustina Saleh has an extensive background in using data science to uncover insights about skills and education in the labor force. Visier is excited to welcome her as VP of Research and Value on the Strategy and Research team. Learn more about our new expert!
Yustina Saleh has a comfortable and intimate relationship with data. When she's not running, spinning, rowing, dancing, or going on hikes with her dog, she's "dancing with data" to find out what secrets it can reveal, she says. 
A resident of Stirling, New Jersey, Yustina has a long career pursuing the building blocks of using data to understand work and talent. As Labor Market Information Director for the State of New Jersey, she created a tool to use real time jobs and unemployment data to index occupations when the great recession hit. At Burning Glass (recently merged with Emsi), an analytics software company that decodes the ever-changing labor market, she founded the analytics division and created many of their skills, occupation, and education taxonomies and products. At Emsi, Yustina created the "Intel chip" that powered a wide array of skill-based hiring, career pathing, precision training, regional planning, and education analytics products. 
"Throughout this journey, there was a growing realization that external labor market data only represents 10% of the picture of work and talent," says Yustina. "I need to go inside the enterprise to really understand how value is created and how people can bring in all their talents to make their enterprises more successful. And that's exactly why I am super excited about joining Visier."
At Visier, Yustina will combine the building blocks she's created during her career. She's created tools for parsing, workforce, higher education, and talent management which are currently used by major global corporations. In her new role, she'll bring her mastery of transformative analytics solutions in talent management, workforce development, educational degree alignment, unemployment risk predictors, and competitive intelligence to the leader in people analytics.
A longtime advocate for the power of people analytics
"We are excited to welcome Yustina to our Strategy and Research team," says Ian Cook, Visier's VP of People Analytics. "She has been a longtime advocate for the power of people analytics and we look forward to the expertise that her years spent studying talent and work will add to Visier."
When it comes to the power of people analytics, Yustina has been a torchbearer. She has used data insights to transform industries from retail to government to higher education. At Rutgers University, she developed common expressions for Finance across 80 medical, research, administration, and higher education institutions that required different needs. She played an integral role in modernizing the digital marketing analytics infrastructure of a Fortune 500-branded lifestyle apparel, footwear, and accessories corporation. At Emsi, Yustina helped talent professionals, education providers, economic developers, and workforce policy makers unravel new information on the value of labor and education areas by tapping Emsi's labor supply and demand data.
"This is the perfect opportunity to bring together all the building blocks I have built with real, in-depth data from inside the enterprise to finally crack the code of work and talent," Yustina explains. "And there is no better team in the world than at Visier that is equipped with the talent and passion to finally do this. Needless to say, I am super excited to be part of the smartest, most innovative, most passionate team in the world."
Her secret weapons: Data science & analytics
Yustina believes that human capital is not just the greatest asset of all, but also the most renewable and malleable. This conviction about people's endless capacity is reinforced by her ability to have a free dialogue with data without any hidden agenda. "I wake up every day determined to eliminate one more barrier between what a person can do and what he/she actually does in the workplace. Data science and analytics are my secret weapons for unleashing the power of all things work and talent." 
Learn more about Yustina and connect with her on LinkedIn.
About the author: Catherine Cheek
Catherine "Kater" Cheek is an award-winning author with a breadth of writing experience from corporate communications to storytelling. As Senior Copywriter at Visier, she aims to highlight the human stories behind the data and showcase details that make complicated concepts easy to understand.
Be the first to know!
Never miss a story! Get the Outsmart newsletter.
Related Articles
ASK VISIER
Succession planning means having candidates ready to be promoted into crucial roles. Find out how Visier can provide valuable insights.
ASK VISIER
You're not a compensation expert but you need to advise your managers on compensation? Visier can tell you how well your organization pays people relative to their peers and the market and why this matters.
EMBEDDED ANALYTICS
To discuss how HR tech providers can build products that truly respond to their customers' needs, we brought together three experts.