Outsmart, the leading people analytics and workforce planning conference, takes place online on May 5-6, 2021. It's free to register so save your spot today! In honor of the amazing talent acquisition sessions at Outsmart this year, we're excited to bring you this article featuring Trent Cotton, a fantastic thought leader in the recruiting space. Come back everyday leading up to the conference for more great insights. Enjoy!
It's more important than ever for talent acquisition to focus their attention on D&I and implement processes that will move their organization towards its goals. Still, finding what will move the needle at all stages of the candidate and applicant pipeline can be a daunting task.
How do you prioritize your efforts when there are hundreds of questions to answer around finding the right diverse talent, at the right time, and at the right cost? Often, the perception of the problem is out of alignment with reality. Traditional interventions tend to be one-size-fits-all and tend to be ineffective. This is where people analytics helps.
Why use people analytics for your talent acquisition strategy?
To make progress towards your organization's D&I goals, you need to start by asking the right questions. Leading organizations use people analytics to ask which recruiting areas need focus, align on priorities with practitioners and hiring managers, and act with data-driven interventions.
Untangling D&I or any other difficult problem in HR requires you to adopt a methodical approach supported by data at every step. Using people analytics empowers you to zone in on the real problems and make better decisions based on a single source of truth.
Trent Cotton, Vice President of Talent Acquisition & Strategies at Bureau Veritas Group, explains why it is so critical to start with data:

The question is: What is the best way to figure out exactly how you can make progress on your D&I initiatives? To get started, use this framework of ASK, ALIGN, and ACT to guide you on how best to use your data. This problem-solving framework can be used to proactively diagnose what is happening in your pipeline, which allows you to bring the team together to solve the problem and action it.
Problem-solving framework for recruitment managers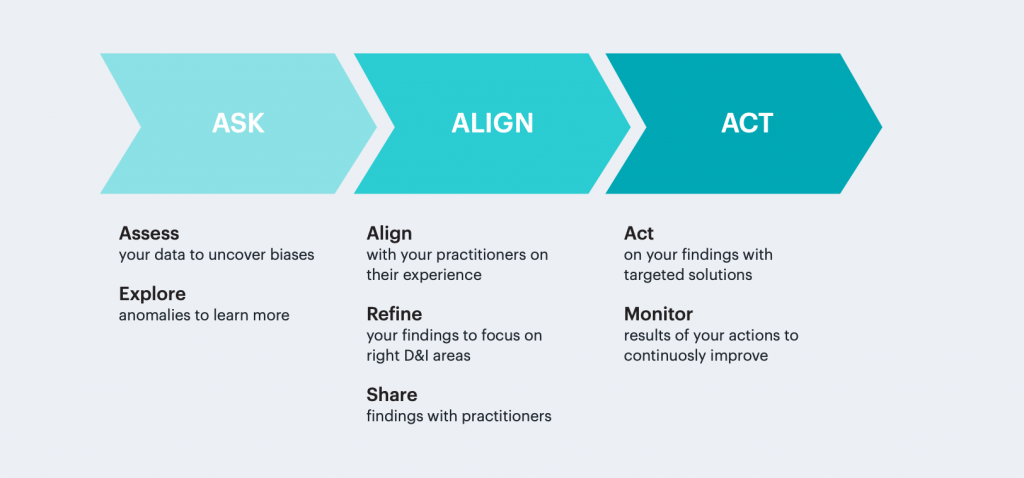 Driving change on D&I initiatives requires a process to understand and solve the problems in your organization. Your current talent acquisition data provides a wealth of information that can assist you in finding out how to find the best path forward and implement the strategies that will drive meaningful change. Use this proactive framework as a guide to find the best way to leverage your data.
Ask
First, assess your pipeline and headcount numbers with an open mind to uncover patterns that indicate potential bias. It's important to see what the data tells you, rather than narrowing your focus too soon.
Start with a general breakdown of your candidate and headcount numbers by gender, race, veteran status, then change the breakdown to job level, key roles, or tenure. This process will reveal insights such as whether your organization needs more minority representation in executive leadership or maybe, more women in STEM roles.
As you review the different breakdowns, look for outliers and trends. Where is your organization currently doing well? Where is there room to make improvements? This ensures you put cost-effective attention where it is most needed.
Explore the causes behind any gaps by filtering your search. Trend analysis illustrating patterns over time can highlight the causes behind your diversity challenges. Has the challenge always been there or did it become more pronounced at a certain point?
Align
Once you have some findings pointing to potential hiring issues, gather together a small team of recruiters and hiring managers to discuss how they align with what they're seeing day-to-day. For example, are certain sourcing pools producing better quality hires that are also from diverse groups? Their insight will tell you if you're on the right track and help you focus your research.
Aligning with practitioners will also ensure that you have early buy-in to build from when you're ready to make any changes. There will always be differences in opinions but if everyone can start from the same basis of facts, you'll be able to focus efforts in the right direction most cost-effectively.
Now refine those early findings, including where you are at risk if there's no change. This will give you a chance to evaluate the impact of the hiring issues you are currently facing and what the impact could be if you don't put plans in place to resolve these problems.
Share this information, making it accessible to leaders and change-drivers to get their input and figure out which actions make sense. Show them how you came to specific conclusions and ask them what they think the path forward should look like.
Act
Finally, it's time to act on your findings, either as a pilot project or across the board interventions. Armed with insight, your organization can come up with solutions designed to answer the problems you found.
Know that there will be a series of opportunities and risks to address and start with the issues that are impacting your organization the most. That way, you can make progress on the most pressing problems that may be holding your organization back on D&I initiatives.
Creating meaningful change doesn't end there. Monitor these efforts to see if you're getting the results you expect. It may take a few tries to find the right action or combination of actions.

By taking the time to evaluate your success and any pitfalls, you can see when to keep going and when you need to try something else. This reflection should be done on a regular basis to allow you to make any necessary adjustments.

You don't have to wait until you're ready to tackle every diversity and inclusion challenge. You don't have to have the solution to every challenge your organization faces to start making progress. To take action on your D&I promises and commitments, you need to have the right processes and tools in place. Putting your data in context is the key to making progress on these initiatives.
Applying the framework: Using people analytics to meet D&I goals
Trent also recently shared an example of how his team used people analytics to support their recruiting efforts:
"We had to identify female technical talent but needed to know where to start. We used our sourcing tool to focus on diverse talent for a key talent initiative to first determine where the talent was physically located. Once we had our target markets, we leveraged some market data from our marketing team to ensure our messaging format and language were more specific to a female demographic to increase the response rate.
"During the project, we also implemented some application, interview, and hiring analytics to track where females were dropping out of the process. Any sizable gap was addressed in partnership with our HRBPs and the line managers to be sure our recruiting efforts were not in vain. The analytics gave us some insight on hiring manager practices during the selection process indicating the need for additional coaching and training of the hiring managers."

It's time to move the needle on D&I
Granting everyone equal access to employment opportunities is the key to successful diversity recruiting. Combined with the right framework for solving and prioritizing your hiring problems, Visier People enables you to make the best talent acquisition decisions more quickly so you achieve your diversity and inclusion goals.
Discover more great talent acquisition insights during these Outsmart sessions:
A Day in the Life of a Talent Acquisition Leader on Wednesday, May 5 at 3:30-4:15pm EST with Charles Mah of iCIMS and Jayne Landry of Visier
Using Data to Avoid Common Recruitment Pitfalls on Thursday, May 6 at 2:45-3:30pm EST with Yiorgos Boudouris, Senior Recruiter at Shopify
Don't miss all these great sessions. Register for Outsmart, the free digital conference, today!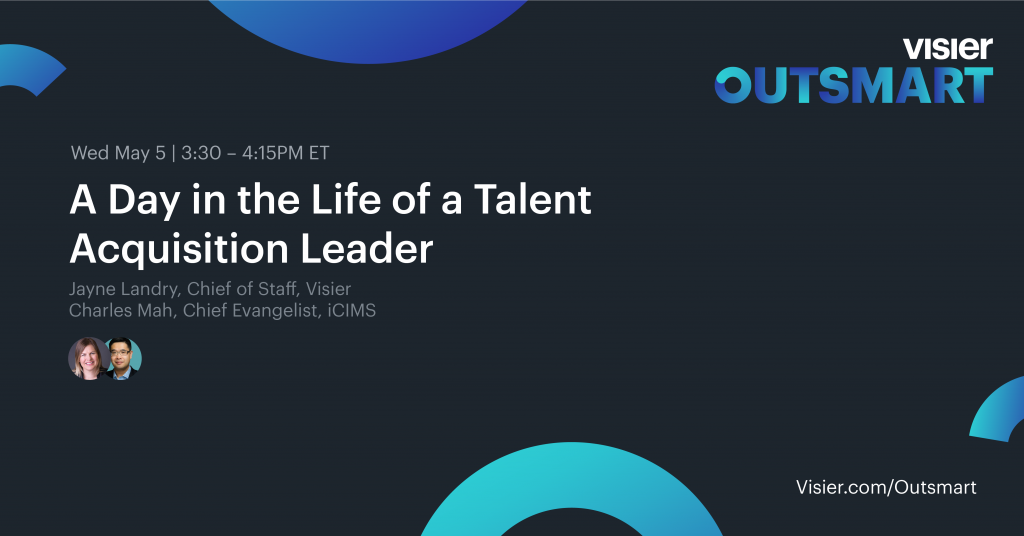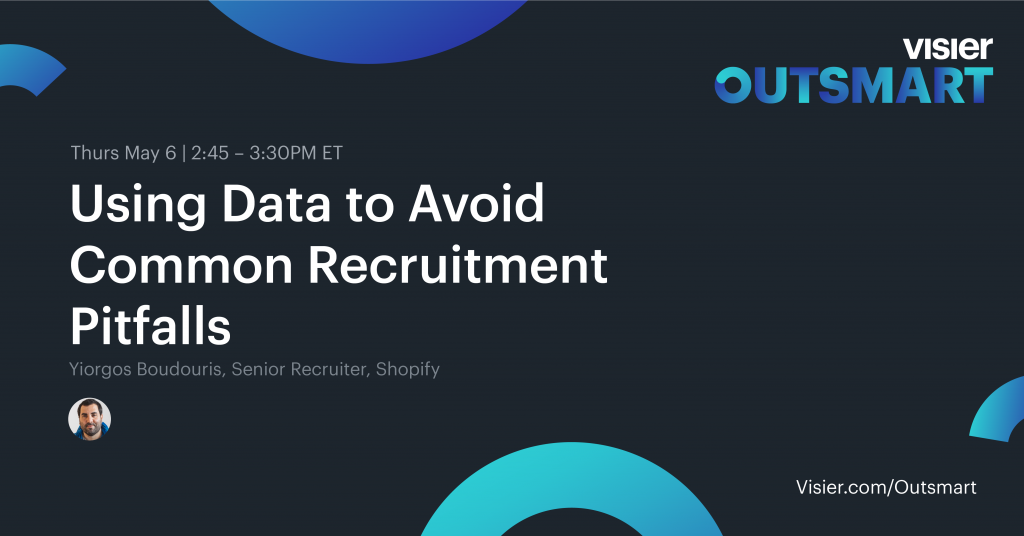 About the author: Visier Team
People-centered ideas and insights by the editorial team at Visier.
Be the first to know!
Never miss a story! Get the Outsmart newsletter.
Related Articles
PRODUCT INSIGHTS
Industry experts, Stela Lupushor and Nigel Dias, give advice on what to consider when learning from others in the people analytics community.
TALENT MANAGEMENT
Exciting research shows the causal link between people analytics and improving the business performance of enterprise organizations.
LEADERSHIP
An interview with Dave Wallis of Insperity, a leader in data management, BI, and people analytics.