Embedded Analytics Applications
Pre-built analytics to help you win
Visier Embedded Analytics applications are purpose-built with a people data focus and allow you to deliver proven solutions in a few short months, helping you and your customers win together.
Take a tour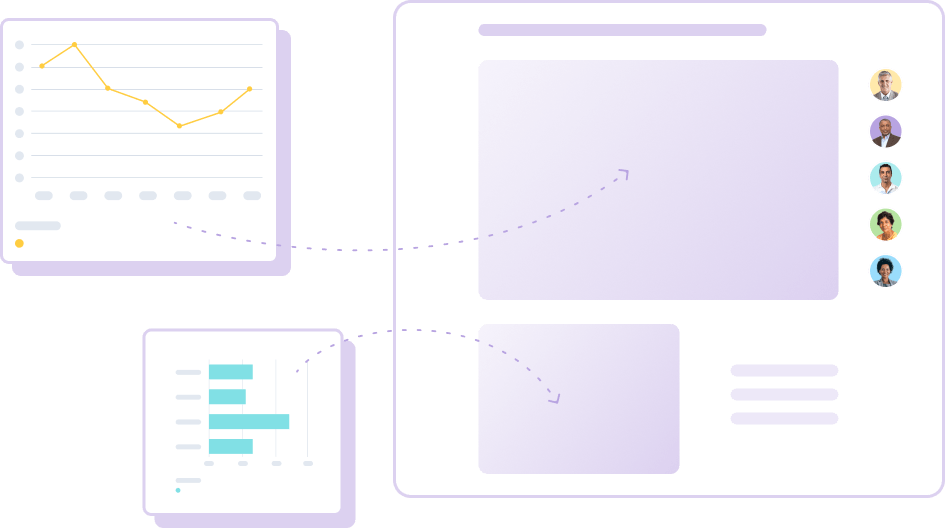 Accelerate your revenue growth with market-leading analytics
Demands of the market and strong competition can be hard to keep on top of. Stay ahead and cut your time to value with expert analytics as a differentiator.
Make analytics smart, yet simple, for your customers
Democratize people data for every user at any skill level and enable your customers to gather meaningful insights without the complexity.
Deliver analytics fast with pre-built content
Ask the right questions of your data with out-of-the-box analytics using 2,000+ pre-built questions and metrics or create your own digital assistant with our generative AI capabilities.
Analytics across the entire employee lifecycle
Visier's Embedded Analytics applications are designed to answer the most critical and relevant business questions across various HR domains, revolving entirely around your customer's data.
Monitor organizational changes
Get a view of your entire workforce across locations, departments, and more. Manage change at your organization based on accurate information about the starts, exits, and evolution of your workforce.
Learn more
Start small or go big
Deliver analytics to your customers fast
Quickly demonstrate its value to generate demand for deeper functionality, and as a result, additional spend with your business.
Lite
Help your customers get started with an out-of-the-box analytics experience that delivers dashboards full of easily understandable insights on demand.
Learn more
Premium
Built for everyday business users and analysts, offering expanded content and automation, as well as the ability to control their analytics journey.
Learn more