DATA ENRICHMENT x EMBEDDED ANALYTICS
Enable Better Pay Insights With Visier Salary Benchmarks®️ API
Help your customers make strategic decisions on compensation based on the current market.
What are Salary Benchmarks?
The Visier Salary Benchmarks API is a set of salary market data that aggregates millions of employee records and allows an organization to compare its own workforce compensation data to benchmarking data.
Drill down further by filtering these metrics by numerous data dimensions for better context.
Built from data directly out of HRIS, our benchmarks deliver more accurate, updated and complete information than point-in-time surveys or self-reported snapshots of salary declarations.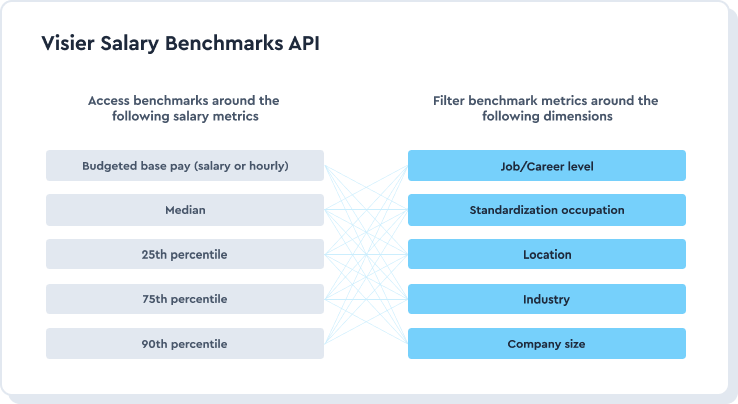 How does this help your customers?
This helps organizations adjust their compensation strategy throughout the employee lifecycle—from creating a new job and opening a requisition to approving a promotion or countering an outside offer—with visibility into accurate and competitive pay benchmarks that improve their recruitment, promotion, and pay equity practices and policies.
Answer burning customer questions like "What is a competitive salary range to include in this job posting?" and "How much should I increase pay for a specialist receiving a promotion to manager?"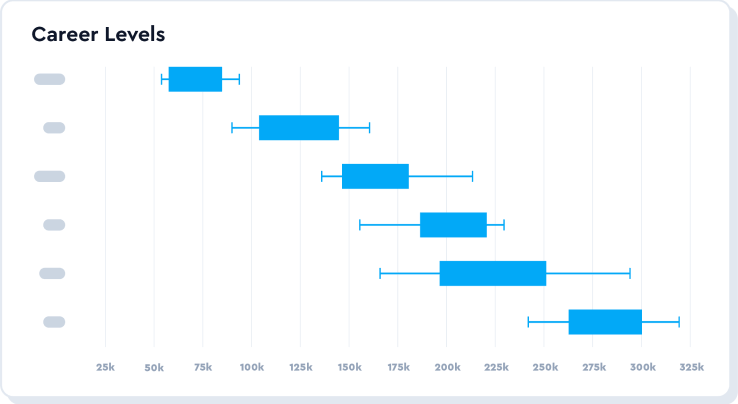 Why choose Visier for Benchmarking Data?
Creating benchmark capabilities is a huge undertaking that demands significant time and resources, diverting capacity that could be used elsewhere. It's challenging to compile data at a high enough volume to be deemed significant. But you don't have to distract your team and divert capacity to building from scratch when more pressing data analytic initiatives demand your attention. Instead, tap into one of the most comprehensive workforce benchmark datasets in the world and deliver confident insights within your platform with:
Pre-built benchmarking content.
Access to millions of hosted employee records
Quarterly updated benchmarking data
Drill-down capabilities for relevance
Objective perspectives on how organizational performance