Data Enrichment
APIs to get you where you need to go, faster
Quickly add powerful context to your analytics with people data APIs for any use case to help your users make better decisions about their people and the business.
Get a demo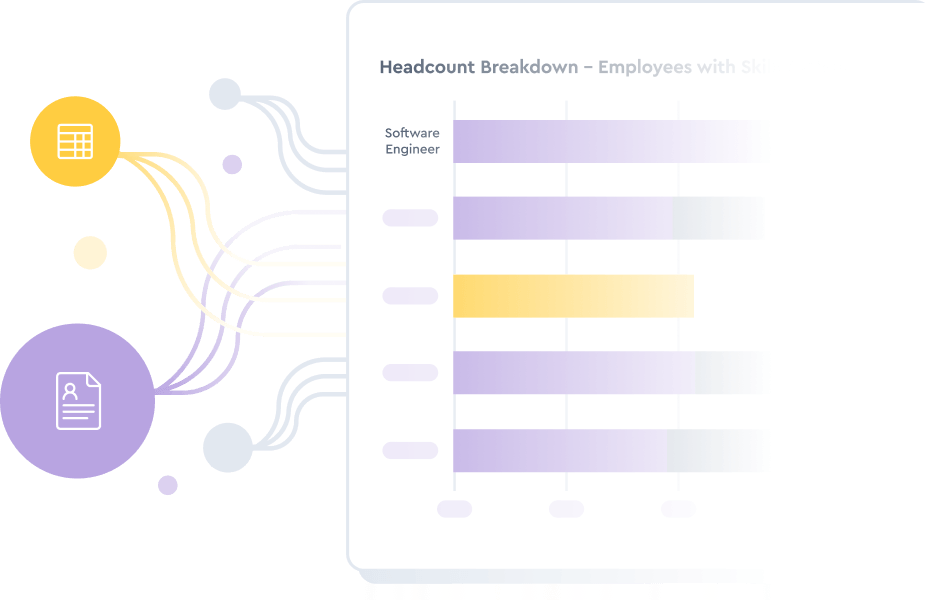 Build with the best in the business
As the global leader in people analytics, Visier's robust datasets are continuously updated as our community grows, so you can stay competitive without sacrificing resources.
Data based on fact, not fiction
The largest of its kind, our dataset is built from our community of 25,000 customers so your customers can make decisions with confidence.
Fast time to value
Building from scratch could take years. Our APIs are ready for you to tap into at any time—and see results sooner.
Robust, yet flexible capabilities
Secure, enterprise-grade APIs that are ready to scale with your customer base and reliably deliver insight when they need it.
Our library of people data APIs
Plug and play based on your roadmap to help your customers work smarter to better attract, retain, and develop their employees.
Skills Intelligence APIs
Access our skills intelligence engine with 3,300 standardized jobs and 14k standardized skills in 100+ languages.
Learn more
People Benchmark APIs
Give your customers context with the largest dataset built from 18M+ genuine employee records to know what good looks like.
Learn more
Predictions as a Service APIs
Predict the risk of resignation for your customers with our algorithm trained on community data with 2.4x better accuracy.
HR leaders need data more than ever to position themselves as irreplaceable parts of the business, and Visier delivers. There's a misconception that you need to be a data scientist to use analytics tools. That's not the case with Visier.
Ryan Bergstrom, Chief Product Officer at Paycor
Read the story