For People Analytics Leaders
Deliver people insights that guide the business
When your people analytics practice runs on Visier, your team can stop wrangling data and maintaining reports, so you can focus on delivering high-value analysis that has undeniable business impact.
Take a tour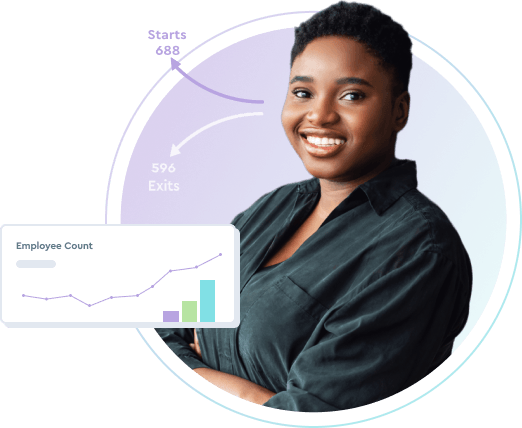 What is Visier?
Visier is the world's most powerful people analytics solution. Designed for scale and security, it's a single platform that turns raw data into stories with the context necessary for leaders take the right actions.
Scale your impact
Visier is a force multiplier for your PA team. Teams are made more efficient by automating the most time-consuming aspects of people analytics, yet it's an open and extensible platform that can support any project you can imagine.
Remarkable speed to insight
Our vast library of ready-to-use, customizable content means you and your team can focus your energies on high-level analysis, instead of building dashboards for common questions. We also expedite data onboarding with prebuilt connectors to popular HR systems.
Self-service made easy
Visier makes it radically simple to spread insights throughout your organization. From executive reporting to attrition risk reports for line managers, Visier has the built-in tools to help you get the right insights into the right hands.
Data integration is our specialty
Visier takes disjointed, messy data from a multitude of systems and automatically standardizes and harmonizes it according to our event-based analytic model, purpose-built for people data.
How people analytics leaders use Visier
Here are just a few examples of the capabilities that make Visier stand out as the platform of choice for the world's most successful people analytics leaders.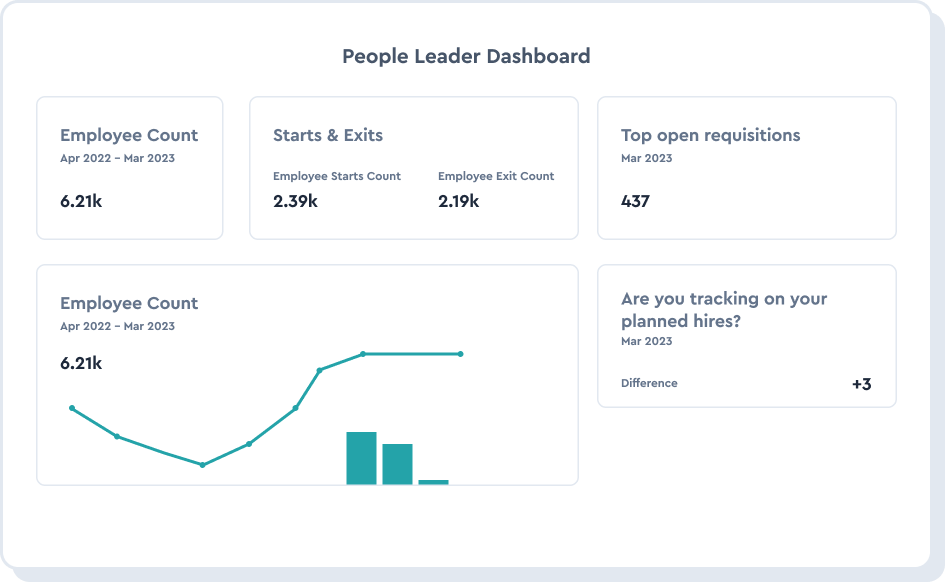 Build and maintain everything in-house. Your scale and reach are limited by your PA team size and resources.
No standard metric definitions. The way turnover is calculated, for example, may vary from project to project.
The PA team operates on a service center model; requests come thick and fast from every corner of the business.
Every new question (or variation) means spinning up more and more dashboards. Tracking and maintenance is a chore.
Build and manage your own security model. You have to figure out who should see what on a dashboard-by-dashboard basis.
No easy way to do external comparisons. Buying, importing, and managing third-party benchmark data is expensive and challenging.
Answers to the most common workforce questions are pre-built within Visier and ready to deploy or customize.
Visier's library of standard metric definitions keeps everyone on the same page. Focus on analysis and decisions, not calculations.
Let your stakeholders consume guided insights within Visier on a self-serve model. Achieve scale without adding headcount.
Stakeholders can explore as they please. Spend your time on valuable analysis, not maintaining a mountain of dashboards.
We automate security. Our security model, built specifically for people data, relieves your team of this significant burden.
Visier's proprietary benchmark dataset, based on 17 million aggregated employee records, is included for every customer.
Why Choose Visier?
Read a high-level summary of how Visier stacks up against other approaches to people analytics.
Get the guide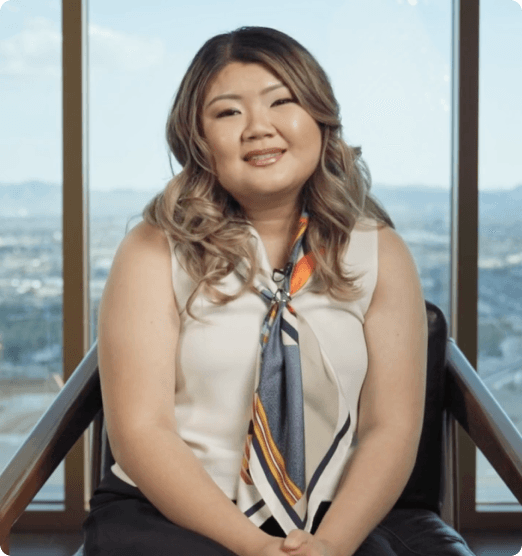 Now, we can correlate the quantifiable data with the qualifiable data and connect opinions with insights for our entire workforce.
Lydia Wu, Director of HR Strategy & TechnologyPanasonic North America
7.5
Average payback period
2000+
Prebuilt questions and answers
50%+
Cost of Visier vs. custom solution