Product Update: Visier Continues to Advance Its Industry-Leading Predictive Analytics Capabilities with Continuous Machine Learning
August 24, 2015
Visier's SUMMER 2015 release also pushes the boundaries of large-scale enterprise workforce planning
VANCOUVER, BC and SAN JOSE, CA — August 24, 2015 – Visier, the innovation leader in Workforce Intelligence, today announced the SUMMER 2015 releases of Visier Workforce Analytics and Visier Workforce Planning. The new releases continue to deliver unmatched value to Visier customers, enabling them to maximize their business outcomes through their people.
Advanced Predictive Analytics
Visier recently shared the results of an in-depth validation of its patented predictive analytics technology, which found that Visier is up to 8x more accurate at predicting who will resign over the next three months than guesswork or intuition.
"There is a lot of vaporware out there in the workforce analytics and planning space," explains Dave Weisbeck, Chief Strategy Officer, Visier. "At Visier our solution has been making predictions for years, across many customers and industries, with tens of thousands of exit events. As a result, we are unique in having predictive models whose accuracy has been verified."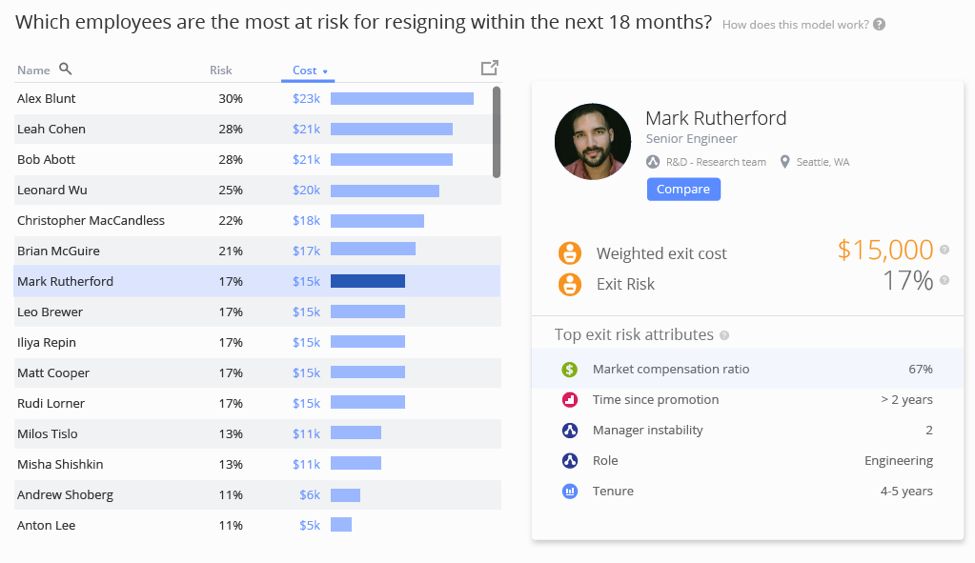 Visier automatically assigns each employee an "at risk" score based on a real-time analysis of all employee attributes
Known for its innovation, Visier designed its SUMMER 2015 release to further advance the state of the art in predictive analytics, making Visier's Continuous Machine Learning approach even more accurate.
Large-Scale Enterprise Workforce Planning
The SUMMER 2015 release also includes expanded capabilities to support large-scale enterprise workforce planning.
"There's a reason the world's best brands choose Visier," says Weisbeck. "And part of that reason is the Visier solution's ability to perform large-scale enterprise workforce planning — enabling organizations with tens of thousands of employees and contingent workers to align their talent requirements with the needs of the business — all at the optimal cost."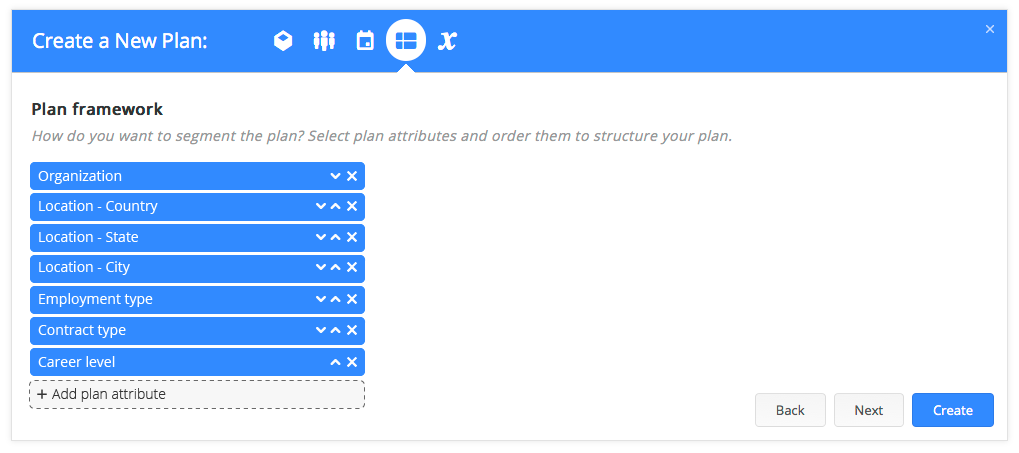 Visier's patented in-memory multidimensional analytics technology allows organizations with complex structures to develop deep plans based on multiple attributes.
The SUMMER 2015 release expands Visier's support of planning for organizations that have deep or complex organizational hierarchies that can result in thousands of combinations. In addition to delivering even more flexibility when configuring plans and working with assumption models, Visier Workforce Planning enables organizations to simplify the creation of complex, yet flexible workforce plans.
Visier delivers new product releases each quarter. To see a demonstration of Visier's Workforce Intelligence solutions, sign up for a demo session.
For more information, visit: www.visier.com
Find data-driven HR insights and tips at www.visier.com/blog
Follow Visier on Twitter @VisierAnalytics
Like Visier on Facebook
About Visier
A leading innovator in Applied Big Data cloud technology, Visier provides Workforce Intelligence solutions that are enabling a rapidly growing number of the world's best brands to maximize their business outcomes through their people.
Visier's solutions let organizations understand and plan — with precision — how to best and most cost-effectively recruit, retain, and develop their workforce. With Visier, senior leaders, HR, and people managers alike can answer key workforce questions, align on goals and strategies, and act on decisions and plans to drive improved business outcomes. Visier does this by providing complete pre-built solutions in the cloud as a service that leverage Visier's innovative multi-dimensional, in memory technology to provide capabilities otherwise not possible.
Founded by business intelligence experts—including former Business Objects chief executive officer, John Schwarz—the company's leadership team has a proven track record of technical, operational, and strategic management success with companies such as IBM, SAP, and Oracle. With millions of customer employee records in the cloud, Visier is experiencing significant growth.
For more information, visit https://www.visier.com.
Media Contact:
Sarah Grant
Visier
514-436-5100
sarah(dot)grant(at)visier(dot)com