Human Resource Executive® Names Visier People: Learning a Top HR Product of the Year for 2018
September 10, 2018
People Analytics Leader Recognized for First-of-Its-Kind Analytics Solution for Learning Leaders to Identify Future Learning Needs and Measure the Business Impact of Learning
VANCOUVER, BC and SAN JOSE, CA  – September 10, 2018 – Visier, the recognized leader in people analytics and planning, today announced that Visier People™: Learning has been named a Human Resource Executive® "Top HR Products of  2018." Part of the Visier People solution, Visier People: Learning is the only people analytics solution designed specifically to answer the questions of learning and development (L&D) leaders.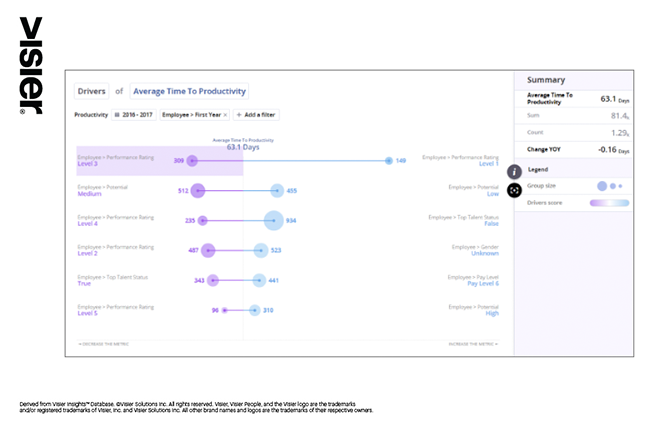 By marrying L&D data with people data from across the employee lifecycle, as well as business data, Visier People: Learning connects learning outcomes with the business's big picture, enabling L&D leaders to make data-driven decisions about their investments and provide leadership with the business impact they are asking for.  Prebuilt with best practice learning analytics questions, Visier People: Learning gives L&D leaders quick and easy access to business-shaping insights.
Today's talent market is highly competitive: not only are experienced and skilled workers retiring at high rates, but less experienced Millennial workers are highly mobile, resigning at a rate that is nearly two times that of older workers, and changing jobs within a company almost twice as often. This presents a unique challenge for C-suite and L&D leaders, making it more critical than ever before to understand how learning investments are future-proofing the business and driving business outcomes.
"We are honored that Visier People: Learning has been recognized," said Adam Binnie, Visier's Chief Product Officer. "Visier People: Learning represents a seachange for executives and L&D leaders. For the first time, organizations can understand their learning trends, forecast learning outcomes with predictive analytics, and measure the business impact of learning investments."
Visier People: Learning connects L&D data to other HR and business system data to uncover which programs, activities, and content have the most impact. From questions about learning impact, to learning engagement and operations, to compliance learning, new hire programs, and leadership development, Visier People: Learning answers questions, such as:
How well does our L&D strategy align with our business strategy?

How can we get new hires to full productivity faster?

How can we improve employee performance through training?

Will we have enough certified employees in place in time?

Do our L&D investments drive better business results?
Each year, the editors of Human Resource Executive® perform an extensive evaluation of the Top HR Products submissions. They also include as a part of the decision-making process input from a panel of outside experts and analysts. Winning solutions are selected based on their level of innovation, value added to the HR function, intuitiveness for the user and ability to deliver business value.
In 2017 Visier's Talent Acquisition analytics solution (Visier People: Talent Acquisition) was one of Human Resource Executive magazine's Top 10 HR Products.
Learn more about Visier. Visit Visier at booth #2039 at HR Tech in Las Vegas September 12-13, 2018.
About Visier
A leading innovator in Applied Big Data cloud technology, Visier provides People Analytics solutions that are enabling the world's best brands to say goodbye to guesswork, and hello to business results.
Visier's solutions let organizations outsmart and outperform their competition by understanding and planning—with precision—how to best and most cost-effectively recruit, retain, and develop their workforce. With Visier, senior leaders, HR, and people managers alike can answer key workforce questions, align on goals and strategies, and act on decisions and plans to drive improved business outcomes. Visier does this by providing complete pre-built solutions in the cloud as a service that leverage Visier's innovative multi-dimensional, in-memory technology to provide capabilities otherwise not possible. Visier users outperform others by a wide margin.
Founded by respected innovators in business intelligence, the company's leadership team has a proven track record of technical, operational, and strategic management success with companies such as Business Objects, IBM, SAP, and Oracle. With millions of customer employee records in the cloud, Visier is taking the guesswork out of people management.
For more information, visit https://www.visier.com.
# # #
Media Contact:
Julie Galla
604-738-0595
visier(at)sparkpr(dot)com