Product Update: Visier Data Connections Removes Data Management Burden from Analysts and Data Scientists
June 7, 2017
New capability offers significant time savings, while ensuring data accuracy
VANCOUVER, BC and SAN JOSE, CA – June 7, 2017– Visier, developer of the leading people strategy platform, today announced Visier Data Connections, a new capability included with Visier Workforce Analytics, part of the Visier Workforce Intelligence solution, that allows customers to access and use data from Visier in spreadsheet applications, specialized analysis tools (such as Tableau, Qlik, SPSS, SAS, or R), and web applications (such as web portals or dashboards).
"Visier has not only become the go-to place for instant answers to our customers' important workforce questions, it has also become their single source of the truth," says Dave Weisbeck, Chief Strategy Officer, Visier. "As part of the Visier solution, we integrate, cleanse, and organize all of a customer's relevant data into a virtual data warehouse. With Visier Data Connections, customers who want to perform niche analyses or integrate workforce data into a web application can now save significant time, while also ensuring data accuracy."
To do data analyses in spreadsheets or tools such as Tableau, Qlik, SPSS, SAS, or R, analysts and data scientists first have to integrate and clean data – work that can often represent over 80 percent of the time they spend on a given project. With Visier Data Connections, analysts and data scientists can eliminate this data management work by instead leveraging the cleaned, integrated data stored in Visier's virtual data warehouse. They can also use JSON (a popular data exchange format) to connect Visier data to analysis or visualization tools, or to include Visier data in internal web applications and dashboards.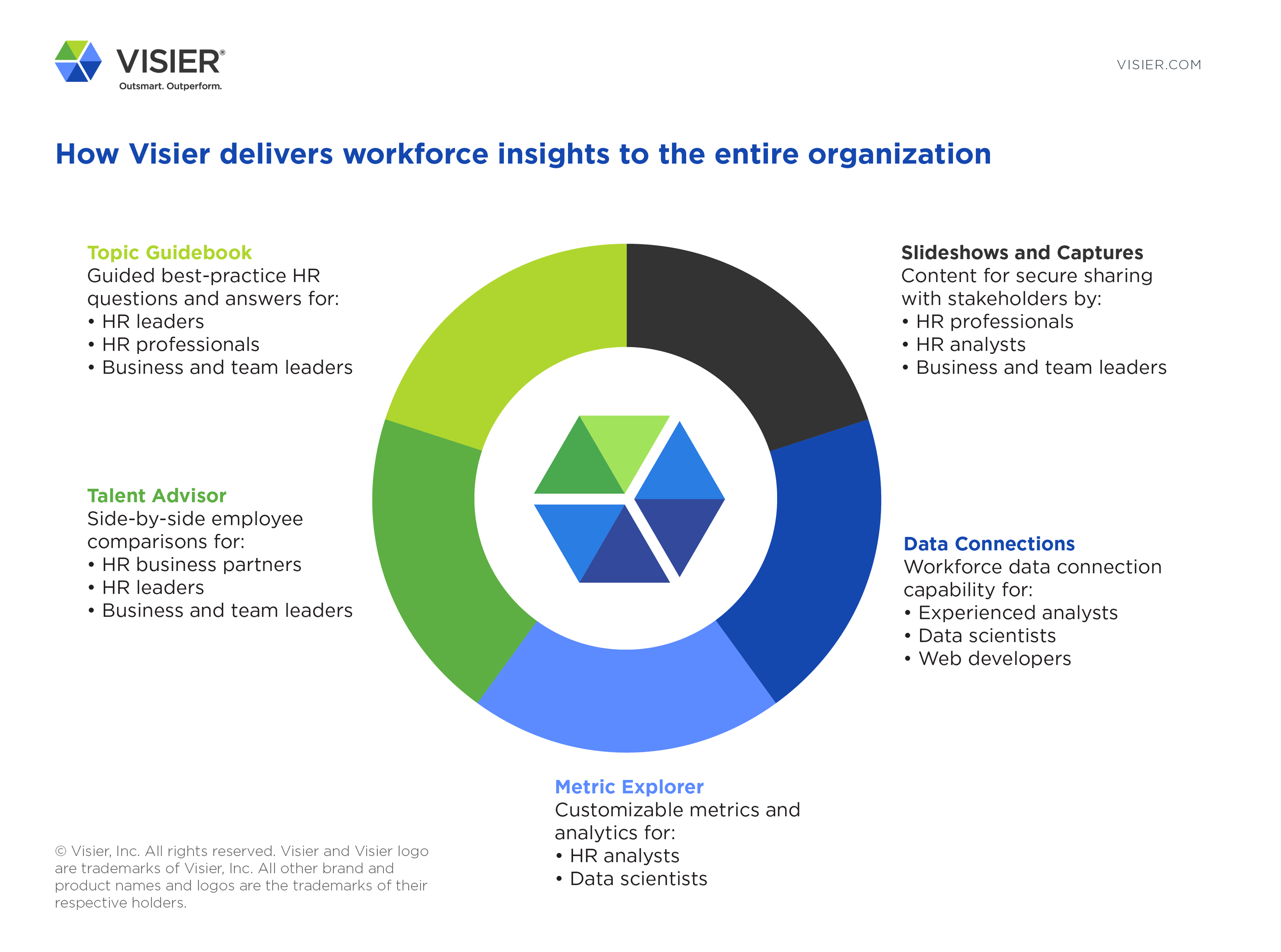 For more information, visit: www.visier.com
Find data-driven HR insights and tips at www.visier.com/blog
Follow Visier on Twitter @Visier
Visier and Visier logo are trademarks of Visier, Inc. All other brand and product names and logos are the trademarks of their respective holders.
About Visier
Our curiosity, the desire to understand, is inseparable from what it means to be human. But, in the hype of big data analytics, we've forgotten that data does not equal knowledge.
Visier was founded to focus on what matters: answering the right business questions, even the ones a person might not know to ask. Questions that shape business strategy, provide the impetus for taking action, and drive better business results.
Visier is dedicated to transforming business analytics, to providing leaders with clear answers to critical business questions — out-of-the-box, without the hassle and cost of data management, statements of work, and long and risky development projects.
Visier lets companies say goodbye to data quality problems, to complexity, to costly tools, to endless service fees, and to guesswork. A people strategy platform designed by domain experts for leaders, Visier lets leaders say hello to clarity, to confidence, to meaningful answers — and to better business performance. Say hello to Visier. Outsmart, outperform.
For more information, visit https://www.visier.com.
Media Contact:
Julie Galla
visier(at)sparkpr(dot)com