Visier Announces Career Journeys, a New People Analytics Capability that Leverages Historic Data to Map Potential Career Paths
May 24, 2018
Big data analytics unlock the secret of how individuals progress at an organization
SAN JOSE, CA and VANCOUVER, BC – May 24, 2018 —  Visier, the recognized leader in people analytics and planning, announced Career Journeys, a first-of-its-kind capability – now  included in Visier People® Talent  – that analyzes the lifecycle of an organization's people to answer important questions about the movement and development of talent. With Career Journeys, people managers can understand career mobility like never before, answering questions such as:
What intermediate roles should I consider to achieve my career goals?

Which path is the quickest, and which is the most common?

How long does an individual typically stay in each role?
"Millennials – the largest age cohort in the workforce today – have a bias towards mobility and expect career progression. Our own aggregated customer data shows that Millennial groups with higher rates of internal mobility, experience lower resignation rates," says John Schwarz, Visier Co-Founder and CEO. "A key to retaining critical talent, therefore, is for managers to be able to articulate – with credibility – the career path for each individual. Career Journeys enables this."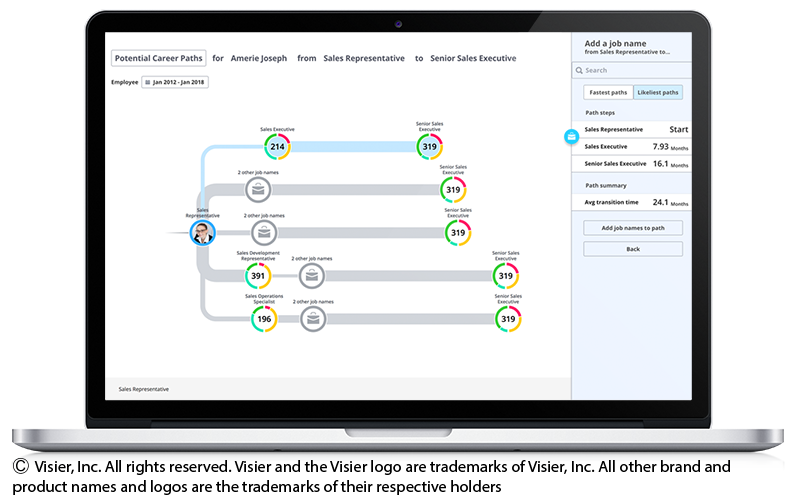 Visier People's Career Journeys analyzes an organization's historic people data, and calculates the many routes employees have taken from one role to another. The outcome is a map of all the career paths taken within an organization, with insights into the fastest and most common paths.
"With Career Journeys, managers can now understand and share the potential career paths for each of their employees, allowing managers to have deeper, more productive career planning discussions," explains Dave Weisbeck, Visier's Chief Strategy Officer. "Managers no longer have to rely on intuition or guessing to better develop and engage critical talent."
About Visier
Visier's purpose is to help people see the truth and create a better future—now.
Visier was founded to focus on what matters to business people: answering the right questions, even the ones a person might not know to ask. Questions that shape business strategy, provide the impetus for taking action, and drive better business results.
Visier delivers fast, clear people insight by using all the available people data—regardless of source. With best-practice expertise built-in, decision-makers can confidently take action. Thanks to our amazing customers, Visier is the market leader in Workforce Analytics with 5,000 customers in 75 countries around the world.
For more information, visit http://www.visier.com.
Media Contact:
Julie Galla