Product Update: Visier Connects Employee Engagement Results with Turnover, Performance, Compensation, and Other Data, Delivering Impactful New Insights
November 30, 2015
Visier's FALL 2015 product releases also introduce new capabilities in support of global workforce planning
VANCOUVER, BC and SAN JOSE, CA – Visier, the leader in People Analytics, today announced the FALL 2015 releases of Visier Workforce Analytics and Visier Workforce Planning.  Continuing its mission to help companies maximize their business outcomes through their people, Visier has focused its new releases on transforming the analysis of employee engagement results and further enabling global workforce planning.
The Employee Engagement Revolution
Visier recently shared its predictions for an Employee Engagement revolution. In today's era of Big Data and mobile apps, the engagement technology landscape is being rapidly disrupted by applications for weekly employee "pulse" surveys and continuous 360 degree feedback. While these apps overcome a major flaw in traditional annual engagement surveys — by providing an up-to-date measure of engagement and how it is changing — they do not solve the ultimate challenge of understanding what actually engages, motivates, and retains an employee; and connecting those insights to business results.
"The analysis of engagement survey results does not help an organization uncover employee dynamics or answer why one group is more engaged than another," explains Dave Weisbeck, CSO, Visier. "It was with this in mind that we designed the FALL 2015 release of Visier Workforce Analytics, which lets our customers connect their employee engagement results with other workforce data to answer the critical why and how questions."
Learn more about how to link engagement to business outcomes.
With Visier Workforce Analytics, companies can answer questions, such as:
Why does a specific team or role have an issue with engagement?

What is the connection between engagement and retention or employee performance?

How are compensation, promotions, development spend, or other factors related to engagement?

How can we measure the results of HR programs designed to drive engagement and, ultimately, business outcomes, such as revenue or profits?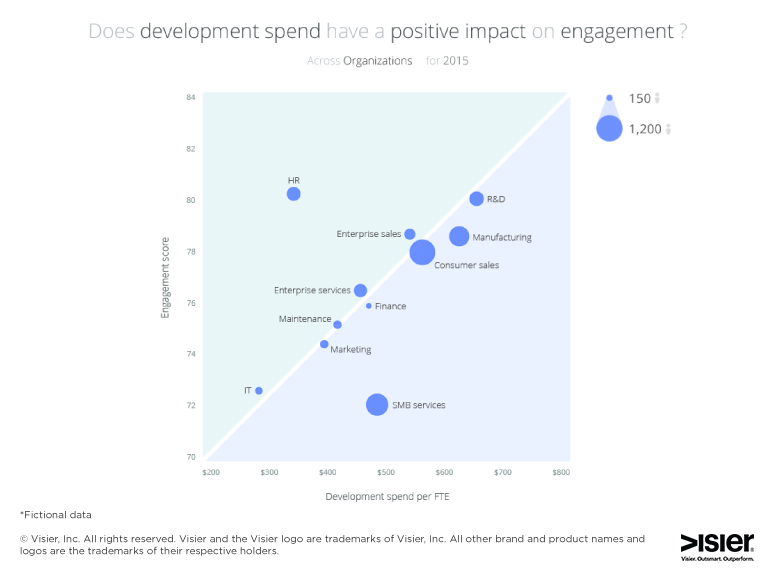 Global Workforce Planning
The FALL 2015 release of Visier Workforce Planning includes expanded currency support for global planning.  Now customers can customize workforce plans to use multiple local currencies, import and export data in local currencies, and switch between different currencies in real time. Customers can also consolidate multiple currencies into a single standard currency, presenting a plan that was created based on local currencies in one standard currency.
"In our last release we extended our product capabilities to support large-scale enterprise workforce planning, enabling organizations with tens of thousands of employees and contingent workers to align their talent requirements with the needs of the business," says Weisbeck."With the FALL release we continue on this theme, now enabling our customers to create global workforce plans that take into account fluctuations in local currencies wherever they operate."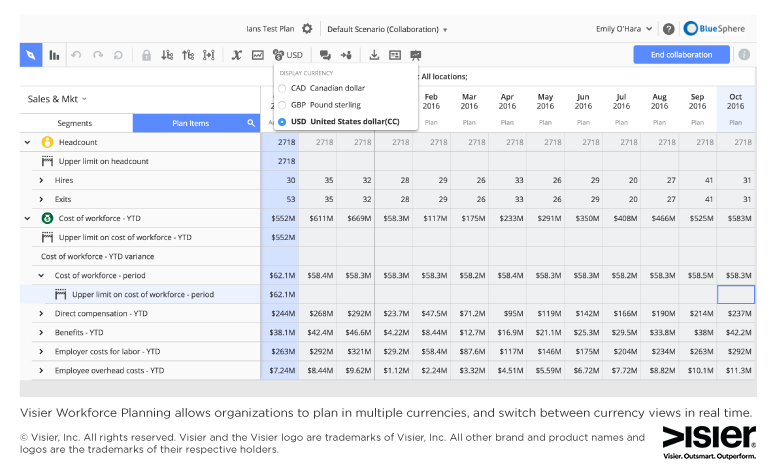 Visier customers can also now model changes in exchange rates, adding assumption models to workforce plans that take a weaker or stronger currency into account. Customers can then export data from completed workforce plans to revise their local financial plans and make the cost projections in their financial systems more accurate.
For more information, visit: www.visier.com
Find data-driven HR insights and tips at www.visier.com/blog
Follow Visier on Twitter @Visier
Like Visier on Facebook
About Visier
A leading innovator in Applied Big Data cloud technology, Visier provides People Analytics solutions that are enabling a rapidly growing number of the world's best brands to maximize their business outcomes through their people.
Visier's solutions let organizations understand and plan — with precision — how to best and most cost-effectively recruit, retain, and develop their workforce. With Visier, senior leaders, HR, and people managers alike can answer key workforce questions, align on goals and strategies, and act on decisions and plans to drive improved business outcomes. Visier does this by providing complete pre-built solutions in the cloud as a service that leverage Visier's innovative multi-dimensional, in memory technology to provide capabilities otherwise not possible.
Founded by business intelligence experts—including former Business Objects chief executive officer, John Schwarz—the company's leadership team has a proven track record of technical, operational, and strategic management success with companies such as IBM, SAP, and Oracle. With millions of customer employee records in the cloud, Visier is experiencing significant growth.
Media Contact:
Brittany Bevacqua
Phone: 212.398.9680
Email:  bbevacqua(at)affect(dot)com