Nearly Three-Quarters of Businesses Have Missed Objectives Due to Inadequate Workforce Planning, Harvard Business Review Analytic Services Report Reveals
September 21, 2015
Poor Workforce Planning Leads to Talent Shortfalls and the Inability to Meet Business Goals
VANCOUVER, BC and SAN JOSE, CA — September 21, 2015 – Talent shortfalls have serious implications to business results, and poor workforce planning is a major cause that organizations are struggling to address, according to a new Visier-sponsored report released by Harvard Business Review Analytic Services (HBR-AS).
The majority of leaders (73 percent) have experienced talent shortfalls leading to missed business objectives as a result of poor workforce planning (the process through which companies align their workforce supply with their business needs), reveals the report, which is based on a survey of 323 corporate executives.
Download the full report, Tackling Talent Strategically: Winning With Workforce Planning.
"Executives recognize that workforce planning is necessary to secure both the right talent, and the right amount of it, to meet business goals, but our research shows they clearly have a long way to go in making this a reality," says Alex Clemente, managing director of Harvard Business Review Analytic Services.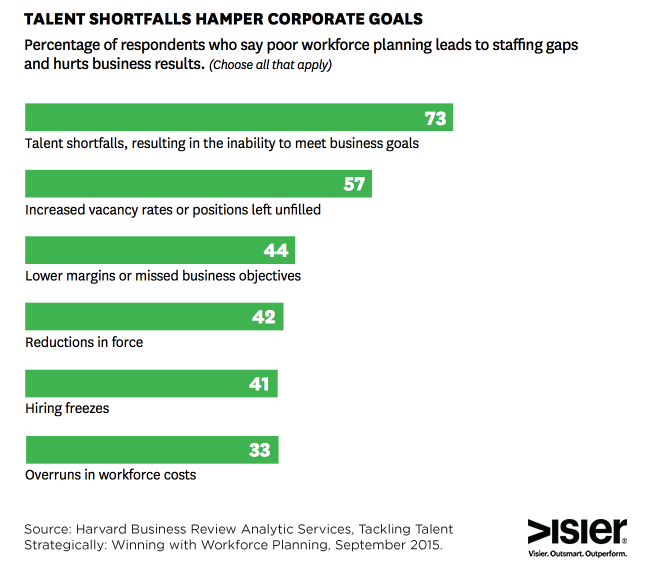 Moving Beyond Finance-Driven Headcount Planning
In PwC's most recent Annual Global CEO Survey, over 70 percent of CEOs identified the "availability of key skills" as one of the top three threats to their companies — an eight-year high for that question. Although business leaders know talent shortfalls prevent their companies from achieving their business goals, the HBR-AS survey reveals that they have not aligned their workforce planning process to manage the issue:
Almost half (44 percent) of respondents consider their workforce plans to be driven by finance and to not take talent availability considerations into account.
Although 72 percent would like to be able to model and compare staffing strategies across locations, teams, seniority, skills and other factors to develop better workforce plans, fewer than one-fourth (22 percent) are able to do so now.
"For many organizations, workforce planning is a finance-driven process focused primarily on managing headcount within the cost budget. But the budgets created by finance are disconnected from the actual talent needed to execute the business objectives," says John Schwarz, Co-Founder and CEO of Visier. "Consequently, the important decisions related to recruitment, retention, compensation, and productivity are constrained by budgets that do not reflect the people reality. It is urgent that businesses invest to bridge this critical and potentially fatal gap with a workforce intelligence solution."
To improve planning, 57 percent of respondents say they need data on what positions/talent are required to meet business objectives, and 57 percent say they need data on what is happening with talent acquisition and attrition. Companies already have this type of information distributed across business functions and in multiple Human Resource Management systems. With Visier Workforce Intelligence, HR leaders can connect and analyze workforce data — from unlimited sources — to forecast and model trends, such as workforce costs and historic turnover, and then collaborate with business leaders on the scenario that is most optimal.
To learn more about effective workforce planning, read the Q&A between Visier's John Schwarz and Harvard Business Review Analytic Services (HBR-AS).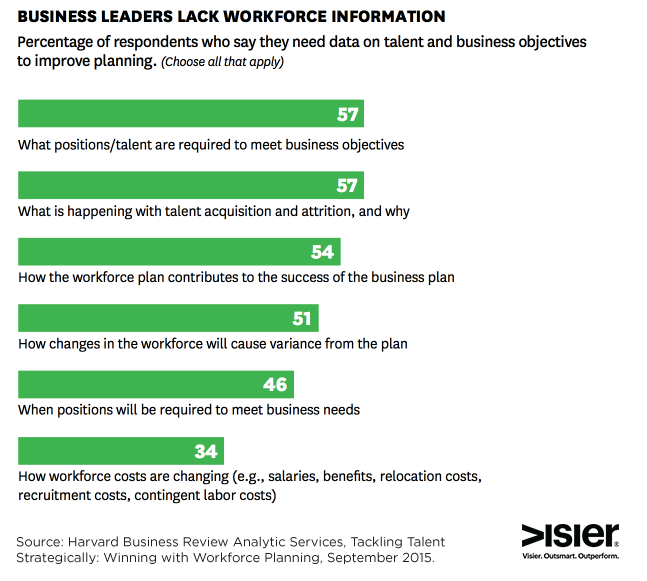 Find data-driven HR insights and tips at www.visier.com/clarity
Follow Visier on Twitter @Visier
Like Visier on Facebook
About Visier
Visier's purpose is to help people see the truth and create a better future—now.
Visier was founded to focus on what matters to business people: answering the right questions, even the ones a person might not know to ask. Questions that shape business strategy, provide the impetus for taking action, and drive better business results.
Visier delivers fast, clear people insight by using all the available people data—regardless of source. With best-practice expertise built-in, decision-makers can confidently take action. Thanks to our amazing customers, Visier is the market leader in Workforce Analytics with 5,000 customers in 75 countries around the world.
For more information, visit http://www.visier.com.
Media Contact:
Sarah Grant
Visier
514-436-5100
sarah(dot)grant(at)visier(dot)com