Over Half of Hiring Managers Say It's Tough to Predict Long-Term Success of Newly Hired Talent
December 12, 2016
New Survey Results Highlight Need for Companies to Better Measure Long-Term Impact of Talent Acquisition
VANCOUVER, BC and SAN JOSE, CA — A new study from Visier, the leader in People Analytics, has found that although organizations today are spending more money than ever on recruiting, 52% of hiring managers are unable to predict the long-term success of their new hires. Furthermore, the study found that 71% of hiring managers said that to increase the quality of people they hire, HR needs to improve its recruiting process.
An October 2016 study—conducted by Research Now on behalf of Visier—surveyed 200 hiring managers at companies with annual revenues of $1 billion or more across the United States. The hiring managers were asked about their views on the talent acquisition process at their organizations, and the results reveal significant frustration due to the lack of ability to measure long-term impact.
The challenges faced by hiring managers extend to the day-to-day decisions they need to make, as well as to their ability to make long-term hiring plans. The survey also found:
Long-term impact of recruiting is hard to measure: 61% said that it is difficult to measure the long-term impact of the overall recruiting process.
Time to hire estimates are not accurate: 66% of hiring managers agree that when hiring for a role, it is difficult to get an accurate estimate of how long it will take to secure the hire.
Hiring plans are not effective: 55% of hiring managers agree that hiring plans were not as effective as they could be due to the difficulty in getting accurate hiring and turnover projections.
Recruiting programs need to be more data driven: 70% said that to improve long-term business impact, recruiting programs at their organization need to be more data-driven or fact-based.
In the survey, hiring managers also expressed their need to access more information about the talent acquisition process and the candidates they were considering. In particular:
95% said they need to know why good candidates are lost during the hiring process.
82% said it is important to track diversity and ensure equity during the hiring process.
Download the survey report or view the infographic.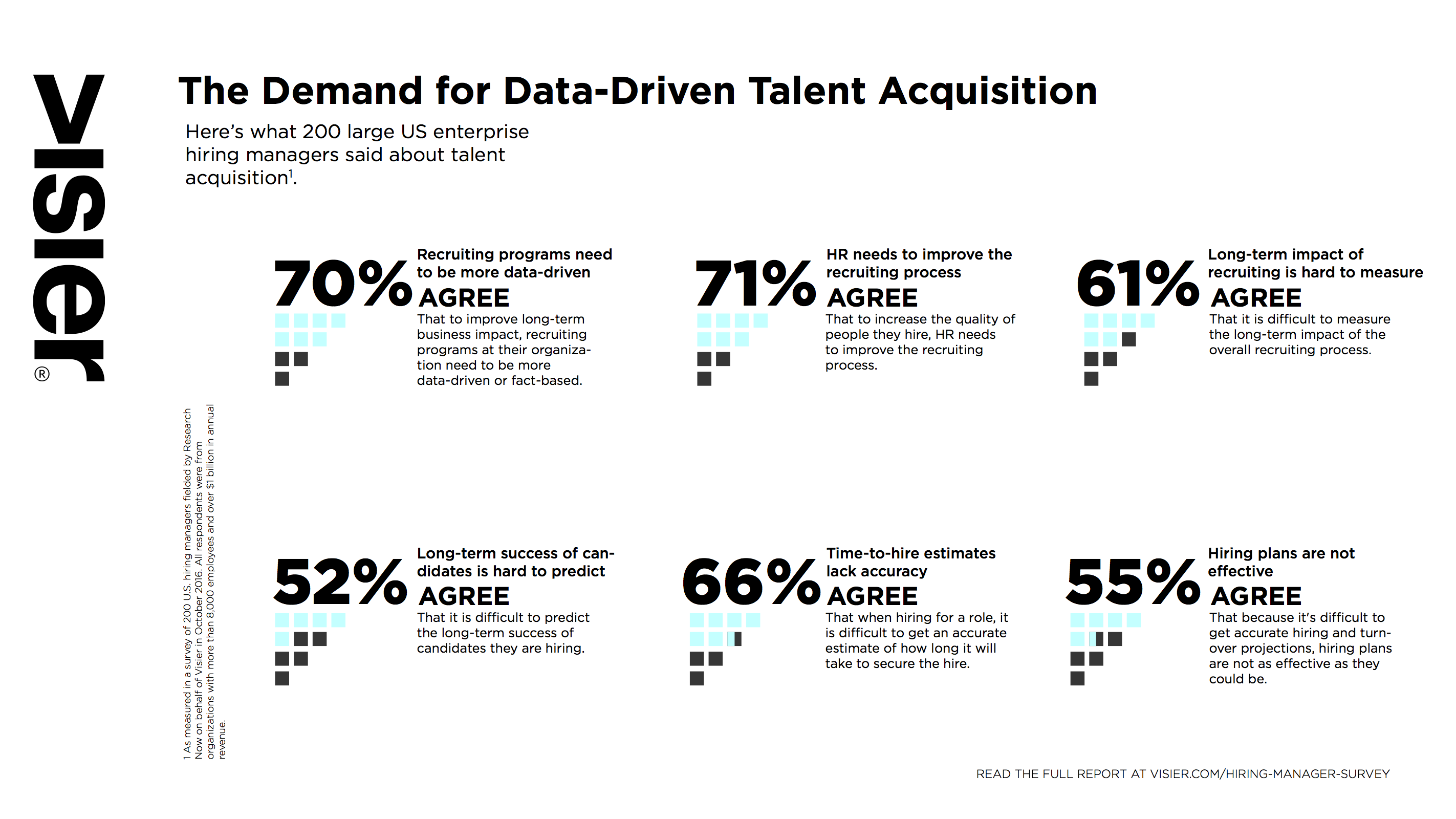 "With hiring managers unable to determine the long-term success of half the candidates they hire, hiring is reduced to a coin toss. This highlights the critical need for organizations to improve the way that they measure the effectiveness of their talent acquisition," says Dave Weisbeck, Chief Strategy Officer, Visier. "Visier Talent Acquisition is the only solution to predict long-term business impact by delivering the most comprehensive insights across the entire recruiting lifecycle."
With Visier Talent Acquisition, organizations can answer critical questions about the talent acquisition process and improve the impact of recruiting on the business by:
Tracking the effectiveness of hires across the employee lifecycle
Improving and predicting the speed of hiring
Uncovering how to prevent talent leaks
Ensuring diversity and equity across the hiring process
Survey Methodology
200 hiring managers from across the United States—representing a wide range of industries—took the survey, fielded online by Research Now Inc. on behalf of Visier in October 2016. All of the respondents were from organizations with more than 8,000 employees and over $1 billion in annual revenue.
About Visier
A leading innovator in Applied Big Data cloud technology, Visier provides People Analytics solutions that are enabling the world's best brands to say goodbye to guesswork, and hello to business results.
Visier's solutions let organizations outsmart and outperform their competition by understanding and planning—with precision—how to best and most cost-effectively recruit, retain, and develop their workforce. With Visier, senior leaders, HR, and people managers alike can answer key workforce questions, align on goals and strategies, and act on decisions and plans to drive improved business outcomes. Visier does this by providing complete pre-built solutions in the cloud as a service that leverage Visier's innovative multi-dimensional, in-memory technology to provide capabilities otherwise not possible. Visier users outperform others by a wide margin.
Founded by respected innovators in business intelligence, the company's leadership team has a proven track record of technical, operational, and strategic management success with companies such as Business Objects, IBM, SAP, and Oracle. With millions of customer employee records in the cloud, Visier is taking the guesswork out of people management.
For more information, visit https://www.visier.com.
Media Contact:
Julie Galla
604-738-0595
visier(at)sparkpr(dot)com