Financial Services
About
This American financial services company has over 8,000 employees and three core lines of business.
Analytics Path
Download Case Study
Challenge
In 2016, an organizational review conducted by a consulting firm revealed that the company was performing well below the industry benchmark for organizational efficiency vis a vis span of control and layers.
Acting on the consulting firm's recommendations, the company brought the percentage of its manager population down from 30% to 15%, reduced the layers of the organization from 10 to 8 and reduced the number of administrative employees per manager. While this new optimal structure helps the company avoid costly organizational bloat, maintaining the targets requires continuous monitoring.
Approach
The financial services company uses Visier People to track a number of measures called "organizational health metrics." Metrics include span of control (the number of employees reporting to a single manager), layers (the number of reporting levels from top to bottom) and player coach (the percentage of managers who manage three or fewer employees). The company also monitors contingent labor usage and its admin-to-manager ratio.
As the company's SVP of HR Administrative Management explains, the frequency with which the company's HR team, leaders, and managers can access the insights is key. "We imposed some drastic changes, so if we don't monitor these metrics and keep our eye on them, chances are good that we will slip back," she says.
Before they adopted a people analytics platform, HR generated the organizational health metrics using spreadsheets. However, the amount of manual effort involved meant they could only share results annually. Engaging the consulting firm to measure progress on a recurring basis was also not financially viable (the initial organizational review had cost more than $10 million).
With Visier, the HR team can deliver the organizational health metrics as a slideshow on a monthly basis. Leaders also have on-demand access to the data.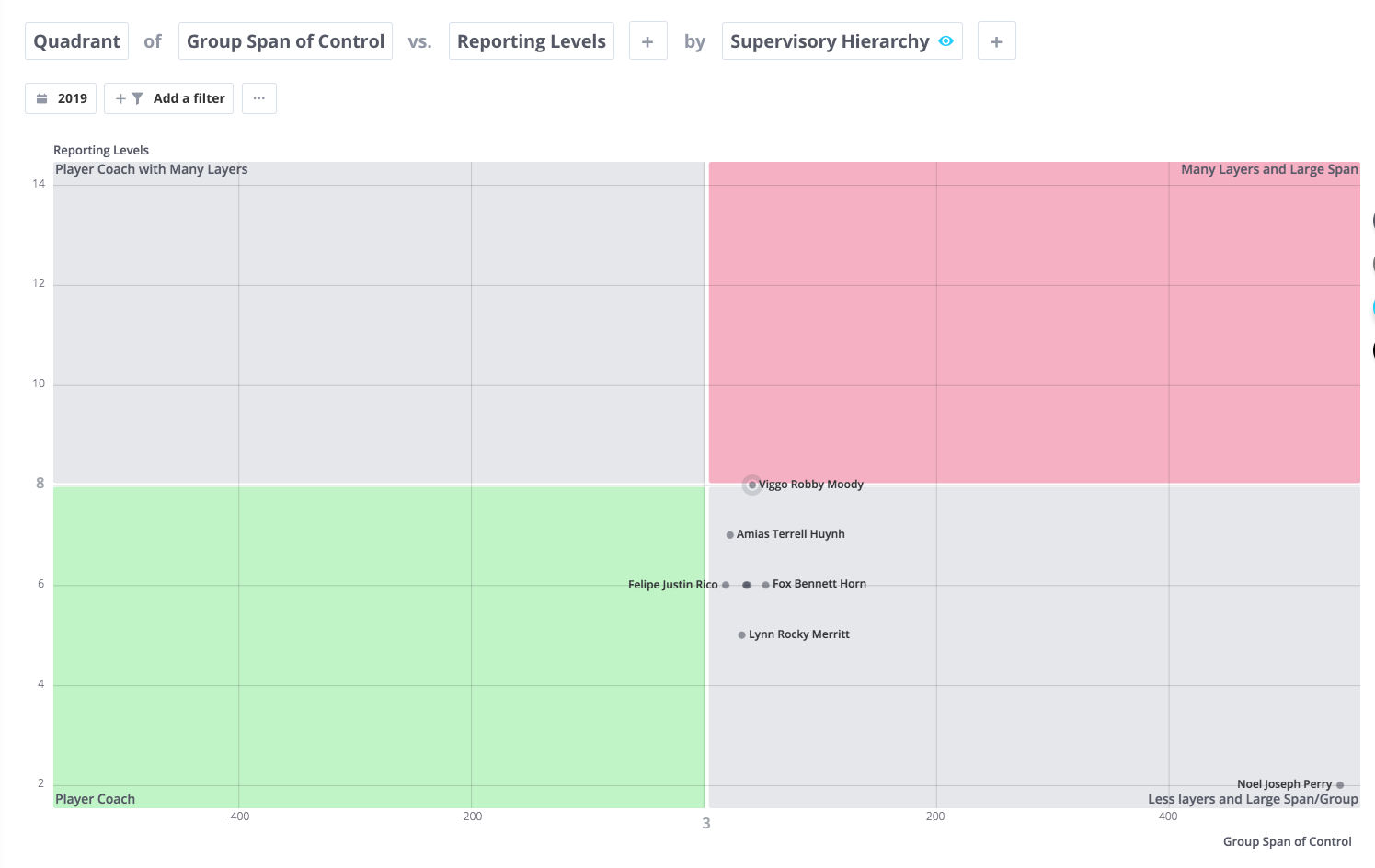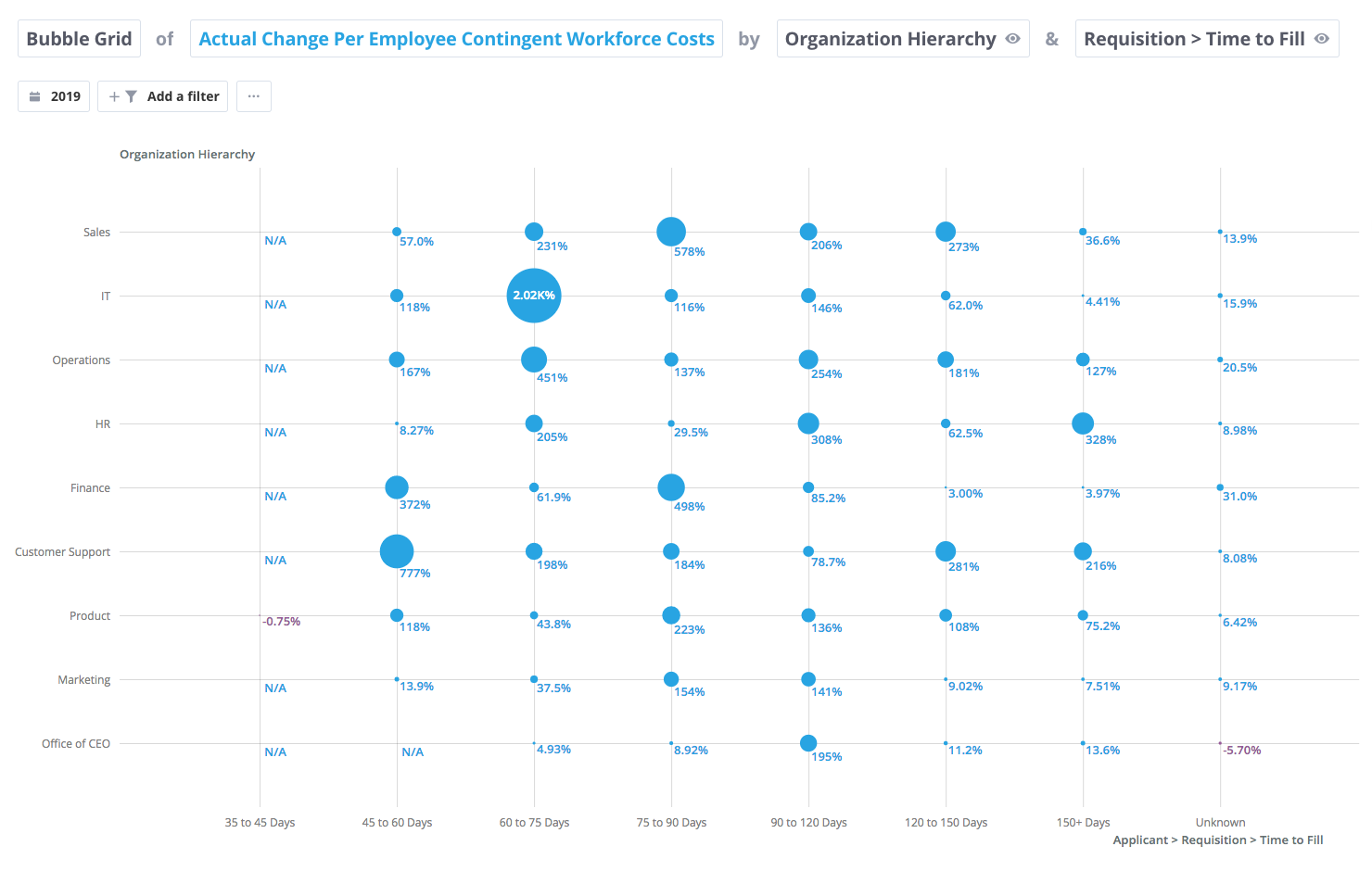 Tracking these measures regularly gives leaders more opportunities to have conversations with managers who are not meeting their span of control targets of 6.5 employees per manager. Managers can also look at their individual span of control number, comparing how it stacks up against the goal.
"If you give people the vanguard, they are more likely to stick to it. If managers know that the goal is 6.5, they are going to take that into consideration when making staffing decisions–and it's not going to get lost in all of the other things they have to think about."

SVP of HR Administrative Management
Results
By going from providing the data annually to sharing it on demand, the company's HR team can ensure everyone makes day-to-day decisions that are in line with the company's broader efficiency goals.
As a result, the company has experienced no loss in progress three years after the initial reorganization, maintaining a 15% manager population and a 10:1 admin-to-manager ratio while reducing another layer of the organization. In spite of the initial disruption (the company had eliminated 400 positions following the organizational review), the rate of voluntary resignations has decreased over time. Managers also have access to metrics related to turnover that has helped alleviate false assumptions.
For many organizations, headcount reductions often lead to staff augmentation and an increase in workforce costs. But the company has successfully controlled the level of staff augmentation by making managers more aware of how much contingent labor they are using compared to the overall goals.
"Quite honestly, without Visier, we wouldn't have been able to monitor our spans and layers in a way that contributes to our broader organizational efficiency goals."

SVP of HR Administrative Management
As a result of the organizational efficiency program, the company has experienced a significant increase in new clients and new loans granted to existing clients. This is because they can analyze who in sales would make a better individual contributor and who would be a better behind-the-scenes administrator. They also are now leading their peer group with their efficiency ratio.