People data doesn't serve HR–it serves the business.
This was the topic of discussion during our recent webinar with Leapgen co-founder and CEO, Jason Averbook, who shared how to use people insights to drive transformation within their organizations.
After a year of forced pivots, there is no better time for people leaders to fundamentally change their businesses before things settle back into a "new normal."
"You're wasting your biggest opportunity to transform," says Jason. While the idea of transformation may seem grand, if organizations fail to rise to the occasion, they're in danger of losing their biggest asset–their people.
Continue reading for our top takeaways from the conversation or watch the webinar on-demand. And while you're at it, don't forget to register for the second webinar in the series featuring Clay Worley, CHRO at NCI: People Data as a Business Accelerant: Why Empathy + Data Analysis is the Best Formula for an Exceptional Workforce. We'll see you there!
Transformation is greater than transition
People have changed, work has changed so naturally the way we manage our employees must change as well. In order to make effective decisions, businesses need access to data so that when things move quickly, leaders can reach for facts instead of acting on impulse.
But transformation requires a different approach to how we use technology. Instead of viewing people analytics as a technology to implement, one should consider the greater potential of these new insights. Having access to people data enables an entirely new way to manage your employees–if you use those insights to continuously inform business decisions. This kind of step forward is not a single transition, but rather a living solution to be used frequently and iterated on.
Technology is fuel for people decisions–not the silver bullet
While technology may enable transformation, it's not a one-stop shop. We need both technology and people to drive transformation, which Jason argues consists of:
35% Mindset/ vision
30% Audience
25% Journey/process
10% Solution/technology
Before an organization implements a solution, first you need to understand where they want to go. This requires a strong sense of vision for your business and the ability to see future problems that may prevent you from getting there. Once you know the direction you're headed, then you can look to data to understand your current status, and turn those insights into actions. This handoff between technology and people is laid out in a framework Jason calls Hands, Hearts, and Heads.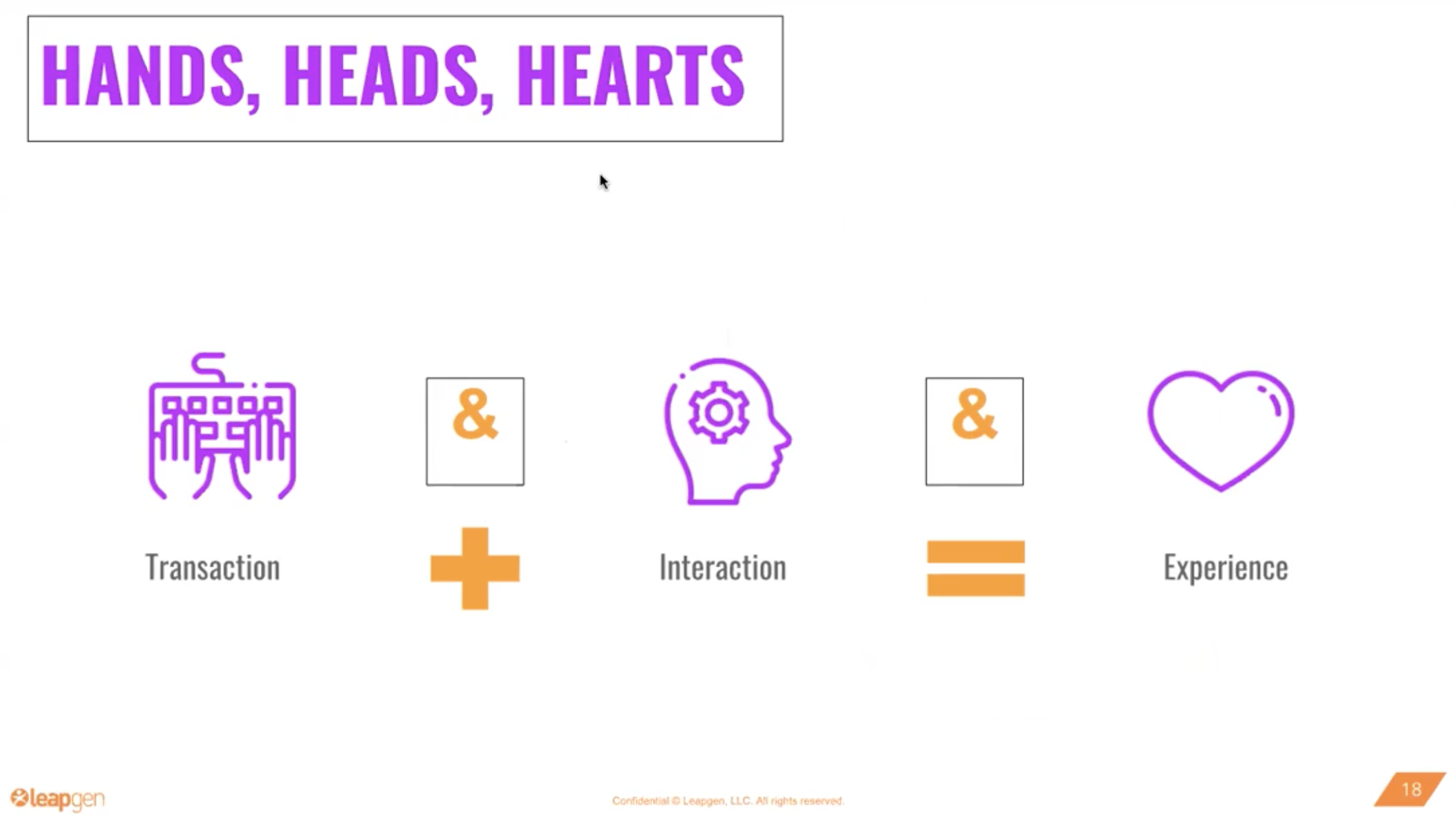 Technology is responsible for gathering and storing data so that you can take it, put emotions behind it, and turn it into actions to improve the employee experience. When technology handles more operational tasks, it gives employees time back to do things only people can do.
Making work better by starting with better decisions
"The biggest opportunity isn't just optimizing a hybrid workforce. We also have higher expectations for CEOs and social responsibility. Employees have reprioritized how they live their lives and are asking for more. Companies need to deliver the kind of experience and development," says Jason.
And the data has shown that employees are leaving if they don't get this from their employers. "We're all humans outside of work, but guess what? When we get to work, we're still humans," adds Jason.
With remote work opening up opportunities that weren't previously available, workforce experience matters more than ever. If you want to keep your people and attract new talent, you need to reimagine your employee experience or risk being left behind. With people data, you can make better business decisions that over time, will change the way we work.
Register now for our second webinar in the series, People Data as a Business Accelerant: Why Empathy + Data Analysis is the Best Formula for an Exceptional Workforce, with Clay Worley, CHRO at NCI.
About the author: Grace Sheppard
Grace is a content marketing coordinator at Visier, where she helps create and organize ideas. She has experience in a variety of marketing roles, including social media and event management. Outside of work, Grace enjoys writing fiction and walking with her dog, Pippy.
Be the first to know!
Never miss a story! Get the Outsmart newsletter.
Related Articles
DIVERSITY & INCLUSION
New Visier Insights Report confirms persistence of a significant Manager Divide between underrepresented groups and their white counterparts.
CULTURE
Lenora Billings-Harris DEI author and speaker reacts to a new research report detailing the pay and career progression inequity Black employees face.
CULTURE
At our Outsmart conference, three experts discussed the important role employee experience will play in the workforce of the future.