Visier Talent Acquisition Solution Named Top HR Product of 2017 by Human Resource Executive
October 2, 2017
Part of the Visier People™ solution, Visier Talent Acquisition provides the Fortune 2000 with unmatched insights into their talent acquisition investments
SAN JOSE, Calif. and VANCOUVER, October 2, 2017 – Visier, developer of Visier Workforce Intelligence, the leading people strategy platform, today announced that Human Resource Executive magazine has selected Visier Talent Acquisition as one of its Top 10 HR Products of 2017. Selected by editors of the magazine, the 29th annual award recognizes the newest HR products based on their level of innovation, value added to the HR function, intuitiveness for the user, and ability to deliver on what they promise.
"We're honored to accept this award and be recognized for our dedication to enabling organizations to make data-driven decisions about their workforce investments," said Dave Weisbeck, Chief Strategy Officer, Visier. "People analytics is the top priority for most leading organizations today, but many don't know how to get started. We're dedicated to making the journey easy — helping to make both HR and the business better."
Talent acquisition teams have a critical job—hire the right people at the right time and cost. Do it well, and the company succeeds. That's why recruiting is often one of the biggest budget items for HR—and costs continue to go up.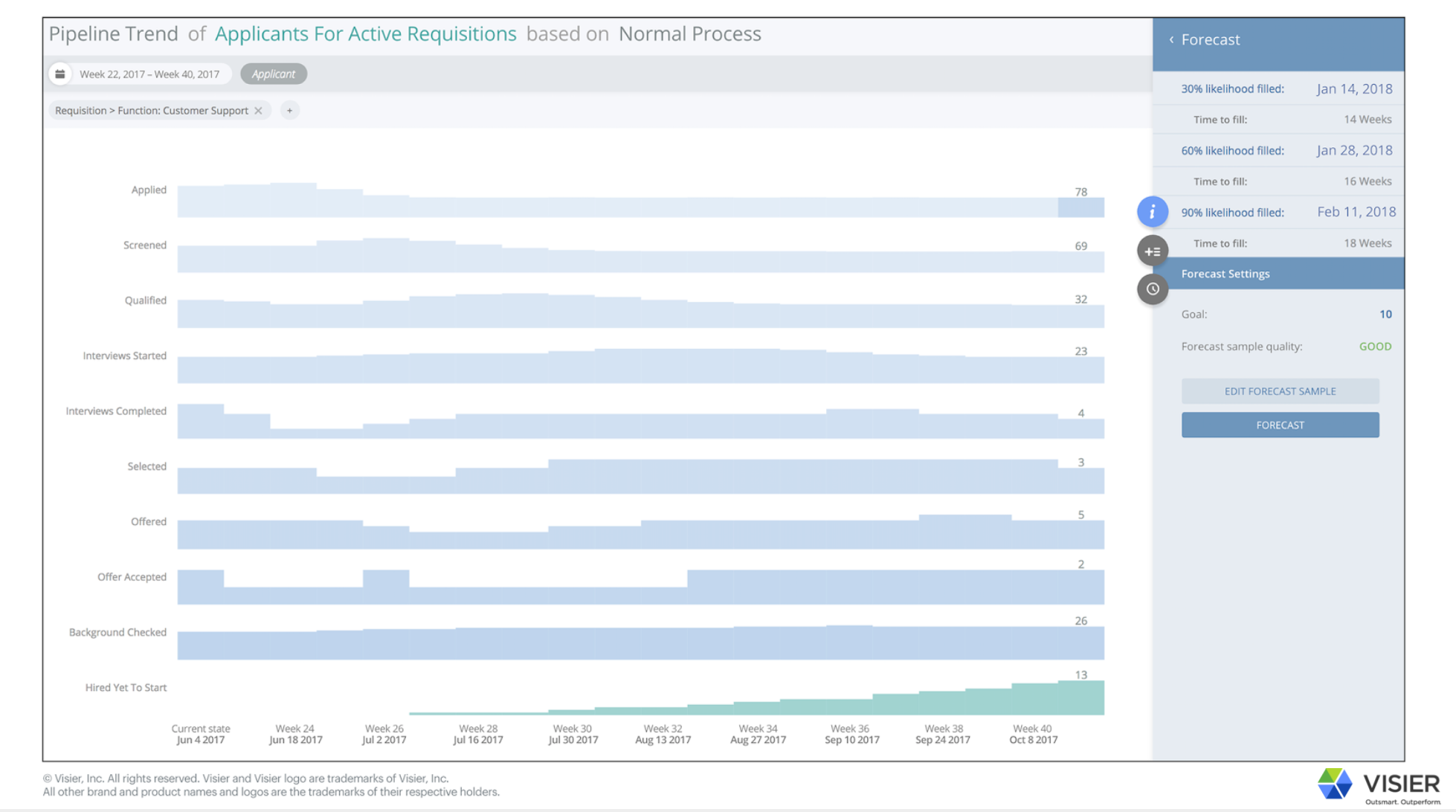 Visier Talent Acquisition makes it easy to answer important talent acquisition questions with confidence. Visier goes beyond Applicant Tracking Systems—which stop tracking applicants at the point of hire—and connects data from the full employee lifecycle. This means recruiting organization's get the long-term workforce insights they need to improve their team's business impact.
"Human Resource Executive has been evaluating HR products and conducting this competition for 29 years," explains David Shadovitz, editor of Human Resource Executive. "Our goal has always been to identify products and services that clearly offer value to the HR community while demonstrating innovation. The Visier solution exhibits those qualities, and stands out among its peers."
Visier will be honored at Human Resource Executive's HR Technology Conference Oct 10-12, 2017 in Las Vegas. Demos of Visier will be held at the Visier booth, #1320.
Find data-driven HR insights and tips at www.visier.com/clarity
Follow Visier on Twitter @Visier
Visier and Visier logo are trademarks of Visier, Inc. All other brand and product names and logos are the trademarks of their respective holders.
About Visier
Visier's purpose is to help people see the truth and create a better future—now.
Visier was founded to focus on what matters to business people: answering the right questions, even the ones a person might not know to ask. Questions that shape business strategy, provide the impetus for taking action, and drive better business results.
Visier delivers fast, clear people insight by using all the available people data—regardless of source. With best-practice expertise built-in, decision-makers can confidently take action. Thanks to our amazing customers, Visier is the market leader in Workforce Analytics with 5,000 customers in 75 countries around the world.
For more information, visit http://www.visier.com.
Media Contact:
Julie Galla
visier(at)sparkpr(dot)com