Visier Talent Acquisition Solution Transforms Big Data Into Precision Forecasting In Hiring Lifecycle
October 4, 2016
Advanced predictive analytics empower recruiters to quickly track, secure, and place top talent
VANCOUVER, BC and SAN JOSE, CA – Visier, the leader in People Analytics, today announced the launch of a new predictive analytics solution, Visier Talent Acquisition, that  accurately forecasts how long it will take to fill a specific role with a quality hire. The software-as-a-service solution includes advanced machine learning technology developed specifically to help meet the critical needs of Talent Acquisition leaders tasked with recruiting top talent in highly competitive markets.
"Companies with best-in-class Talent Acquisition teams outperform others 3.5 times in revenue growth. Yet, applicant tracking and HR systems provide limited insight into how to improve recruiting efficiency and results," says Dave Weisbeck, Chief Strategy Officer, Visier. "With Visier Talent Acquisition we are enabling organizations to outsmart their competition by having a clear and complete understanding of how to consistently hire the best people."
Read the articles:
With Visier Talent Acquisition — a new addition to Visier's Workforce Intelligence solution line up — companies can accurately and completely answer key recruiting questions, including:
Time to Fill: Improve and Predict the Speed of Hiring
As the latest JOLTS (Job Openings and Labor Turnover Survey) data shows, there continues to be more job openings than hires made in the US today. In this tight talent market, a Talent Acquisition leader's reliance on guesswork to forecast how long it will take to fill a role introduces significant business risk. Visier Talent Acquisition replaces guesswork with accurate predictions. Leveraging its machine learning technology, Visier accurately predicts how long a role will take to fill based on the organization's historic hiring data. This includes, for the role or group of roles selected, assessing the quality of the data sample size, analyzing past time-to-fill data for the role(s), and calculating time-to-fill based on three likelihoods — all in real time.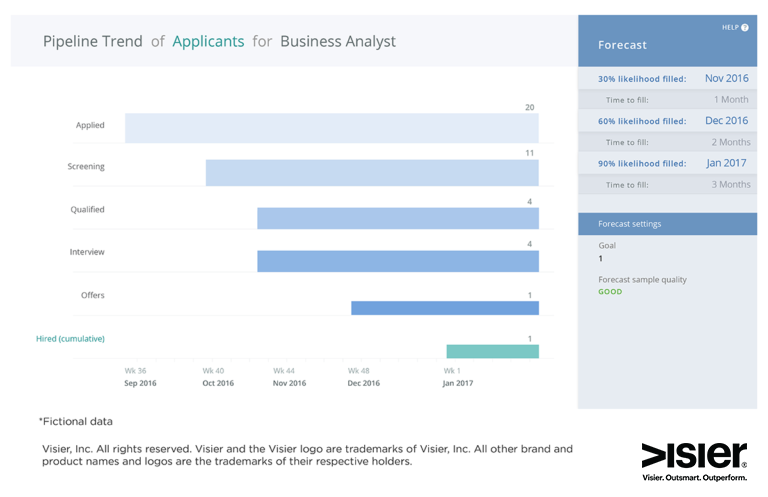 Leveraging its advanced predictive analytics technology, Visier forecasts in real time how long it will take to fill a role, based on the organization's historic data. 
Quality of Hire: Track Effectiveness of Hires Across the Employee Lifecycle
Quality of hire is the most valued recruiting metric, yet most organizations are unable to measure it effectively: their Applicant Tracking System or HR Management System only considers a subset of data to calculate hire quality, and does not take into account data from other systems, such as employee performance, promotion, tenure, or compensation data. Visier connects data from all of an organization's various recruiting, HR, and business systems,  identifying the hiring activities and sources that improve quality of hire the most, measured based on employees' future success at the company.
Effectiveness of Hiring Process: Uncover How to Prevent Talent Leaks
According to Bersin by Deloitte's 2015 HR Factbook, the average cost per hire in the US increased by 1.3 between 2011 and 2014. Yet, companies today struggle to understand where and why candidates drop out of the hiring process, making hiring unnecessarily costly. Visier identifies in detail where candidates abandon the hiring process, showing companies where to plug the leaks.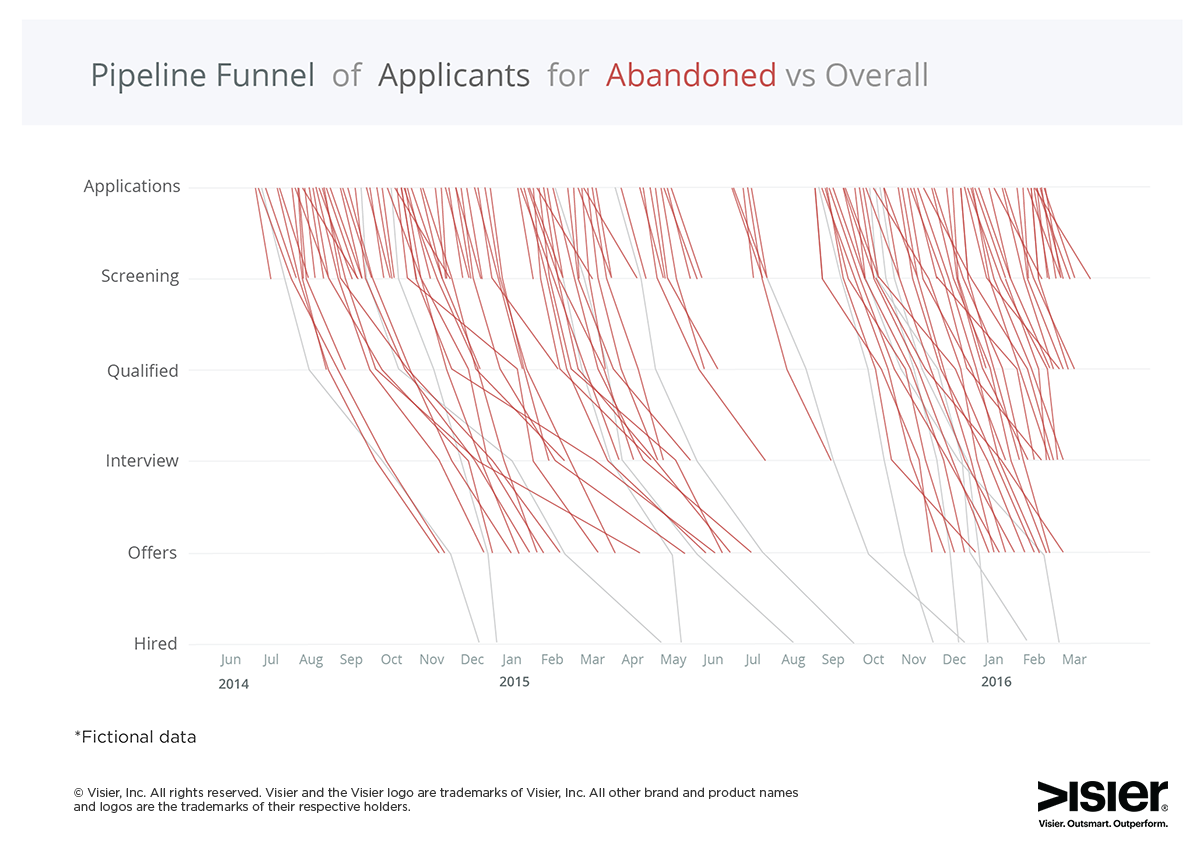 For each hiring process, Visier identifies where candidates abandon the interview process, so HR can take action to improve recruiting effectiveness.
Understanding Diversity in Hiring: Ensure Equity Across the Hiring Process
As found by McKinsey & Company, companies in the top quartile for diversity are 35 percent more likely to financially outperform those in the bottom quartile.  Visier allows Talent Acquisition leaders to track diversity and ensure equity across the hiring process. This includes answering important questions like, do diverse interviews — where the interviewers are diverse — influence the success of diverse candidates in the hiring process?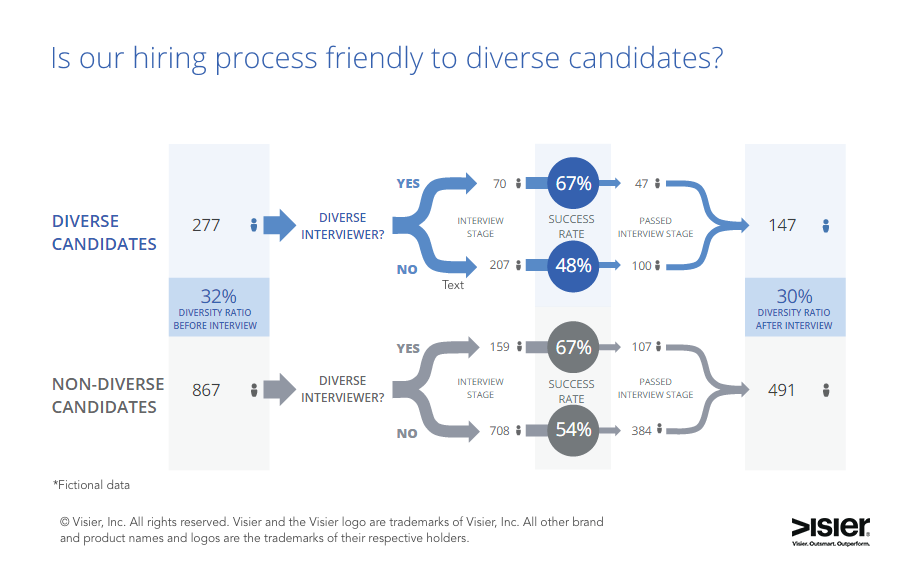 Visier enables organizations to monitor equity in the interview process, identifying areas for improvement. For instance, Visier compares the interview success rates for diverse and non-diverse interviewers, when interviewing diverse and non-diverse candidates.
About Visier
A leading innovator in Applied Big Data cloud technology, Visier provides People Analytics solutions that are enabling the world's best brands to say goodbye to guesswork, and hello to business results.  
Visier's solutions let organizations outsmart and outperform their competition by understanding and planning — with precision — how to best and most cost-effectively recruit, retain, and develop their workforce. With Visier, senior leaders, HR, and people managers alike can answer key workforce questions, align on goals and strategies, and act on decisions and plans to drive improved business outcomes. Visier does this by providing complete pre-built solutions in the cloud as a service that leverage Visier's innovative multi-dimensional, in memory technology to provide capabilities otherwise not possible. Visier users outperform others by a wide margin.
Founded by respected innovators in business intelligence the company's leadership team has a proven track record of technical, operational, and strategic management success with companies such as Business Objects, IBM, SAP, and Oracle. With millions of customer employee records in the cloud, Visier is taking the guesswork out of people management.
Media Contact:
Julie Galla
604-738-0595
visier(at)sparkpr(dot)com