Ventana Research Lauds Visier for its Predictive Analytics Capabilities
October 9, 2015
Leading People Analytics Solutions Provider Selected by Ventana Research as the 2015 Technology Innovation Award Recipient in the Predictive Analytics Category
VANCOUVER, BC and SAN JOSE, CA — October 9, 2015 — Visier, the leader in People Analytics, announced today that it has been selected as a Ventana Research 2015 Technology Innovation Award winner in the Predictive Analytics category. The Ventana Research Technology Innovation Awards showcase what vendors have done to advance technology to drive better efficiency and productivity, as well as the outcomes and performance, of an organization.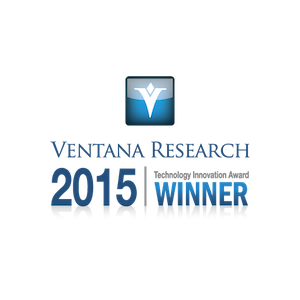 "Our awards recognize pioneers who have developed clear visionary and transformative  technology that goes well beyond dashboards, reports or visualization," said Mark Smith, CEO & Chief Research Officer, Ventana Research. "Visier's approach to empowering its powerful workforce analytics with predictive analytics demonstrates its knowledge of what business and HR leaders need to guide them to take action and make decisions that can engage and retain their people."
With Visier's predictive analytics capability, organizations can tap into a unified workforce data ecosystem, uncovering actionable predictions with an unmatched level of precision and flexibility. For example, Visier recently validated that its "at risk" predictive analytics technology is up to 8 times more accurate at predicting who will resign over the next three months than a manager's personal assessment — and up to 10 times more accurate when focusing on the top 100 "at risk" employees.
"We are honored to receive this recognition," says John Schwarz, CEO, Visier. "Often predictions about risk of exit are based on gut feel or limited data sets.  Visier looks in real time at hundreds of employee attributes, generated by all of a company's disparate HR systems. The end result is a more accurate prediction and understanding of what drives individual employee resignation, as well retention rates for any particular group of employees."
Read the Visier blog post on this topic: Fact or Hype: Do Predictive Workforce Analytics Actually Work?

Find data-driven HR insights and tips at www.visier.com/clarity
Follow Visier on Twitter @Visier
Like Visier on Facebook
About Visier
Visier's purpose is to help people see the truth and create a better future—now.
Visier was founded to focus on what matters to business people: answering the right questions, even the ones a person might not know to ask. Questions that shape business strategy, provide the impetus for taking action, and drive better business results.
Visier delivers fast, clear people insight by using all the available people data—regardless of source. With best-practice expertise built-in, decision-makers can confidently take action. Thanks to our amazing customers, Visier is the market leader in Workforce Analytics with 5,000 customers in 75 countries around the world.
For more information, visit http://www.visier.com.
Media Contact:
Sarah Grant
Visier
514-436-5100
sarah(dot)grant(at)visier(dot)com