The Validation of Machine Learning
October 9, 2017
Visier Workforce Intelligence proven to deliver predictions that are up to 17 times more accurate than other methods
SAN JOSE, Calif. and VANCOUVER, October 9, 2017 – Who is at risk of resigning? Who should be considered for a promotion or a new role? Predictive workforce analytics provide incredible opportunities for employers to curb costs and improve performance, yet many are based on simple regressions or static models, instead of machine learning technology, or are unproven in the accuracy of their results.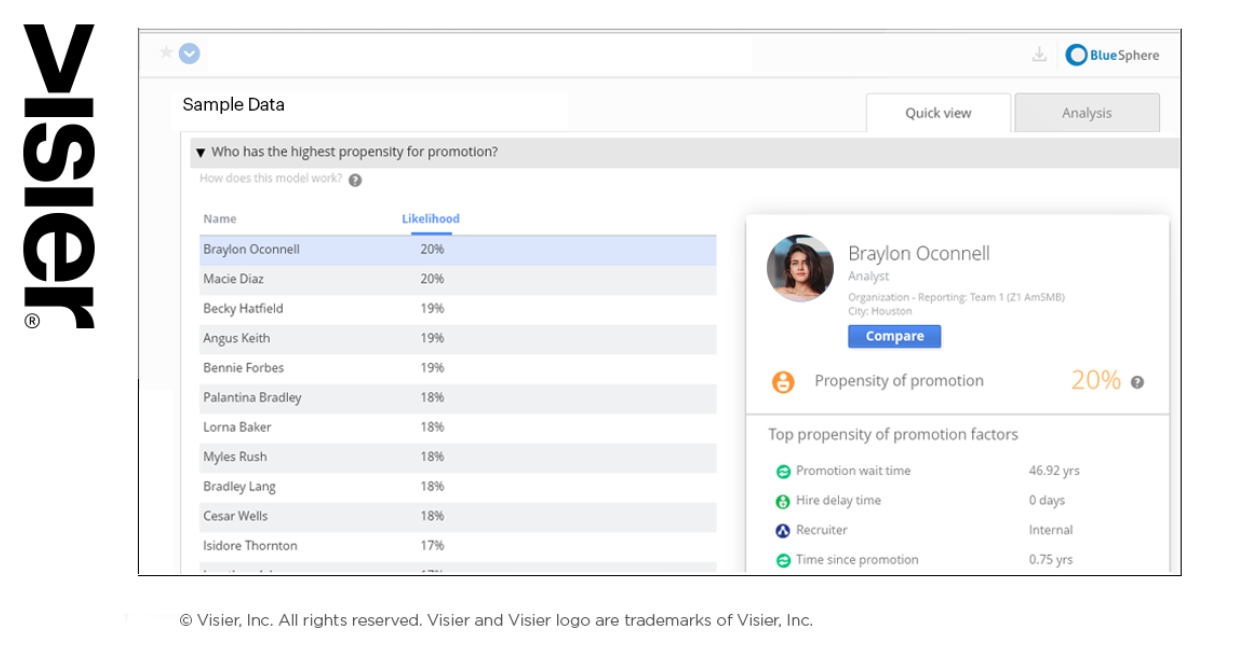 Visier, developer of Visier Workforce Intelligence, the leading people strategy platform, has changed this paradigm. Delivering unmatched self-service predictive analytics for HR leveraging advanced machine learning techniques, Visier now enables its customers to validate predictions, case by case.
"Visier's machine learning has always been industry leading, but just as research continues to improve self-driving cars and voice-activated assistants, Visier is making predictions on the workforce more accurate," says Dave Weisbeck, Chief Strategy Officer, Visier. "Moreover, these benefits to increases in accuracy of predictions on the workforce have immediate and significant business benefits."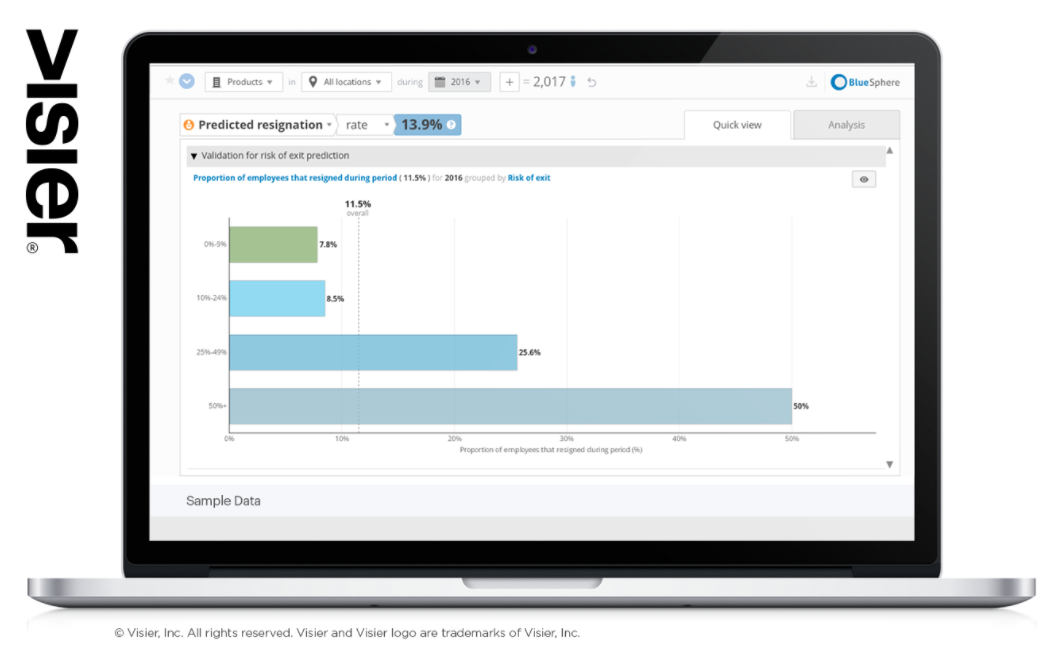 Visier's predictive analytics engine is designed to use random forest classification—a powerful machine learning technique– and combines classification with regression techniques. Data scientists have verified that predictions made using Visier are up to 17 times more accurate than other approaches.
Visier predictions are continually trained on employee data and events, including promotions, resignations, and internal hires, so that companies can stay up to date on which employees should be considered for a promotion—and predict which employees are most likely to leave or change jobs.
Importantly, the accuracy of Visier's machine learning analytics can now be validated directly by Visier customers to confirm how close the actual number of exits, promotions, and internal moves were to their predicted values—and increase the trust of their stakeholders in turn. Further, to even better adapt predictions to the needs of an organization, customers can configure and personalize exactly which attributes to use in training the predictive models.
For more information, visit: https://www.visier.com/technology/
Find data-driven HR insights and tips at www.visier.com/clarity
Follow Visier on Twitter @Visier
Visier and Visier logo are trademarks of Visier, Inc. All other brand and product names and logos are the trademarks of their respective holders.
About Visier
Visier's purpose is to help people see the truth and create a better future—now.
Visier was founded to focus on what matters to business people: answering the right questions, even the ones a person might not know to ask. Questions that shape business strategy, provide the impetus for taking action, and drive better business results.
Visier delivers fast, clear people insight by using all the available people data—regardless of source. With best-practice expertise built-in, decision-makers can confidently take action. Thanks to our amazing customers, Visier is the market leader in Workforce Analytics with 5,000 customers in 75 countries around the world.
For more information, visit http://www.visier.com.
Media Contact:
Julie Galla
visier(at)sparkpr(dot)com