Product Update: Risk Management related to leadership succession, employment legislation, and workforce diversity is front and center
August 31, 2016
Visier's SUMMER 2016 product release delivers unmatched insights into workforce risks
VANCOUVER, BC and SAN JOSE, CA – Visier, the leader in People Analytics, today announced the SUMMER 2016 release of Visier Workforce Analytics and Visier Workforce Planning, which features a deep dive into corporate risk management analytics. With Visier, organizations can answer critical risk questions such as:
Is the leadership succession pipeline deep enough to withstand unanticipated departures?

How will new legislation—like the Department of Labor's recently revised overtime regulations—impact the business?

Do the organization's current workforce policies and talent acquisition programs harbor risk related to diversity or pay equity?
"Every large organization is susceptible to workforce-related risks," says Dave Weisbeck, Chief Strategy Officer, Visier. "To manage those risks, vigilant workforce leaders make it a habit to ask questions to discover where they have exposure. Until Visier, answering these critical questions about risk was a complex, error prone, and time consuming process."
Read the article, 3 Ways Workforce Intelligence Enables Better Workforce Risk Management.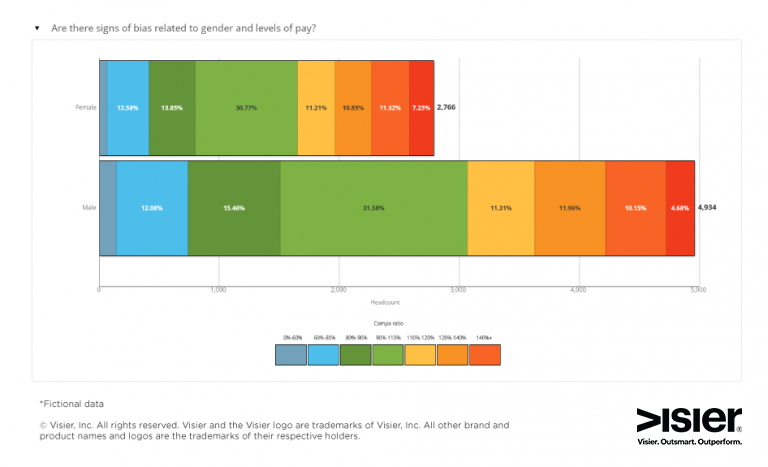 With Visier organizations can quickly answer critical workforce risk questions, such as risk related to gender pay inequity
Visier makes it easy for HR and business leaders to answer critical, yet complex questions in a number of key areas, including:
US Department of Labor Overtime Regulation Risks
Do employees in the same job family have different overtime classifications?
Are there employees who are misclassified to receive overtime pay?
Is the volume of vacant positions leading to increased overtime hours?
Leadership Succession Risks
Which leadership positions do not have a successor who is ready now?
Which successors have been waiting the longest to progress?
What risks exist due to overlapping succession plans?
Pay Equity Risks
Are there signs of bias related to gender and levels of pay?
Are pay increases distributed equally between female and male employees?
Does the way variable pay is awarded create pay equity risks?
Diversity Risks
Are employee promotions distributed similarly across different ethnic groups?
Are resignations distributed similarly across ethnic groups?
Are involuntary terminations distributed similarly across different ethnic groups?
The Visier SUMMER release also includes deeper insights into employee movement, enabled by an advanced employee movement analytic, which allows users to filter employee movement by workforce events, such as promotions, to discover how movement affects a subpopulation of employees. As well, the SUMMER release of Visier Workforce Planning includes enhancements to its enterprise-wide collaboration capabilities.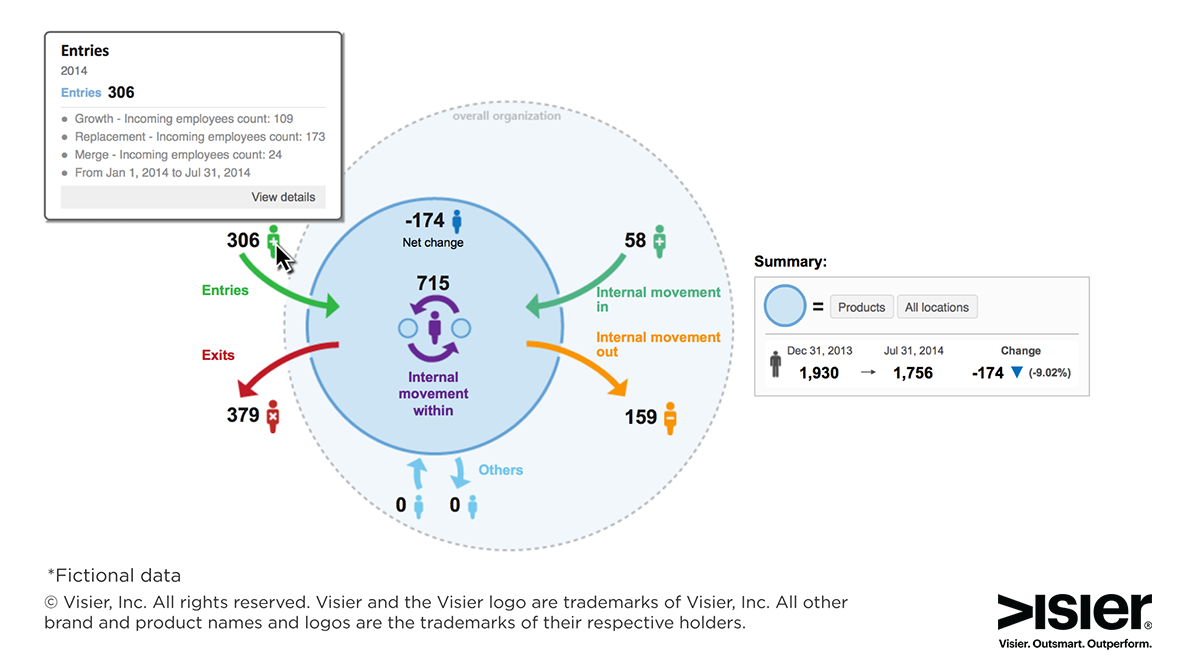 Visier allows leaders to see how employees move into, within, and out of their organization, providing insights key to assessing their organization's talent needs
For more information, visit: www.visier.com
Find data-driven HR insights and tips at www.visier.com/clarity
Follow Visier on Twitter @Visier
Like Visier on Facebook
About Visier
Visier's purpose is to help people see the truth and create a better future—now.
Visier was founded to focus on what matters to business people: answering the right questions, even the ones a person might not know to ask. Questions that shape business strategy, provide the impetus for taking action, and drive better business results.
Visier delivers fast, clear people insight by using all the available people data—regardless of source. With best-practice expertise built-in, decision-makers can confidently take action. Thanks to our amazing customers, Visier is the market leader in Workforce Analytics with 5,000 customers in 75 countries around the world.
For more information, visit http://www.visier.com.
Media Contact:
Julie Galla
604-738-0595
visier(at)sparkpr(dot)com