Product Update: Insight Sharing and Managing Workforce Costs Take the Front Seat
September 5, 2014
Visier's SUMMER 2014 product releases further Visier's mission to support the complete insight to action loop
VANCOUVER, BC and SAN JOSE, CA — Visier, the innovation leader in Workforce Intelligence, today announced the SUMMER 2014 releases of Visier Workforce Analytics and Visier Workforce Planning. The new releases further empower HR professionals to connect their organization's people strategy to the bottom line.
Visier's Workforce Intelligence solutions are the foundation for HR Transformation. Delivered in the cloud, Visier solutions let organizations understand and plan — with precision — how to best recruit, retain, and motivate their workforce.
"With the SUMMER 2014 release of Workforce Planning, we have implemented a new Total Cost of Workforce model that lets our customers not only accurately access their historic workforce costs, but also — as part of workforce planning — project and plan for changes in costs like base pay, bonus, health benefits, and taxes," says Dino Zincarini, Director, Product Management, Workforce Planning, Visier. "Our solutions turn a company's complex, siloed workforce data into insights, letting HR develop and align on the right people strategy and translate that strategy into actionable workforce plans."
"The SUMMER 2014 release of Visier Workforce Analytics has two key areas of focus: continuing to expand our coverage of recruiting and compensation analytics, and delivering even more powerful sharing of insights," says Ian Cook, Director, Product Management, Workforce Analytics, Visier. "We introduced new visuals to provide deeper insights into topics such as recruiting success drivers and compensation changes. We also delivered new sharing capabilities that let users annotate visual reports to bring attention to key findings, and instantly update analysis on the fly to respond to questions in real time."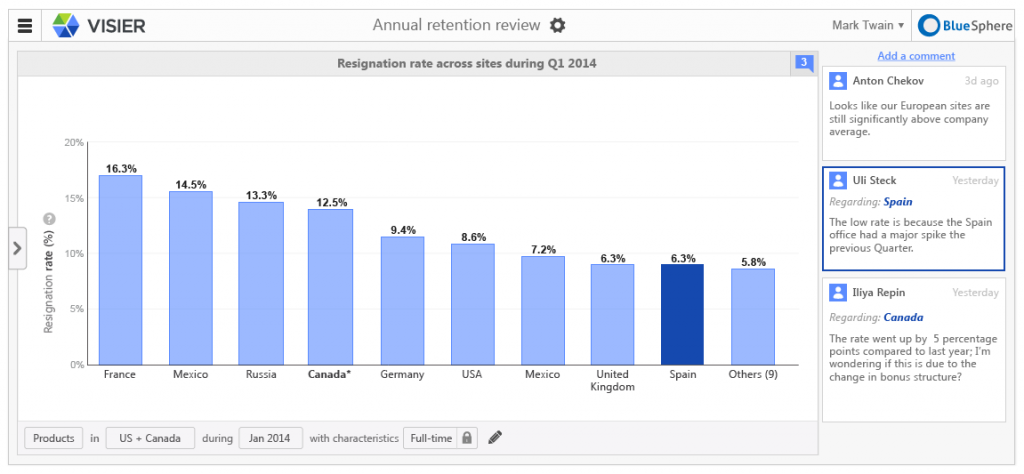 With Visier, companies can also measure and monitor actuals to workforce plans. For example, Visier customers can see how their actual total cost of workforce varies from the plan and take informed actions to protect their bottom line.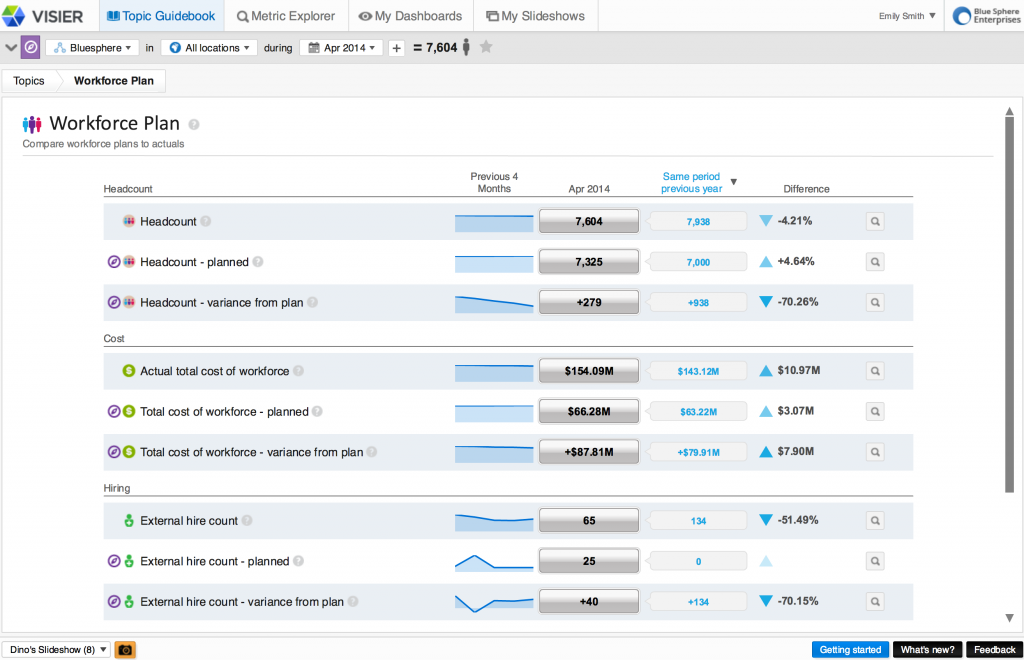 Visier Workforce Analytics combines with Workforce Planning to deliver on-demand insights into a company's current and historical  workforce data.
Visier delivers new product releases each quarter. To see a live demonstration of Visier's Workforce Intelligence solutions in action, drop by booth 1127 at the HR Technology Conference & Exposition in Las Vegas, October 8-9, 2014. For more information, contact Visier.
Follow Visier on Twitter @Visier
Like Visier on Facebook
About Visier
Visier's purpose is to help people see the truth and create a better future—now.
Visier was founded to focus on what matters to business people: answering the right questions, even the ones a person might not know to ask. Questions that shape business strategy, provide the impetus for taking action, and drive better business results.
Visier delivers fast, clear people insight by using all the available people data—regardless of source. With best-practice expertise built-in, decision-makers can confidently take action. Thanks to our amazing customers, Visier is the market leader in Workforce Analytics with 5,000 customers in 75 countries around the world.
For more information, visit http://www.visier.com.
Media Contact:
Sarah Grant
Visier
514-436-5100
sarah(dot)grant(at)visier(dot)com