About
BBVA USA is a U.S. banking franchise with business units focused on commercial banking, retail banking, and wealth management.
Analytic Path
Download Case Study
Challenges
The HR reporting team at BBVA USA was lost in data, producing countless reports that yielded few insights. To help the business optimize its workforce and drive more business value, the team wanted to shift its focus from reporting to analytics.
The team's goal was to analyze workforce data to reduce unwanted turnover, retain top performers, support diversity initiatives, examine demographic trends, and determine the impact of training on revenue. However, because the team spent most of its time collecting and validating data, there was little time left to do analysis, and adding more staff to the team was not an option.
Approaches and Results
Backed by a CHRO who understood the advantages of becoming more data-driven, the team reviewed several options, including solutions from Mercer, MicroStrategy, and Cloudera. In the end, they chose Visier due to its ease of implementation and use, a pivotal factor for a team that was just beginning its analytics journey.
Less unwanted turnover
Morgan Turnipseed, director of people analytics at BBVA USA, says that the team decided to use Visier to tackle a high-profile, high-priority project at the bank—reducing voluntary turnover. Using Visier, the team found that turnover was highest for one particular revenue producing role. The team then looked at turnover by region to see where it was highest, drilling down to view rates by branch. They quickly discovered that at certain branches, turnover for that role was significantly higher: 70 branches—about 10 percent of all branches—accounted for 41% of all turnover.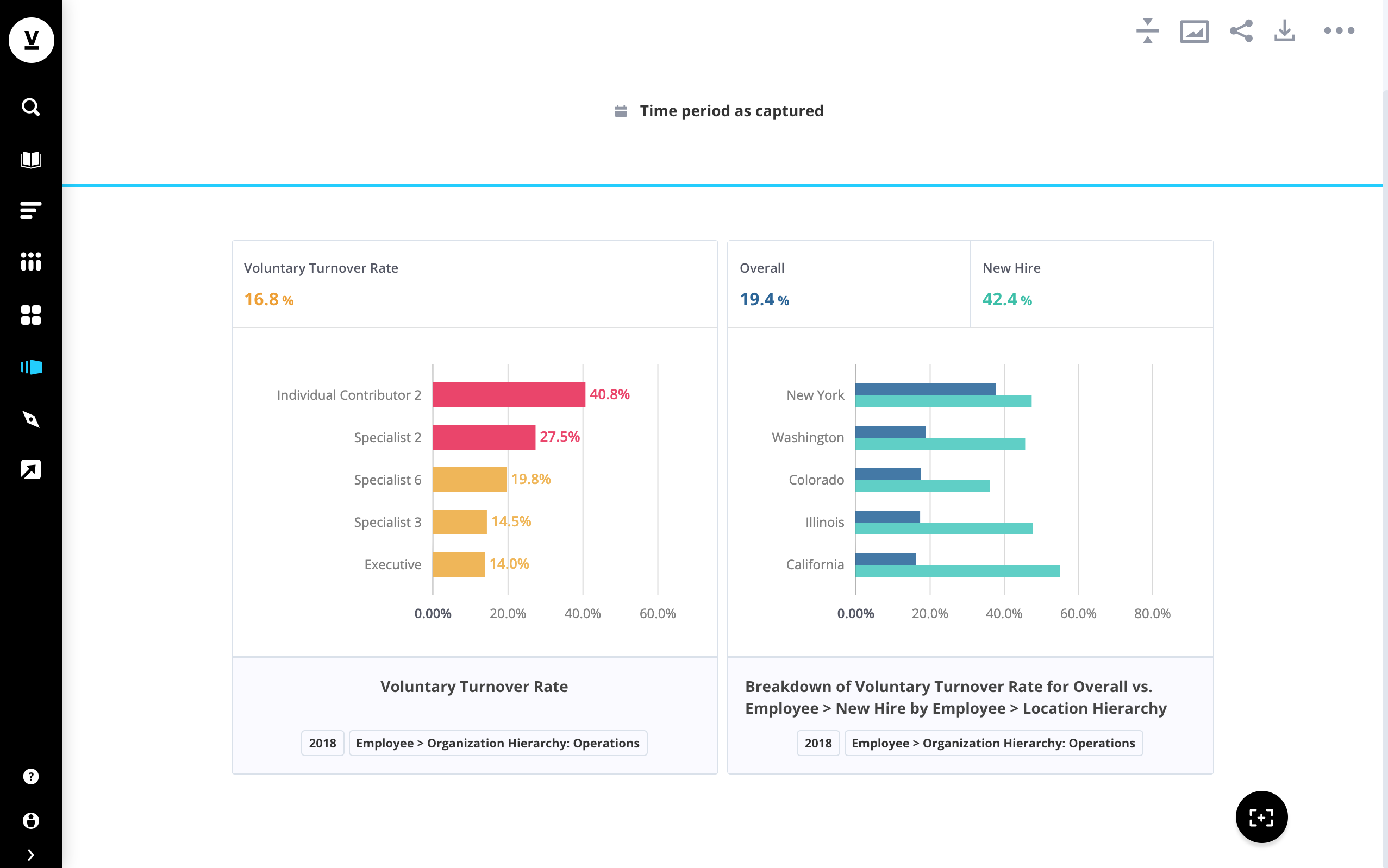 To help improve retention, Turnipseed's team crafted the following strategy. At the 70 high-turnover branches, they assigned regional HR business partners to interview employees in the affected role and their managers, and then used the interview results to develop a separate action plan for each branch. The team established an ongoing management review process to make sure HRBPs continue to meet with the managers and their employees, identify issues, and implement customized action plans for each branch—all while monitoring turnover to assess the impact of the plans. The results have been significant. Turnipseed says that annual turnover for that role has improved dramatically, dropping by 44% since the start of the project.
Instant insights
Turnipseed says that because Visier automates the collection and validation of data, his team now has significantly more time to do high-value analysis of workforce data. "We now spend 80% of our time poring through data streams interactively with our managers. We're able to create instant insights, and we can often answer questions from business leaders on the spot."
For instance, he says, the team was able to use Visier Talent Advisor—an employee comparison capability within Visier's solution—to determine, on the spot, if they should make a counteroffer to an employee who had expressed an intention to leave the company. Talent Advisor allowed his team to instantly compare the attributes and compa-ratio of that employee to others on the team and in similar positions. They were quickly able to show that in this particular case, letting the employee go without making a counteroffer was most appropriate.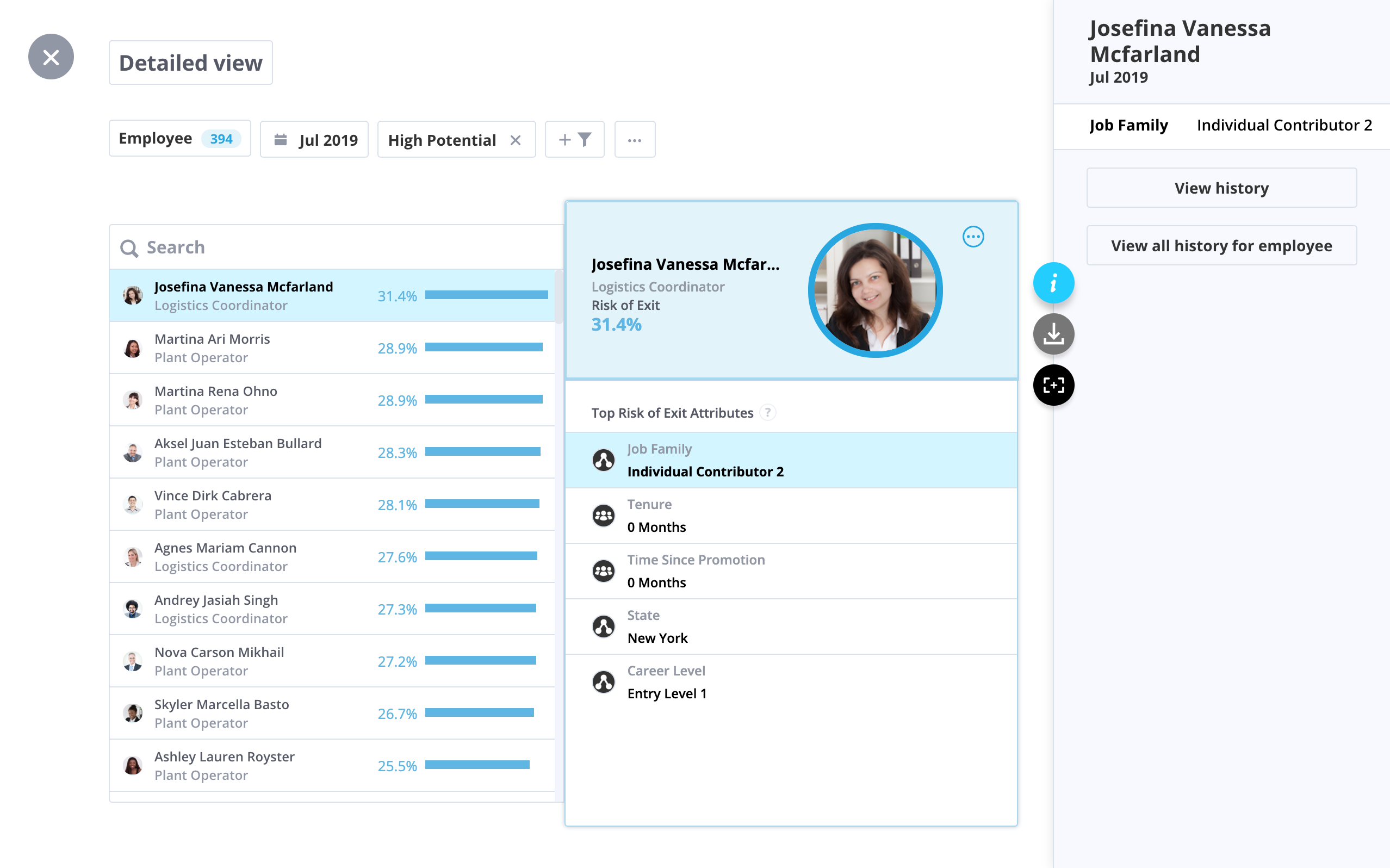 "In the past, we spent 80% of our time collecting and validating data and only 20% doing analysis. With Visier, we now spend 80% of our time poring through data streams interactively with our managers. We're able to create instant insights, and we can often answer questions from business leaders on the spot."

 Morgan Turnipseed, Director of People Analytics, BBVA USA

Self-service analytics for business leaders
Because Visier allows the team to share self-serve analytics online—instead of compiling custom reports to send to each region or branch—the entire executive team can now use analytics to make data-driven workforce decisions.
Managers are able to see and share visually compelling details during meetings. In the boardroom, leaders now use their iPads to analyze workforce data.
When the CEO of BBVA USA meets with management at the parent company, he uses Visier to analyze data on the fly—drilling down into regional, branch, and operational metrics—and actively encourages leaders in his organization to do their own
data analysis.
Better data quality
With Visier, BBVA USA is able to address data quality issues more quickly and effectively. Because data is loaded automatically on a regular schedule into Visier, the team has been able to make metric validation and cleansing of source data a continuous, iterative process.