Workforce Planning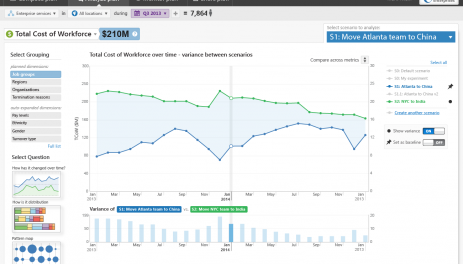 Visier® Workforce Planning eliminates the administrative overhead and complexity typically associated with planning.  A cloud solution, Workforce Planning transforms planning from a complex and time-consuming "ivory tower" exercise, to an automated, highly collaborative process, where decisions are made based on up-to-date insights into your own workforce data, trends, and financial constraints.
As identified by the Aberdeen Group in their June 2013 report on Workforce Planning and Analytics, "workforce planning has emerged as a critical differentiator for companies operating in today's volatile economy." Yet most organizations lack the tools, capabilities, and workforce analytics required to perform effective planning. Rather, they rely on antiquated spreadsheets and raw data provided by disconnected HR and Financial systems.
With Workforce Planning, you can securely access your current and historical data to:
Ensure starting-point data is accurate
Generate credible projections based on past trends
Create "What If" scenarios to explore different options
Instantly toggle between required people resources, and their costs
Unlock wisdom otherwise trapped on the front line
Nothing is worse than activity without insight.
To plan for the future, you need to have an accurate understanding of your past and present.
The vast majority of organizations use manually created spreadsheets to facilitate their workforce planning efforts, and – not surprisingly – most are dissatisfied and fail to achieve their intended goals. Spreadsheets are complex, time-consuming to update, and prone to error. They are difficult to create, and even harder to keep up-to-date with the latest organizational data. Perhaps worst, inherent to their nature, spreadsheets provide just numbers, not insights.
Visier Workforce Planning weaves analytics into the planning process, providing you with high quality data, and the context you need to make smart, insight-based decisions, while also ensuring all members of your planning team are basing their inputs on the same assumptions and understandings.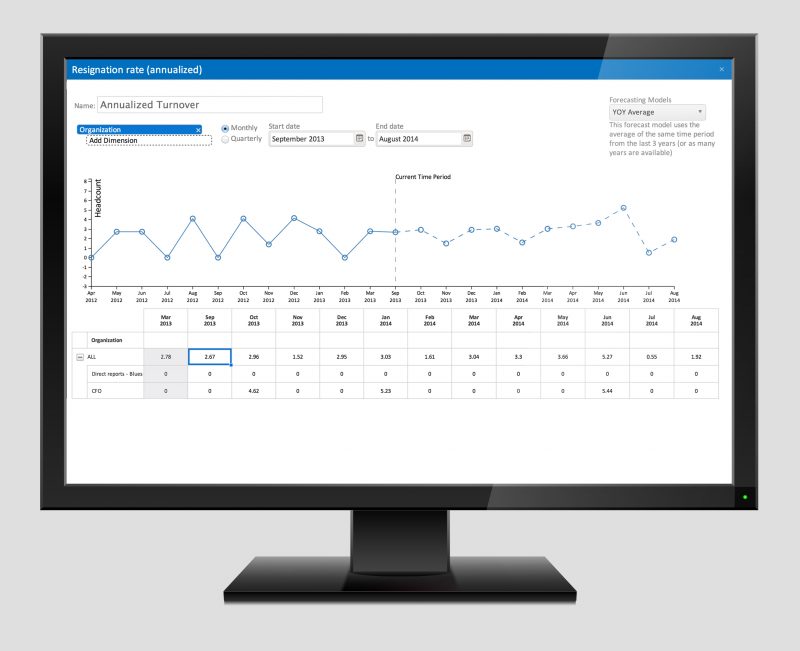 Show me the money!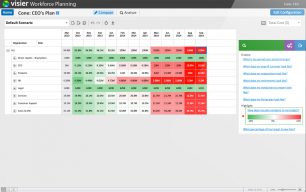 Its critical that workforce plans map to financial budgets; but making that link, and accurately showing Finance the money, is one of the most difficult challenges involved in workforce planning.
Traditional workforce planning and budgeting processes are almost diametrically opposed: workforce planning is bottom-up, while budgeting is top-down. Visier Workforce Planning lets you connect workforce plans to cost in a single click. Based on your up-to-date position costs, Visier Workforce Planning lets you toggle between headcount and dollars. You get what you need – a true understanding of the cost associated with different "what if" scenarios; and Finance gets what they need – an accurate view of costs.
Plans are nothing. Planning is everything.
In today's changing economic environment, agile workforce planning is critical. Yet the administrative overhead and time associated with planning typically limits it to an infrequent, time-consuming process. As external factors shift and business strategy adapts, a plan loses its relevance.
Visier Workforce Planning automates and streamlines the planning process, allowing planning to be a flexible and evolutionary practice, rather than a painful and time-consuming annual routine. Create, review, approve, reject, and merge plans to facilitate a true, enterprise-wise collaboration, capturing knowledge from both the boardroom and front line leaders.
With Visier Workforce Planning, you can make planning a simple process that engages the right people at the right time; ensuring plans no longer gather virtual dust, and that responsive planning plays a key role in your company's success.