Here are three practical examples of how HR can adopt a strategic approach and drive talent management decisions.
This may go without saying, but your employees aren't like cars and trucks.
The average automobile depreciation rate is 15% per year, with new vehicles dropping in value immediately after you drive them off the lot.
Unlike cars and trucks, people appreciate in value the longer they work for you. They get more skills and experience, and create essential networks for your business. And when you combine this with hiring the right people in the first place, you optimize your talent for business performance.
This explains why a focus on hiring and retaining key talent in the form of talent management has become a critical part of most organizations' HR strategies. And the demands placed on the talent management function today are greater than ever before: 93 percent of CEOs say "they recognize the need to make a change, or are already changing, their strategy for attracting and retaining talent," according to PwC's 17th Annual Global CEO Survey.
The Evolution Towards a Data Ecosystem for Talent Management
While talent management is viewed as an urgent priority, knowledge about the workforce is typically limited to isolated metrics, such as time-to-fill for vacant positions. This is partially because of the way talent management has evolved into multiple data silos (each function — such as compensation, recruitment, and benefits — has its own set of transactional data that typically can't be linked with other systems).
This presents a challenge. Many complex driving forces can affect a company's bottom line, such as the impact of promotion wait times on engagement among top performers. It's important that business leaders are presented with a clear picture of how these multiple factors affect productivity and growth.
Typically talent management decisions are largely left up to intuition. This can create a "we are doing this because we always do it this way" kind of culture, meaning HR can continually invest in programs that don't work.
The next step in the talent management evolution (which will be common practice by 2018) is to focus on making decisions with more "scientific" rigour using interconnected data elements. In fact, a recent Boston Consulting Group report on HR excellence states that:
"Our experience has found that data-driven, analytical HR departments are more likely to play a strategic role in their organizations."
Organizations such as AOL, ConAgra Foods, and Yahoo! have people insights teams that are focused on creating business outcomes from a single view of an HR data ecosystem.
But what does an evidence-based HR function look like in practice? What are some steps you can take to develop a more scientific mindset to people challenges? Here are three practical examples of how HR can adopt this strategic approach and drive talent decisions:
#1. Experiment with varying recruitment tactics and measure the results
Reactionary approach: Often hiring managers view recruitment like a supermarket: When you need something, you simply go to the right part of the store and select from your pre-packaged options. In reality, landing key talent is often more complex and varied: you are never sure whether the skills you need will be available at the right price.
This can create the expectation that the focus should be on filling positions as quickly as possible, focusing solely on time-to-fill metrics. An over-focus on this can often lead to an undesirable result: overpaying for candidates who end up being poor performers.
The new approach: Using a more strategic approach, ask what roles are critical to business success. From here, you can understand where to put more energy behind your recruitment efforts: some roles have high level of contribution to the business, while some are necessary, but can be easily outsourced.
From here, you can take action: vary what you do when you source talent. You can tweak things like referral and hiring bonuses, paying higher rates for hard-to-fill critical roles, for example. This way, you aren't just throwing money at the problem, but investing your resources in a smart way. If you systematically link recruitment data with performance data to determine whether the tactics result in more top performers, you can then determine whether the approach worked, and replicate successful tactics in the future.
#2. Cluster common employee attributes to build talent retention strategies
Reactionary approach: Retention is a huge area of focus: unemployment is still going down, and employee mobility is on the rise. The typical approach to understanding the turnover problem is for HR to deliver reports identifying rates of turnover. But this tells you little about the drivers of attrition, and what you can do to prevent it.
The new approach: A more strategic approach is to analyze why people are leaving so that you can pull specific levers to retain them. Remember, not all turnover is a problem, and you want to focus on retaining high performers in critical roles. So how can you get better data on why people leave beyond exit surveys, which are prone to bias?
To do this, you need a solution with an in-memory engine. This will enable you start running things called clustering algorithms. For example, an HR database has 50-60 attributes per employee. You can run a clustering algorithm to determine what is common about the people who left: Is this a manager? Or performance rating? This kind of multidimensional analysis can't be done with a spreadsheet.
You can use this analysis to predict who has the highest likelihood of leaving and identify candidates for stay interviews. The data is directional. Go to the individual and have a conversation. Let them know how important they are and ask them about their work and their role. Done well, this conversation and the right follow-up actions can change the outcome for someone who is planning to leave.
#3. Look at all cost data to make workforce decisions
Reactionary approach: HR often bounces between the different demands of finance and line management. For example, I frequently encounter organizations whose line managers are in the habit of keeping open positions, so they can be flexible with the pot of money they have to spend on their team. In one instance this practice cost the organization the ability to launch a new business because they didn't think they had the money to make the investment– had they known they had several million dollars tied up in fake open positions, they would have made the investment and delivered vital new revenue earlier.
The new approach: Analyze where and how total rewards are increasing, so you can align your people and costs to deliver a single integrated view. This way, you can use detailed knowledge of total workforce costs to plan and monitor results.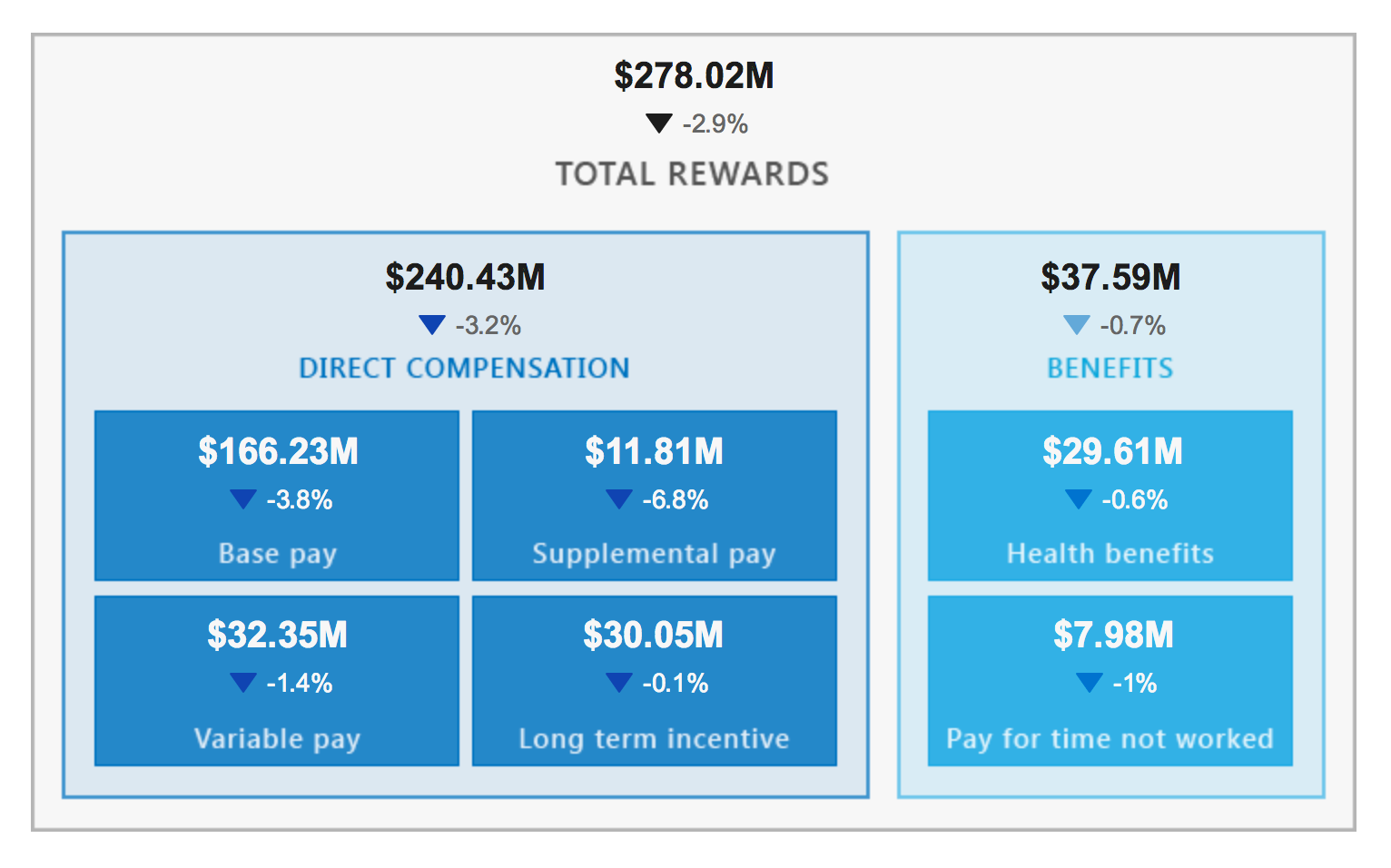 Furthermore, when you link your Total Cost of Workforce (which incorporates all compensation costs or any other costs that benefit employees) with productivity and tenure data, you can use this information to understand and influence trends in employee performance.
Datafication is a Journey — Start Now for 2018
Success in talent management is no longer about implementing new transactional systems and processes. Proactively using data to make fact-based decisions is key.
But gaining this capability doesn't happen overnight. According to this Bersin by Deloitte Human Capital Trends report. "Companies with leading capabilities in HR and people analytics have been building these capabilities for three years or more." For more tips on how to get started today, check out this beginner's guide to creating a data-driven culture.
About the author: Ian Cook
Ian is an advocate for the crucial role that people play in helping companies thrive. His career has focused on enabling people, teams and companies to perform at their best. For the last 15 years Ian has been helping leaders elevate their HR strategies and programs through the effective use of people analytics. At Visier, Ian led the development of our market leading solution and is now focused on the overall strategy for the people analytics business.
Be the first to know!
Never miss a story! Get the Outsmart newsletter.
Related Articles
LEADERSHIP
By championing a data-driven hr culture, you can elevate your business value as a strategic player. Ask the right questions, focus on action.
LEADERSHIP
Successful organizations make data-driven people decisions, plain and simple. Arm your business leaders with direct access to HR data with Workforce Viewer.
PRODUCT INSIGHTS
How do you choose the right workforce intelligence solution for your company? Read on for critical questions to ask of your HR analytics software.