Visier Certified People Analytics Consultant
Building better people analytics, together.
Join the Visier Certified People Analytics Consultant (VC-PAC) program to harness the power of both the Visier People Cloud and our industry-leading analytical approach to advisory services.
Whether you're a Visier Service Partner or a Visier customer, get certified as a proven advisor able to build and deliver evidence-based and actionable executive-level analyses within the Visier People solution.
Get certified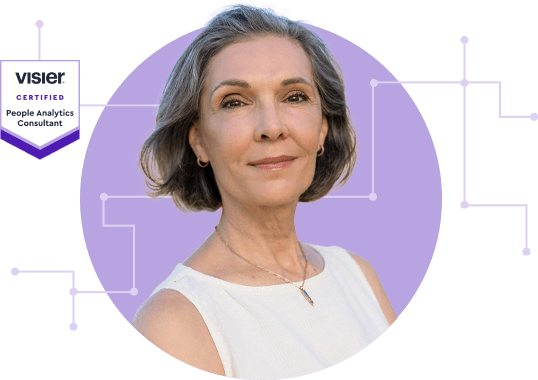 Why get certified with Visier?
Learn how to align people data to business goals
Reach targeted objectives, faster
Build people analytics competency
Learn how to move faster to deliver value
Very good - gives me a bump of confidence.
Comprehensive and well paced.
Great trainers, great explanations!
What does certification look like?
Taking place over the course of two days, this blended learning program includes a self-paced pre-assessment, virtual instructor-led training, and self-study work. All of this leads to our certification exam. Upon passing, a Credly badge will be issued to you.
Virtual instructor-led training
Consists of presentations, activities, and Q&A over the course of two days
Self study & office hours
Consists of open-book, self-study activities for each course. Have a question? Join the office hours.
Assessment prep
The practice test consists of multiple choice, and true or false questions. The practice test looks and feels like the actual exam.
Certification exam
The certification exam is the final stage of the certification. Participants have two attempts to successfully complete the exam.
Certified People Analytics Consultant Agenda
Week 1
This week consists of virtual instructor led training and self study hours.
Day 2
Orientation, Kick-Off, and Use Cases
Day 3
The Analysis Process and Framework
Explore more certifications
Certified Developer
Join the Visier Certified Developer Program to meet the needs of your organization with speed and agility.
Course details
Certified Studio Administrator
The Visier Certified Administrator program provides the skills required to navigate and configure the Visier Studio environment.
Course details
Certified Implementer
Join the Visier Certified Partner Implementer Program to deliver a world class people analytics solution to your customers.
Course details
Visier People opens a world of business insights
Get the answers you need to create the business you want.