Visier Named as one of Canada's Top Small & Medium Sized Employers
April 12, 2019
Visier Recognized as one of the most attractive workplaces in the country
VANCOUVER, BC – April 12, 2019 — Visier, the globally recognized leader in people analytics and planning, was recognized today as one of Canada's Top Small and Medium Employers by Canada's Top 100 Employers at Mediacorp Canada Inc. The award comes after a year of record growth for Visier, both in employee count and in revenue.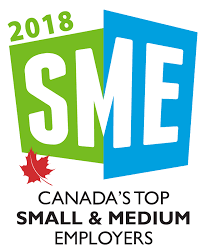 "It's an honour for Visier to be recognized as one of the best workplaces in Canada, we certainly feel the same way," said Paul Rubenstein, Chief People Officer for Visier. "It's been our goal from the beginning to design a workplace that feels welcoming, but still challenges you to grow. Our culture is the collective effort of every employee at Visier in Canada and across the world. We are grateful for the innovation our teams bring to work, and the passion they have for our brand." 
Now in its 6th year, Canada's Top Small & Medium Employers is an editorial competition that recognizes the small and medium enterprises (SMEs) that offer the nation's best workplaces and forward-thinking human resources policies. Employers are evaluated by the editors at Canada's Top 100 Employers using the same criteria as the Top 100 competition: (1) Physical Workplace; (2) Work Atmosphere & Social; (3) Health, Financial & Family Benefits; (4) Vacation & Time Off; (5) Employee Communications; (6) Performance Management; (7) Training & Skills Development; and (8) Community Involvement.
"The companies that make this list are fast-growing employers that need to innovate rapidly," says Richard Yerema, Managing Editor of the Canada's Top 100 Employers project. "Some have doubled in size over the past year, but all of them are looking for new ways to attract the best and brightest employees so they can keep growing. Many compete in high technology fields, where the race to scale-up isn't just a matter of ambition – it's a matter of survival."
Visier maintains a leading-edge workplace by investing in culture and people through learning programs, career growth, company outings, comprehensive benefits and perks, and a team environment. This includes a robust co-op program that emphasizes practical education with real product impact. The program was recently recognized by UBC as a Top Student Employer, with many of the past co-op students returning to further their careers at Visier.
The full list of Canada's Top Small & Medium Employers was announced in a special magazine published nationally in The Globe and Mail this morning. Detailed reasons for selection with hundreds of additional stories and photos were also released this morning and are accessible via the competition homepage.
For career opportunities with Visier, visit our careers page.
About Visier
Visier's purpose is to help people see the truth and create a better future—now.
Visier was founded to focus on what matters to business people: answering the right questions, even the ones a person might not know to ask. Questions that shape business strategy, provide the impetus for taking action, and drive better business results.
Visier delivers fast, clear people insight by using all the available people data—regardless of source. With best-practice expertise built-in, decision-makers can confidently take action. Thanks to our amazing customers, Visier is the market leader in Workforce Analytics with 5,000 customers in 75 countries around the world.
For more information, visit http://www.visier.com.
# # #
Contact:
Julie Galla
[email protected]