Workforce planning ranks as a top priority for many organizations today, but few really understand what it means and how to make the most of it within their organization.
Organizations realize that an effective workforce plan – one that looks at not only headcount needs, but skills and capabilities – is essential to business execution. No matter how brilliant the business idea or product, without the workforce to deliver on the promise it will continue to remain unfulfilled. Despite the importance of workforce planning, however, many organizations still struggle with what workforce planning really is, and how to operationalize it within their organizations. This report will look at the multiple layers of workforce planning and how organizations can achieve business results through workforce planning tools.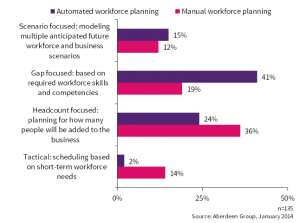 This study by Mollie Lombardi, Vice President and Principal Analyst, Human Capital Practice at Aberdeen Group, evaluates the current and future status of workforce planning across hundreds of organizations and diverse industries. It discusses the focus of human capital strategy and investment, and provides recommendations on how to make the most of it within your organization.