We hope you can join us for dinner at "Top Chef" Tom Colicchio's acclaimed Craft Restaurant, winner of the James Beard award. Specially crafted Outsmart cocktails will kick off the night followed by a delectable 3 course meal that mimics a private chef experience.
Craft Restaurant
Craft received the James Beard Award for Best New Restaurant nationwide in 2002 for its unique marriage of the finest ingredients, haute cuisine and family-style service enjoyed within the award-winning architectural design of Bentel and Bentel. New York Times critic, William Grimes awarded Craft three stars in 2001, an honor upheld by Sam Sifton in 2011.
Kyle Koenig, Chef de Cuisine: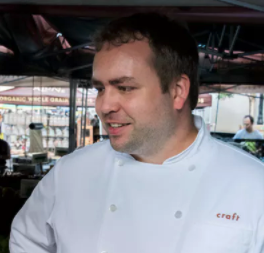 As chef de cuisine of Craft, Kyle Koenig works alongside chef Tom Colicchio to create the ingredient-driven, seasonal menu at the James Beard Award-winning restaurant with three stars from The New York Times.
In 2010, Koenig joined the Craft family as a line cook at Colicchio & Sons, where he worked his way up to sous chef, learning from chef Tom Colicchio's straightforward cooking style and the restaurant's refined preparations of high-quality, seasonal ingredients. He spent two years at Colicchio & Sons before signing on at Topping Rose House in Bridgehampton, where he worked for nearly four years.
Now as the chef de cuisine at Craft, Koenig applies his culinary expertise to allow high-quality ingredients sourced from small, local farmers to take center stage. (Bio courtesy of craftrestaurant.com)
.