December 13, 2017 – 4:00 PM ET | 1:00 PM PT
For over 20 years HR has been undertaking multi-year transformation projects. These programs have culminated in shared services, outsourcing, COEs, and ERP systems — all in the name of driving HR efficiency. But what is the next great transformation for modern HR? And how can you successfully navigate it?   This webinar, presented by subject matter expert and Visier's own Paul Rubenstein will explore:
How to leverage analytics and artificial intelligence to shape how the business thinks about talent
How workforce decisions can help drive and improve business outcomes
The impacts on HR structure and its roles (HRBPs, COEs, and analytics) on HR Transformation
Join this webinar and discover how people analytics can make a great impact on your HR strategy.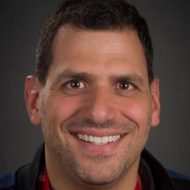 Speaker: Paul Rubenstein, Vice President of Value Engineering, Visier Paul is recognized as leader in helping organizations link business strategy and talent strategy. He works with Visier's customers to help them use data to make better decisions about their workforce and how they approach performance and rewards. He also advises the CHRO on creating HR functions that are fit-for-mission and the funding models for HR. Prior to joining Visier Paul worked in corporate HR as well as 20+ years consulting global companies