Read any industry report or blog post on hot HR trends and technologies today, and you are bound to see workforce analytics near the top. Analysts and commentators agree: workforce analytics has become a "must have" tool for HR and a key component of delivering business value. But how do you get started with this complex topic? Download this white paper, Five Steps to Getting Started with Workforce Analytics, to find out how you can simplify and accelerate your journey from HR metrics to workforce analytics.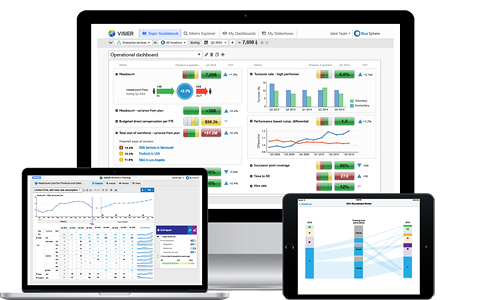 This paper outlines the five steps you can take to simplify and accelerate your journey to workforce analytics. By thinking through the first four steps, you can develop the requirements to support the fifth step: selecting the right workforce analytics solution for your organization.
Workforce analytics has become an essential HR capability. The demand from the business for timely and effective answers to the core and strategic workforce questions is continually increasing. Daunting as this may seem, a series of new innovations has made it possible for HR to deliver insightful answers to business questions far more quickly, cost effectively, and accurately than before – accelerating HR on its journey towards playing an increasingly strategic role in organizations.