Read the results of our 2014 Survey Report: The State of Workforce Analytics and Planning where over 300 U.S.-based employers answered questions about their current workforce analytics and planning practices, investments, and future plans. Key findings include:
Workforce Analytics
Spreadsheets (48%) and HRIS reports (25%) are the most commonly used tools for workforce metrics and analytics – with low satisfaction rates. Only 5% are satisfied with spreadsheets, and just 15% with HRIS reports.
Users with dedicated workforce analytics solutions are the most satisfied.
While the majority rank themselves low today in workforce analytics maturity,
91% plan to increase their maturity within the next 24 months.
Although most plan to increase their investment in workforce analytics, there is a disconnect between budget and aspirations: 85% of those who plan to maintain their investment, aspire to increase their analytics maturity anyway.
Data, process, and definitions are the most common technical barriers to workforce analytics.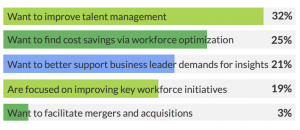 Workforce Planning
39% do not regularly do workforce planning. For those that do, annual
planning is most common.
74% have a budget for workforce planning, which is most often owned by HR.
Data and lack of automation / repeatability of process are the most common technical barriers to planning.