After the tumultuous events of 2020, many people and organizations have been left reeling. Business models have been turned upside down, traditional work habits and approaches have evaporated, and the digital future–to which we were slowly evolving–took a quantum leap into the present day.
It is too early to claim that 2021 will be a more stable year or that there is any clear path to a new "normal," but one thing that has become clear is that as 2021 progresses, more and more organizations are (or will be) re-building, altering or re-inventing the way work gets done in their organization—and specifically, who is doing what, from where, when, and how.
These aren't new questions in the field of people analytics. Over my career, I've seen 5-10% of each business vertical undergo an organization redesign project during any given economic cycle (over 30 years of working, I have made a direct contribution to two of these!). What is completely different in 2021 is the sheer number of organizations that will simultaneously be engaged in redesign, the pace at which new structures and approaches will form, and the speed at which iterations and changes to parts of these new structures will take place.
Organizational redesign has changed significantly
As an analytic business problem related to people, the thing that makes organization redesign and rebuilding complex is that it relies on both detailed internal data about who is working for the organization, as well as relevant external market data about the available people, skills, and relative costs in a given geography.
There is no point in moving to a new geography if the people you need aren't there or the competition level for those people is high. In addition, a shift to a hybrid or work-from-home model brings with it questions about whether this will meaningfully increase the talent pool or whether the people you need are already living clustered around you or your main competitors.
One of the amazing aspects of working at Visier is the engagement of our customers. We are in the fortunate position of working with many of the leaders in the people analytics space and these individuals are distinguished by their vision and their willingness to collaborate.
From May-June 2020, we set up multiple customer forums to explore current and future needs. What came back to us loud and clear from these conversations was the need for a combined solution, a single view that allowed organizations to run multiple redesign projects, simultaneously, without the need for huge teams simply accessing and processing data.
The experiences of early 2020 and the expertise of this group brought to light that these types of projects could no longer be delivered over long time frames using Excel and accessing standalone labor market insights on a case-by-case basis. Organization redesign and reinvention would be happening on a continuous basis, in multiple parts of the business for the foreseeable future.
Evolving people analytics for the future labor market
Some vendors still present the view that you can get all your analytics in one place and that all your needs will be covered through their solution, but at Visier, we fundamentally disagree with this.
From our vantage point, as the leader in people analytics, serving over 6000 discrete organizations, it is clear that people analytics needs to be viewed as an ecosystem. The range and depth of the analytics problems that an organization needs to solve is best delivered through an assembly of best-in-class vendors. These insights can be delivered to end users through a single interface.
However, building skills ontologies, detecting burnout, identifying network impacts, and deriving insights from employee signals, all require deep and specialist capabilities. No one vendor can do all of this, and attempting to build all of this in-house is going to be slow, costly, risky and impossible to sustain. I recently talked to one organization that had spent two years working on its own skills ontology—there are vendors who can turn this same problem around in months, using deeper and more robust capabilities than any single organization can afford.
Driven by the mission to help our customers with the coming wave of organizational reinvention, and following our "best in class" eco-system philosophy, Visier set out to solve the challenge of aligning internal employee data with relevant external market data– and our research quickly led us to Emsi.
Emsi was already working with many of our customers, which made for a natural connection. And it quickly became clear to us that they understood the application of labor market data to a business context in a way that less mature or more education-focused vendors did not. With a great partner to work with and access to a deep and rich set of labour market data, the real hard work could begin.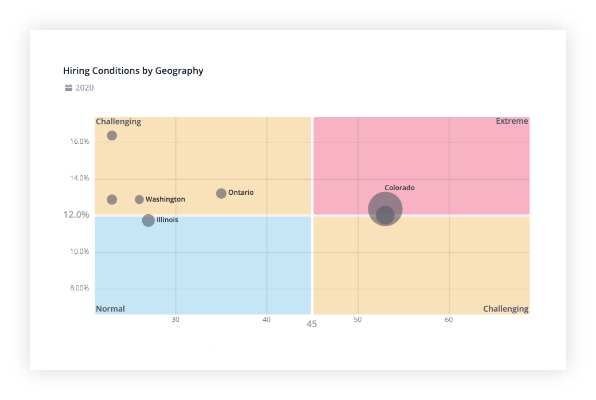 Emsi and Visier: Labour market insight and skills intelligence
Fast forward to January 2021 and we are ready to share what we are working on, and how this will play out as a solution to the challenge of organizational redesign. While spikes in COVID-19 cases are increasing the level of uncertainty and may be slowing go-forward plans for some businesses, it hasn't changed the underlying trajectory for every business. The imperative to rethink and redesign organizations for the "Roaring 20s" is still clear and present.
The first problem in aligning internal and external data is to ensure that apples are compared to apples. There is a huge risk in guessing whether your use of a job name matches the job name in the data set. Ask any compensation professional if they are prepared to "match to market" based on job name alone and they will vehemently shake their heads. This foundational problem is solved through the Visier and Emsi partnership.
Emsi has the knowledge and technology to ingest job names and align them to their own standard occupation classifications, while Visier holds the job names for all our client data and has the analytic technology to deliver insights to every manager in the business. With all of these core elements in place, the data simply has to do a round trip from Visier through Emsi's AI capabilities and back. 
This process augments each customer's data with the Emsi Standard Occupations Classification for employees and creates a single common job structure across the tens of millions of employee records in Visier's system. In addition, Emsi augments each employee record in Visier with the top five skills associated with their standard occupation.
This capability is expected to be delivered with our Spring 2021 release*, which is the fruition of a lot of hard work, customer advice, and collaborative thinking, and will be available to Visier customers and future customers. Once this foundation is in place, it opens up a wide range of opportunities to apply Emsi's labor market data around occupations and skills across the existing analytic content in Visier.
Enhanced analytic capabilities–without integration challenges
Unlike most people analytics vendors, who start with a raw technology and build custom solutions for each customer, Visier sits on the most comprehensive and proven people analytic data model in the industry. Our methodology and tools allow us to ingest data from any source system, and then align this basic data to the core elements of our analytical model, adding extensions only for items that are unique to each customer. This brings the benefits of a high degree of standardization, which means that aligning data from third party sources can be done once and provided to many.
Looking beyond our Spring release, there are multiple avenues of additional value that will be created. The first is the natural value that builds within Viser due to our common data model and large data volumes. With standardized occupations across hundreds of organizations, Visier's benchmarks for measures (such as resignations, promotions, manager instability, etc) can be published at the occupation, industry, and geographical level.
Further to this, organizations will easily be able to add labor market and skills data from Emsi to Visier and consume the combined insights through Visier's interface. Our partnership will ensure the flow of data between the two organizations, enabling access to the wisdom of many without the typical integration challenge.
Different business analyses and processes will be enhanced with this technology:
Organizational redesign, which compares the internal supply of talent to the external availability in current and potential future geographies
Enhanced recruiting decisions aligning open requisitions to the available supply and cost in a given talent market
Augmenting employee or job position records with skills so that workforce planning or the creation of new business units and teams can be based on a detailed understanding of the skills available and the skills required
Easily access a source of market compensation data to support costing decisions related to current and future organizational changes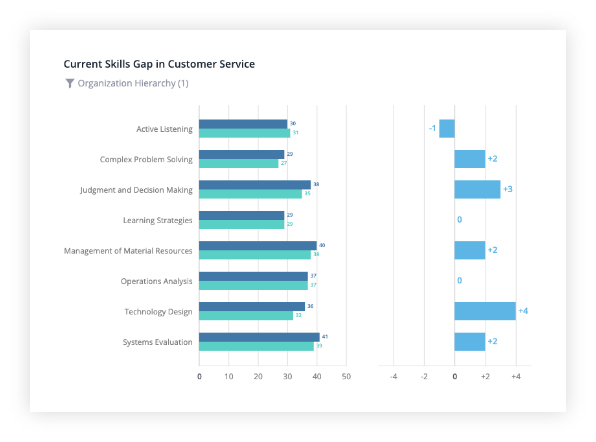 The road ahead of every organization is more challenging than most of us have ever experienced. The need to move forward, adapt, test, validate and iterate has to move fast and yet it cannot be based on guesswork and hunch. The role of people analytics has never been more crucial in helping organizations build success. Those people analytics teams that take advantage of the best providers and leverage their combined capabilities to solve the most important business problems will enable their organizations to emerge from 2021 in better shape to face what the future holds.
*In order for existing customers to get Job Standardization and top 5 expected skills, they will need to decide when this will be added to their deployment, and sign a contractual update by completing a Visier People Standardized Occupations Order form.