This is the second in a series of five guest posts by Mollie Lombardi, Principal Analyst for the Aberdeen Group Human Capital Management research practice:
For far too long, many HR professionals have talked about "getting a seat at the table" – meaning being a part the executive leadership team. But what many organizations are realizing is it's not about getting a seat at the table, it's about making HR and HR processes a relevant and meaningful part of how business leaders run their day-to-day activities. Workforce planning is one of those processes that truly could not be more essential to the day-to-day operations of the business. It is all about ensuring that the organization has the talent plan to support its business plan, and that the right staffing mix of the right capabilities is available at the right time to meet customer demand. When the business truly understands the value of workforce planning, and its impact on their business, it's no longer a siloed HR process, but a part of how every business leader operates.
Unfortunately, when it comes to workforce planning and analytics today, Aberdeen's 2013 Workforce Planning and Analytics study found that it tends be an ad hoc effort led by HR, instead of being an integral part of how the business operates.
Workforce Planning and Analytics Capability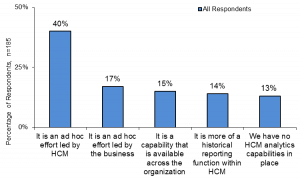 Source: Aberdeen Group, June 2013
One could argue that it would be incredibly difficult to get the business to undertake responsibility for this kind of workforce planning. But the business already does something similar when it comes to financial budgeting. While finance owns the process for the annual budget cycle, the business leaders are the ones who take responsibility for developing the business plans in justifying their financial investments. There's no reason that workforce planning can't be the same. While HR owns the process and the data, surely business leaders can understand the responsibility they have to allocate and manage their talent resources in order to support their business plans.
Having the right tools and technology in place is important to enabling this capability. While still far from pervasive, top-performing companies are starting to adopt tools within their HCM function to support both strategic and operational workforce planning and analytics efforts. Currently, Best-in-Class organizations from the 2013 HCM Trends study are 53% more likely than All Others to have workforce planning tools implemented (26% vs. 17%) and 33% more likely to have HCM analytics and reporting tools in place (40% vs. 30%). These kinds of tools can enable the business to take ownership of their part of the process, while still letting HR manage the process and the data.