2015 is going to be a pivotal year for HR, in particular as debate heats up about splitting or not splitting HR (Dave Ulrich advocates for teaching HR professionals "what they can do to deliver value even in difficult circumstances").
Executives are demanding more: better financial acumen, data-driven strategies, and instant answers to complex questions about talent.
At the same time, uncertainty and ambiguity at the macroeconomic level can create ever-shifting business priorities, which in turn creates even more ambiguity around talent priorities.
Indeed, "the times they are a-changin'.."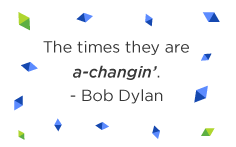 While the year ahead may be tumultuous, it also presents an opportunity for HR to move from administrator to strategic leader. Here are 5 highlights from must-attend HR events in 2015 that will help make the transition:
1. HR Transformation: Session by VP of HR Operations & Analytics
What: The "new" HR professional is a problem-solver who knows the business, and is respected, strategic, and courageous. McGraw Hill Financial's VP of HR Operations & Analytics will discuss the meaning of HR transformation and how it transcends the changing of talent, titles, and responsibilities with tried-and-true tips on how to turn HR leaders into key players on the executive team.
Where: IPMI HR Management Institute event, in Tampa Bay, Florida.
When: February 22-24
2. Transforming Cost-Based Workforce Planning with Integrated Analytics, Engaged Finance Partners, and Innovative Technologies: Keynote by Mark Berry, Principal, WorkInsights
What: Hear how HR can partner with Finance to create a "single version of truth": a system (and associated processes) that allows HR and finance to jointly plan, analyze, and forecast for both positions and dollars. Mark Berry will explain how to draw the connections between workforce analytics and planning through collaboration between finance and HR.
Where: HCI Workforce Planning and Talent Strategy Conference in Dallas, TX
When: February 23-25
3. The Renaissance of Scenario Planning: Session by American futurist and innovator
What: The North California HR Association (NCHRA) will have Peter Schwartz, a thought leader in business and innovation as a keynote speaker at it's main conference, HR West. Schwartz is an author, American futurist, and holds the position of Senior Vice President, Global Strategic Planning at Salesforce.com. He will discuss the comeback of scenario planning and its importance in today's changing economy.
Where: NCHRA HR West 2015 conference in Oakland, CA
When: March 2-4
4. Collaboration — The Key to Strong HR Partnerships and Business Success: Theme of HR Executive forum
What: One of the key topics covered at this spring event will focus on HR collaboration. The sessions will focus how to identify opportunities for partnership and aligning visions to drive business results. The topic will also explore how HR and the C-suite can learn from and teach each other from different Fortune 500 enterprises.
Where: Argyle Executive Forum – Human Capital Leadership Forum in San Francisco, CA
When: March 4
5. Redesigning the Organization for a Rapidly Changing World: Bersin by Deloitte Webinar
What: This will be a high-value webinar for anyone who wants to learn more about HR's evolving role in building capability, developing leaders, and helping the business succeed. Josh Bersin, founder and Principal at Bersin by Deloitte, will discuss redesigning the organization for a rapidly changing world and describe ten drivers of HR success in 2015.
Where: Bersin by Deloitte web conference
When: Friday, January 23rd, 2 pm EST
Why We Will All Love HR in 2015
Last year, I wrote about why we Why We Will (All) Love HR — I have met many razor-sharp HR execs who overcame hurdles to emerge as respected leaders who contribute greatly not only to HR, but to the business. Will 2015 be the year when you become an HR leader who demonstrates what "the new" HR is really about? This won't happen overnight — but with a combination of the right resources and grit, you can set yourself on the right path.